The COVID-19 pandemic has transformed the way we work. During the pandemic, we saw a rise in remote work. When workers could return to the office, many businesses saw an opportunity to adopt a flexible model and let employees work remotely and on-site.
Hybrid workplaces are here to stay. But what does this mean for facility managers?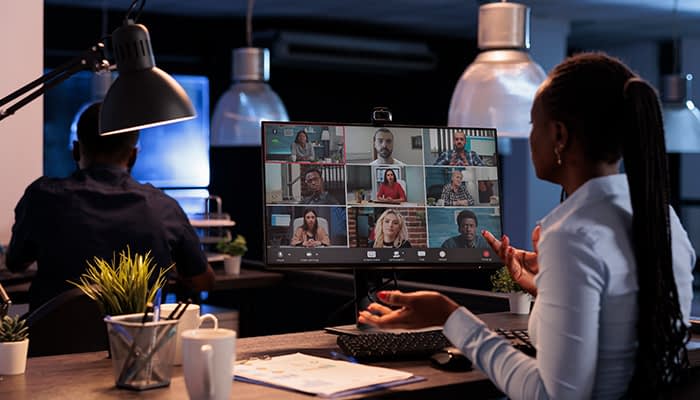 What is a hybrid workplace?

A hybrid workplace is a work environment that combines elements of both a traditional office and remote work. Hybrid workplaces give employees flexibility, as they can work from the office or a remote location, such as their home or a co-working space.

The future of hybrid work

The hybrid work model has taken off globally and locally because of the benefits it offers. In a study done in 2022, hybrid workers in South Africa shared how remote and hybrid work had affected their health and work-life balance:

86% felt hybrid and remote working had improved their well-being.
82% said it had improved their work-life balance.
Over 60% reported that hybrid work saved them at least 4 hours per week.
75% said they saw an improvement in productivity.
34% said hybrid working was more relaxing and resulted in a less pressurised environment.
More than 90% said hybrid work made them happier, while 67% said it helped reduce stress.

Hybrid workers are happier, and more employers are waking up to the benefits a flexible work model offers. They've realised it's an effective way to improve employee performance, satisfaction and retention. With so many advantages, there's no doubt that businesses that can will adopt this model.

What does the hybrid workplace mean for facility managers?

More companies are adopting a hybrid work model, but what does this mean for you?
You may think hybrid work is bad news for you, and your job will become redundant. But facility management is more important than ever. The work may change, but these offices need facility managers.

The role of facility management in a hybrid workplace

As the workplace changes, so will your position. The exciting news is that you play a vital role in the success of a hybrid workplace. As a facility manager in a hybrid office, it's your job to:

assist employers in preparing to adopt a hybrid work model,
ensure a smooth transition to hybrid work for both employers and employees,
and create a safe, efficient, and productive work environment for employees working both at home and in the office.

Hybrid workplace challenges for facility managers

A new way of working presents challenges different from the ones you're used to, and these are just some of the ones you'll face:

Communication and collaboration: In an environment where remote and on-site employees work together, communication and collaboration are essential for success. You need to establish effective communication channels to make seamless communication and collaboration between on-site and remote workers possible.
Space and resources: As a facility manager, you must ensure on-site workers have a comfortable and well-equipped workspace that meets their needs and that remote workers can access the systems and tools they need to be productive.
Security: When setting up a hybrid office, it's vital to ensure the safety of physical spaces and systems. With employees coming into the office at different times, access to certain areas should be limited. Additionally, when employees work remotely, sensitive data can fall into the wrong hands due to phishing and malware attacks. Therefore, it's crucial to implement measures to mitigate cybersecurity risks.
Cleaning and maintenance: Cleaning and maintenance help to create a safe working environment. The office must always be clean and equipment ready, as different employees will be on-site throughout the week. For remote workers, equipment must be well-maintained so they can be productive at home.
Employee experience: You're responsible for creating a positive experience for all workers. Amenities like coffee, snacks, and comfortable seating make the office a place employees look forward to visiting. And when employees aren't at the office, you need to find a way to support and reward them.

Overcoming the challenges of a hybrid workplace: 6 steps

How can you overcome these challenges to create an efficient hybrid workplace? We've shared some of the steps you can take to solve these problems:
1. Manage spaces and resources with a scheduling system
A scheduling system is an effective way to ensure all team members have access to shared resources. With the ability to reserve meeting rooms and equipment, team leaders and employees can prevent scheduling conflicts and ensure their teams have the necessary resources when they need them. A scheduling system not only streamlines the process of reserving resources but also promotes collaboration and transparency.
2. Introduce hot-desking
Hot-desking is a flexible work arrangement that allows multiple employees to share a single workstation or workspace. Instead of having a designated desk or office, employees can reserve a workstation as needed, providing flexibility and improving space utilisation. Hot-desking is practical and promotes collaboration among employees who may not otherwise interact. By sharing a workspace, employees from different departments or teams have the opportunity to work in close proximity, fostering a sense of community and promoting teamwork.
3. Get the right technology to support hybrid work
Technology plays a crucial role in enabling collaboration between on-site and remote teams. Solutions like project management software, for example, allow teams to collaborate on projects in real-time, no matter where they are located. In addition to software, video conferencing equipment has become essential for hybrid teams. With high-quality video and audio capabilities, remote workers can join meetings and communicate with their colleagues.
4. Work closely with other departments
Collaboration is key to successful hybrid working, and this extends beyond just your immediate team. By working closely with other divisions within the business, you can identify opportunities to improve the hybrid working experience for everyone. For example, you can collaborate with your IT department to ensure employees can access the tools and technology they need at home and in the office.
5. Put security measures in place
There are several ways you can protect equipment and confidential information. In the office, you can use access control to limit entry to certain areas, such as server rooms or executive offices, to prevent unauthorised access. Your remote workers can use a virtual private network (VPN) to establish a secure connection to your network to keep sensitive information safe.
6. Streamline facilities management with software
Setting up a hybrid office can be an overwhelming task. With so much to do and organise, you need a tool like Facility Management Software to manage everyday tasks like cleaning and maintenance.

What is Facility Management Software?

Facility Management Software is a job management tool you can use to simplify processes and reduce manual work. Some of the tasks you can streamline and automate include job scheduling and asset maintenance.

How to use software to manage hybrid workplaces

Here's how you can use software to manage your hybrid office:

Manage assets: Create a digital database of all your assets, including office equipment and devices employees use at home. With all items listed in one place, you can easily locate equipment and add or remove items to keep an up-to-date database.
Schedule cleaning and maintenance jobs: Schedule cleaning and maintenance jobs ahead of time to ensure the office is clean and equipment ready to be used. If the same tasks need to be done daily, weekly or monthly, you can create recurring jobs to ensure your cleaning and maintenance workers never miss an appointment.
Track expenses: Record and track expenses for new equipment and technology. With all your expenses recorded in one place, you can monitor spending and stay on budget. You can identify ways to cut spending while ensuring employees have all they need to be productive.
How to sign up for Facility Management Software
To learn more about what we offer or to start using our software, contact us to book an online demo or to sign up.
If you'd like to try our software, sign up for your free 14-day trial, which includes full access to our system and free support.