Job Management Features
---
Our system allows you to manage your jobs with ease. Long gone are the days of using excel and huge pivot tables. Using Eworks Manager will enable you to automate your processes and become more efficient. Never lose sight of another job.
Planning and Monitoring Features
---
Planning jobs is an art. You have good planners and poor administrators that just process requests. Using Eworks Manager, you can plan more efficiently with job locations, job types, engineer skills and product costs. MONITOR THE PROGRESS OF JOBS IN REAL TIME.
Communications & Compliance
---
Keeping track of all your staff and the communication with your customers is impossible unless you have Eworks Manager. Track calls, emails, tasks, notes and complaints. Making sure you comply with all your contracts is an absolute must - We have many features that allow you to make sure every job gets done within the project requirements.
Sales & Finance Features
---
We offer many features in our sales system which allow you to keep a hand on building your business. Whether you have a full sales team/department or just yourself - these features will help you convert more sales into business. Making sure all the figures add up - With many finance integrations, you will be in safe hands using Eworks Manager.
Enterprise Features
---
We have features within Eworks Manager that are specifically built for Enterprise size organisations.
Project Management

Control all your projects and ongoing profits with our Project Planner - You can plan and manage resources and ensure the execution of maintenance jobs with your KPI's. For easy reporting, Eworks tracks all purchases and job costings.
ERP System

Eworks Manager is the perfect ERP Software Solution as it keeps your business organised all in one place. The aim of our software is to make you feel at ease by having all your information in one place.
BI Reporting

With our comprehensive reporting suite, you can make smarter decisions with your data. A few of the reports available include job summary, invoice summary, time on jobs summary, customer profitability reports, user timesheets, customer complaints reports, user holidays report, SMS reports, email reports and so much more.
Customisable - BMS

Customise your correspondence with your clients. Customise all your quotes and invoice templates. Set SMS messages for clients to receive. Customise your workflow and what actions you require after each job. Add users and their permissions. View your system activity logs. Manage your whole system from your admin area.
Enterprise Solution

Our enterprise solution allows you to connect a large network of Eworks systems together. This allows you to send jobs from your system to your partner's system and will track the full progress live. Perfect for managing subcontractors nationally or internationally.
Project Planning

Create Projects for multiple staff working on a job. Invoice for the whole project or individually. Set parameters or limits for projects so you can track the costings. Comprehensive management reports available.
System Support and Training
---
We are here to support you...
Support

Unlike most Job Card Management Software companies, we offer continuous support to all established and potential clients with our very friendly and helpful customer support team! We provide phone support through the week, an online ticketing system and a 24-hour email support.
Training

Within your subscription, we include online training for all our clients whether you need a recap of the system, a specific feature or have a new employee that needs to know the system! We offer other training needs so if you would like more information, get in touch!
Help Videos

For every area of Eworks Manager, there is a training video in our admin system for you to use, these videos give you a step by step guide to each area showing you how to utilise the key features.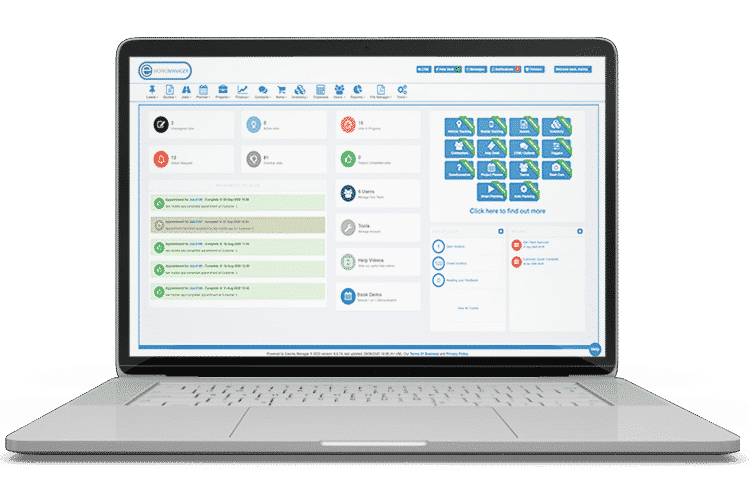 All in One Management & Planning System for
Total Control
---
Our CMMS software allows you to keep control of your WHOLE business in one place.
---
Our CMMS software gives your leaders the control they need over sales, planning, completing jobs and projects, purchasing, assets, inventory, invoicing and your workforce - Read more below about our fantastic features.