A Full Featured Property Maintenance Software System Designed to Manage and Streamline Your Entire Business from Start to End.
Create, Assign & Schedule Jobs
Track Staff & Monitor Progress
Authorise & Invoice Immediately
Create, Customise & Email Quotes – Anytime, Anywhere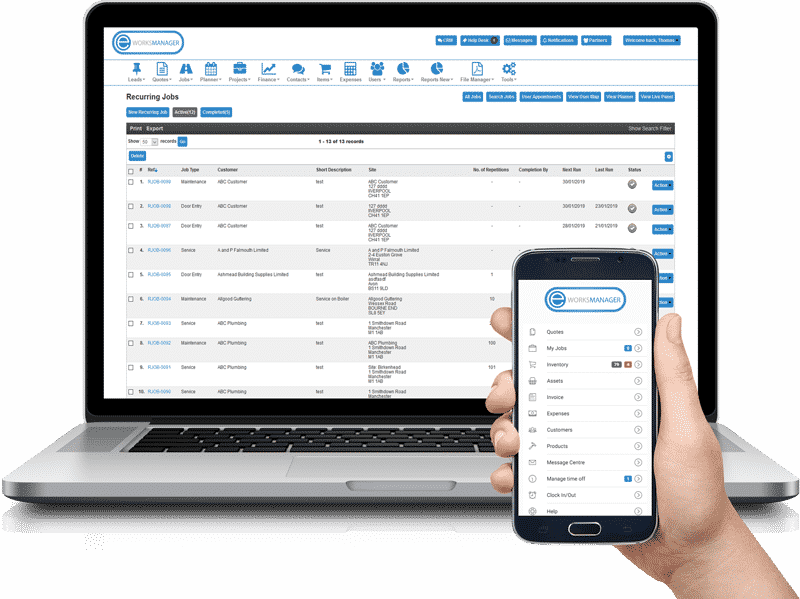 IT Help Desk Software
Being an IT company ourselves means we know how important it is to keep on top of jobs as its easy to lose track. Having communication throughout the office is also something that is very important, especially if you have staff outside the office doing jobs.
Eworks Manager's Job Card Management Software can help both you and your employees keep track of what jobs are most important due to given deadlines, doing this can help make things run much smoother and should mean that all deadlines are met. Any jobs put onto the system can be viewed by anyone else using the same system; a user can then accept a job and mark the status of that job on the system showing all other users the progression of that job.
There is also an instant messenger built into the system allowing users to talk to one another about certain jobs; this feature is particularly useful for companies that require a lot of teamwork to get a final product.
Eworks Job Card Software can take some of the pressure off by allowing you to see what jobs have been finished and which jobs are currently in progress; it also makes it easy to keep an eye on the deadline so no job goes unfinished.