Planned Preventative Maintenance Software
If you're looking for an all-in-one
Job Card Management System
then you have come to the right place! Eworks Manager is one of the leading Job Card Management Systems on the market today. Our software is constantly being developed with new handy features to help your business thrive!
With Eworks Manager, you can easily import your recurring jobs into the system. Our
Planned Preventative Maintenance
(PPM) system will also automatically raise any jobs that need to be completed for a specific date. All you need to do to is simply set a schedule within
the system
. The system will then notify you when you need to plan for a job, whether it be for a customer, a contractor or an internal job.
View All Your Jobs On The Time Planner
You can plan these jobs via our Time Planner on the system. The Planner allows you to drag and drop any unassigned jobs to your field staff. The system then automatically sends the jobs to your field staff via email, SMS or the
App
, ready for them to accept or decline. The system will also notify you when an action takes place. You can furthermore see any accepted or rejected jobs on the time planner with our colour coding blocks.
Any rejected jobs will sit in the unassigned section on the right-hand side of the Time Planner, ready for your office staff to allocate to a field worker. You can then track the status of each appointment within a recurring job by viewing our
Live Panel
or the Time Planner. The system updates when your staff have updated the status of a job via the app.
You can also set a 'New Rule' on any recurring job. This is handy in the case where you have a job that runs for a year and requires everyday site visits. Within the system you can set a new rule/appointment so that the system creates an appointment every day for the next year with a start and finish time. This saves you the hassle of having to create jobs daily within your Eworks account.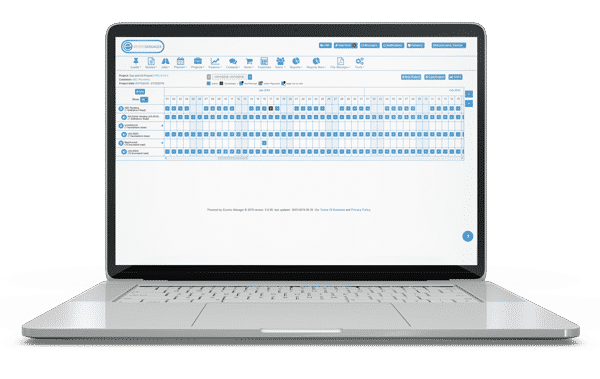 Plan For Future Jobs With Our PPM Software
The Time Planner also allows you to manage and track all Future Jobs. Future Jobs are all scheduled, unassigned Recurring Jobs that take place weekly, monthly or yearly. You can activate the option to view all Recurring Jobs on the Time Planner. As they are scheduled to take place, you can also assign them to the correct, available field worker.
With the future jobs feature, you can furthermore plan for jobs before they happen. This allows your office staff to be proactive. Setting up maintenance contracts has never been easier. All you need to do is let the schedule run and keep track of the job at hand. With
full reports
on all your jobs you can also find out all the answers you need for every contract you have on screen. Whether you want to find out how many jobs have been completed, how many are still active and how much money you are making, you can easily access these reports within the system.
If you would like to find out more information get in touch today. Or feel free to try out our
Planned Preventative Maintenance
software for yourself with our 14-Day Free Trial!
Call us: +27 (0)41 004 0045
Email us: info@eworksmanager.co.za