Used in the Office and via our Mobile App. Specially Constructed for All Facility Management Companies. For a 14-Day Free Trial, click here!
A Full Featured Facility Management Software System Designed to Manage and Streamline Your Entire Business from Start to End.
Create, Assign & Schedule Jobs
Track Staff & Monitor Progress
Authorise & Invoice Immediately
Create, Customise & Email Quotes – Anytime, Anywhere!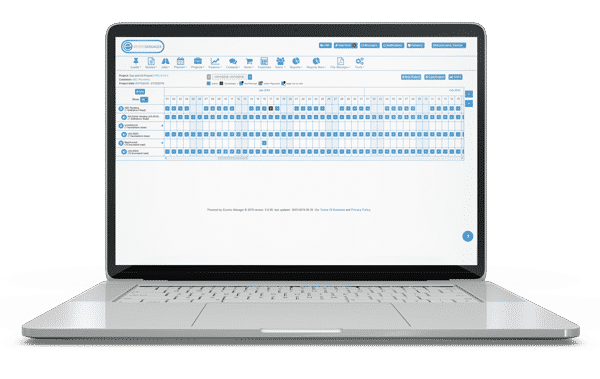 If you are a company who needs to keep track of managing and maintaining facilities, then Eworks Manager will work for you!
Keeping track of all maintenance and repairs for a specific building when you have multiple buildings to tend to can be demanding, confusing and time consuming, but with Eworks the process is simplified. Keeping track of jobs that need to be done, active jobs and future jobs is made simple by having all important information in one place for you to access, within the system you are able to capture multiple sites to one customer, making sure you know exactly which sites belong to which customer.
Within Eworks you can; create and manage your leads, convert those leads into quotes and convert those quotes into jobs, from there you are able to assign any plumber, painter or electrician to a specific job with the click of a button, while on site, these field workers are able to receive a new job assigned to them and accept it or reject it within reason.
Field workers are able to capture any notes or photo's relating to the job via the mobile App, and don't worry, if they don't have signal, Eworks is functional in offline mode and once the field worker reaches a spot with signal all information will be uploaded to the job.
Eworks Manager also lets you create recurring jobs, for instance, when air conditioners need to be serviced every few months, Eworks automatically creates the job as recurring, saving you time having to create the job when the service needs to be done.
With Eworks' SMS notification, you are able to let your customer know that a field worker is on their way to site to complete an assigned job, this keeps your customer happy and in the loop.
Eworks Manager can offer your business many simplified solutions to allow you to run your business smoothly and efficiently.
If you would like to find out more information and have a free personalised demo of the software get in touch today!
Call us: +27 (0) 41 004 0045
Email us:
[email protected]