Facility Management Software that helps you manage and maintain your facilities. For a 14-Day Free Trial, click here!
Facility Management Software - Job Management Software for the Facility Management industry
How Eworks Manager's Award-winning Facility Management Software can help your business in the Property Maintenance field?
Keeping track of all maintenance and repairs for a specific building, when you have multiple buildings to tend to, can be demanding and time-consuming. But, with Eworks Manager, this process is simplified. Storing all critical information in one accessible place allows you to keep track of past, present and future jobs easily. Within the Eworks Manager system, you are also able to capture multiple sites to one customer. This ensures that you know which sites belong to which customer.
Set up Recurring Jobs for each of your sites
Generate Recurring Jobs for clients who require your services regularly. For instance, when air conditioners need servicing every few months. Create a job and set a recurrence rule specific to your needs, which will automatically create the jobs in the Eworks Manager Software, whether it be every day, week, or month.
Set up and keep track of recurring maintenance against sites and assets.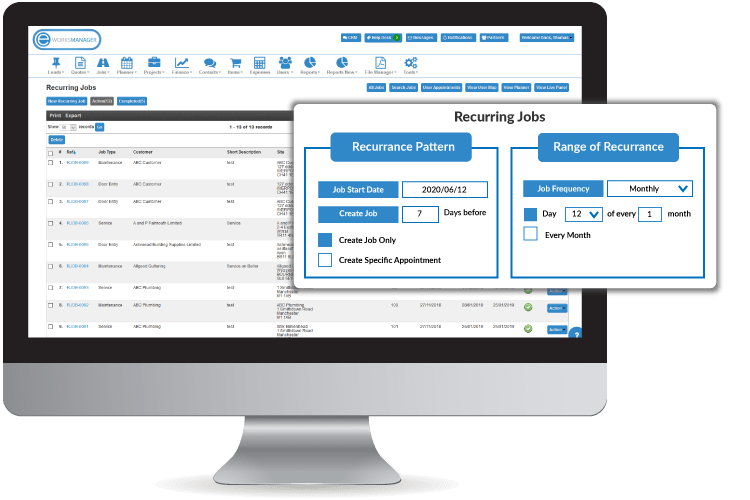 Track your Staff Productivity
Monitor your employees in real-time with our Job Tracking Software. The admin system has a Live Panel that shows you what jobs are in process and your employee's locations. The ability to track all activities will also help you to react and manage any issues that could arise, quickly and efficiently.
Our all-in-one Facility Management Software lets you see how long a job has taken and how many hours your staff have worked, which can help you to calculate staff wages accurately.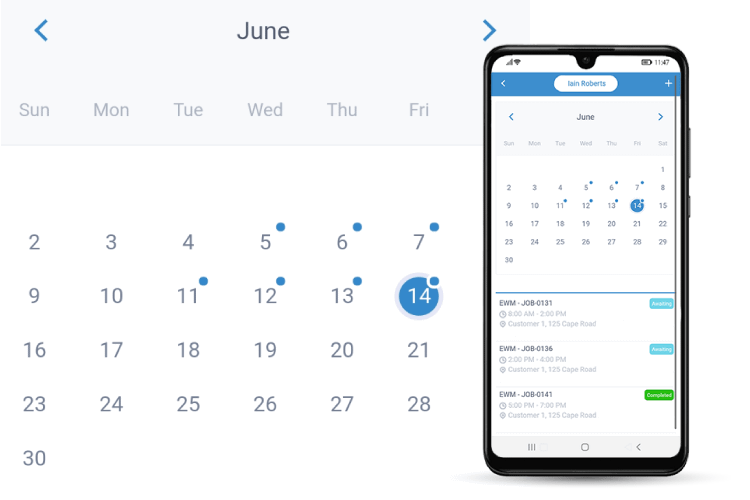 Plan Jobs Efficiently
The Staff Planner is the ideal feature to slot in unassigned jobs to available workers. See who is available and then, with our drag and drop function, slot the job into your employee's calendar. Once saved, our Task Management Software will automatically sync updates to your staff's schedules on the Mobile App.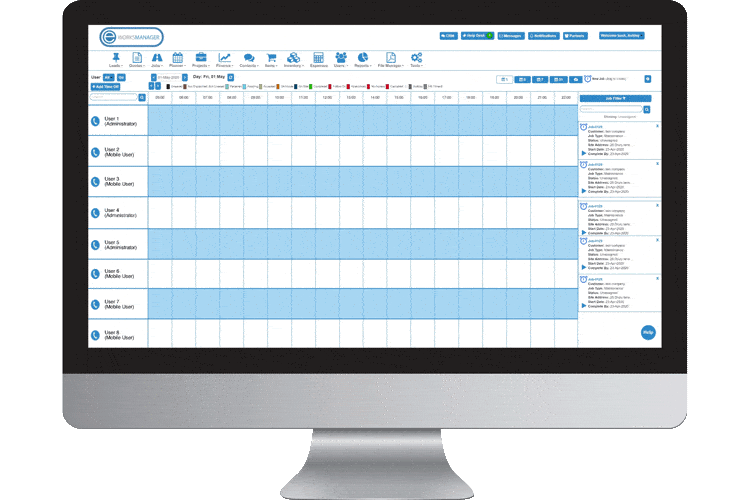 Maintain and keep track of work done on your customers assets
Eworks Manager offers an Asset Management Feature, which is an essential function of any Facilities Management company. Incorporated within our Job Management Software, you can create, manage and maintain all yours and your customer's assets.
Our Mobile Assets Feature holds many benefits as you can add, assign and maintain assets from your mobile device. This feature can be especially handy for staff who are always on the move!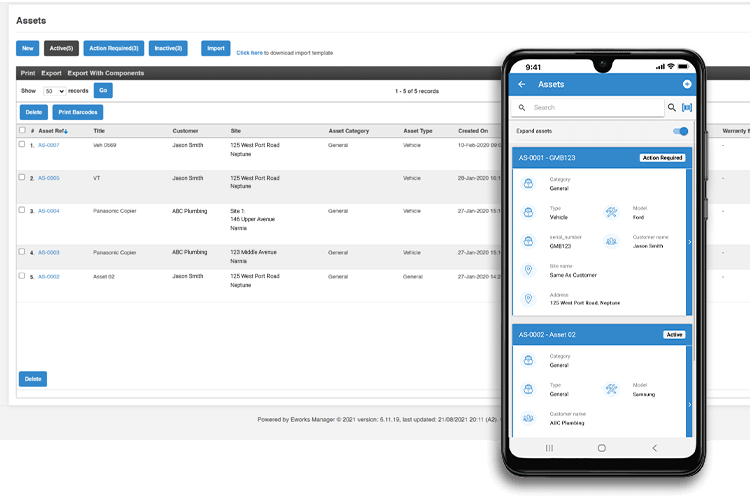 New Job Approval Methods!
Have your field staff follow the safe practice of social distancing using our latest features when having jobs approved by customers.
Facility Software FAQs
1How will Facilities Management Software benefit me as a Business Owner?
You, as the employer, have a whole range of various tasks to complete to make your business run as smoothly as possible. Our Facilities Management Software will streamline every aspect of your business. The software is comprised of everything you need, from sending out quotes to assigning jobs, tracking your mobile technicians and invoicing. Our management software is developed for the service industry and can be accessed on any mobile device, via our Mobile App.
2What can I do with Facility Management Software?
Create jobs or
job cards
from the system or app. Assign jobs to projects or multiple trade jobs. Our
Staff Planning Software
has a virtual whiteboard that allows you to see all your diarised jobs.
3Does Facility Management Software improve efficiency?
Eworks Manager's Job Management Software was shaped to enhance the efficiency of your entire business, for you and everyone in your team. One of the most useful plugins in our software is aimed at helping your business go paperless. The system is accessible through the Admin System, which is generally utilised by your admin staff, and the Mobile App, which was designed for your team of field workers. The app enables field workers to log jobs, send quotes, and more. With everything captured within one app, they can spend more time focusing on their current job at hand.
4How will Facilities Management Software benefit my workers?
Your field workers will be able to spend more time doing their jobs instead of paperwork. Our mobile app removes the paperwork from the field and automates timekeeping while updating the office on the status of jobs in real-time.
5Can I track my mobile workers' jobs in real-time?
Real-time
job tracking
gives you the power to react to all the issues that happen in the field that occur spontaneously, instantly!
6Can I monitor my field staff?
Our
Employee Tracking System
tracks your field staff's current location and then gives them directions to their next job.