Are you looking to make asset management a profitable part of your business? Look no further as Eworks Manager has an all in one
Asset Management software
package!
It's important to know what's going on in your business at all times. This includes the care of all distributed company and
customer
assets. Our
Asset Management
feature involves managing and developing the asset distribution, maintenance, and utilisation of assets within a business. Having your assets set up in Eworks also allows you to know the status and
location
of all your assets. This makes things a lot simpler, especially when sending field staff out on a job against an asset.
Our Software has its many benefits and can help you with the following:
Save your business money & time
Track the history of your assets
Manage everything in one place
Barcode and locate your assets
Complete certificates against assets via the app
Keep track of jobs & recurring jobs, against assets
Maintain assets easily and effectively by setting up regular appointments
Keep assets organised
Avoid hardware costs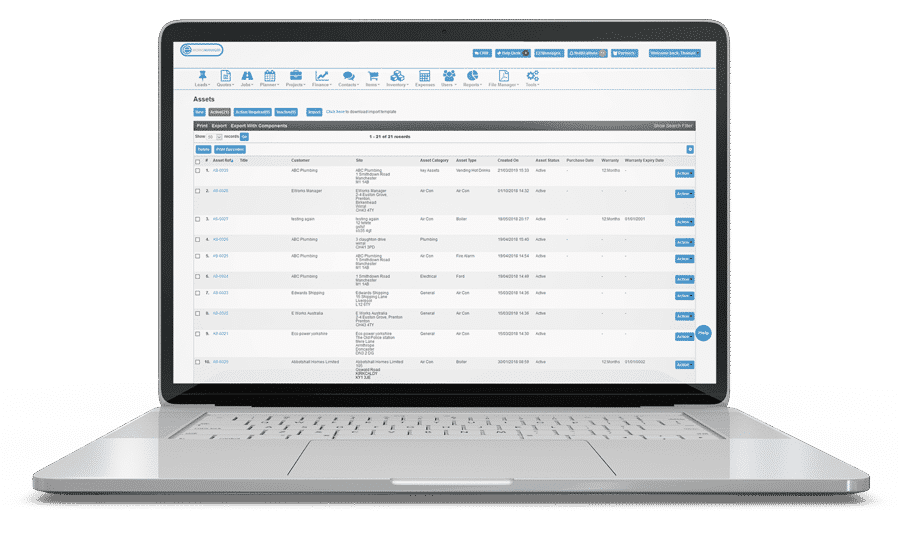 With our
Asset Management Software
, you can now create and manage all your company assets in one
system
. You can also locate them with a few clicks of a button. Furthermore, you can add assets to a job,
invoice
,
purchase order
and
project
!
Eworks Manager's
Asset Management
feature is also unique from others on the market because it is fully integrated into our
Job Management System
! This means that, with only a few clicks of a button, you can view all your assets, jobs, services, and asset components all in one system. This will improve workflow and make life a lot easier.
If you would like to see how Eworks can work for your business, start your
14-Day free trial
today or book in an online demonstration with a member of our sales team!
Call us: +27 (0)41 004 0045
Email us: info@eworksmanager.co.za
Automate Jobs
Automate your jobs to maintain your assets
Attach Files
Asset specific files can be viewed for all your jobs
Asset History
Engineers have the ability to see what has happened in the past.
Plan Schedules
Planning your projects allows you to forward schedule your workforce