Job Card Management Software
Eworks Manager, the No. 1 Job Card Management System!
Are you drowning in ongoing paperwork? Do you need help organising your staff and job load? Well, look no further as Eworks Manager can help you with both these aspects.
We offer an all-in-one J
ob Card Management Solution
so you can manage all your
invoices
,
quotes
and jobs effectively and efficiently! You can also create jobs on
our job card system
and then allocate them to your field staff. Your staff can furthermore then go on the
Job Card App
and directly accept the work. Our software hence aims at keeping your business running smoothly.
Here are a few of our main Job Card Management features;
Create, edit, track jobs
Create job cards
Assign jobs to your staff and to a project
Multiple trade jobs can be managed effectively
Track your staff on a job on our map view with built-in tracking
View staff diaries
Never lose track of a job as all uncompleted jobs require actions
SMS feature for customer alerts
Send jobs straight to invoice via the app once a job has been completed
Take photos and attach them to jobs
View the history of a job
Attach documents to a job
Signature capture on the App for approval and confirmation
Email/Print job sheet to clients
Lastly, view comprehensive Job Reports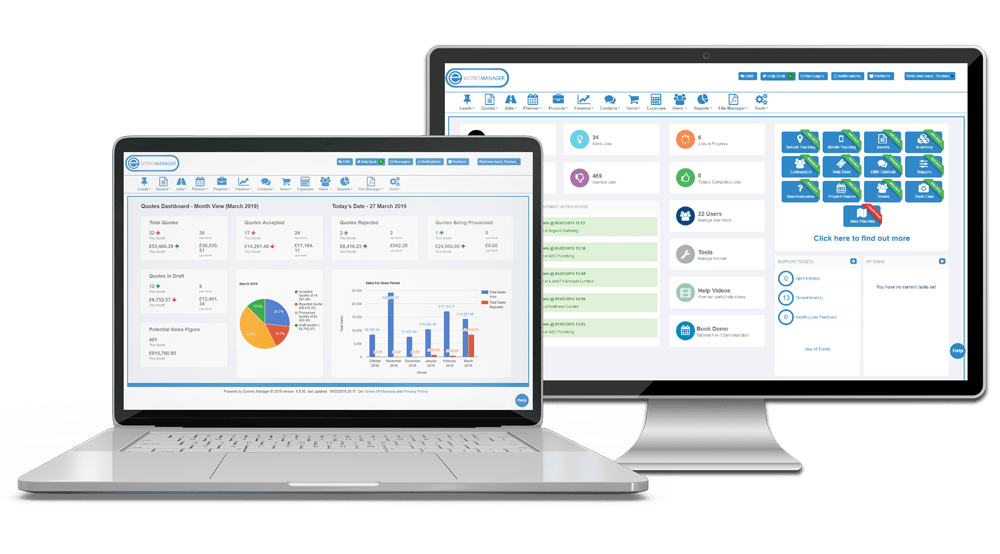 As you can see our
Job Card Management Software
has its many benefits when it comes to managing your job load. It also keeps everything in one place so there is no need for log books and chasing around missing paperwork. Get your business in shape now with Eworks Manager!
If you would like to see how Eworks can work for your business, start your
14-Day free trial
today or book in an online demonstration with a member of our sales team!
Call us: +27 (0)41 004 0045
Email us: info@eworksmanager.co.za
---
Import Jobs
Import all your jobs into our system - Integrate with your customers
Manage Diaries
Manage all your workforce diaries and schedule on our planners.
Reactive Maintenance
Respond to emergencies with efficiency and know you have scheduled the right person.
Planned Maintenance
Ensure you are achieving all your project goals with our automated job management system.