Manage Your Field Service Business & Support Your Technicians With One Platform. For a 14-Day Free Trial, click here!
Optimise Job Management & Keep Your Field Service Team on Track with Job Management Software
Automate your manual busywork and streamline your processes to boost efficiency and productivity.
Sign up for our Job Management Software and trade your paperwork for our digital solution. With Eworks Manager, you can reduce your manual workload and optimise job management to increase efficiency and productivity.
With access to our system from your desktop or mobile device, you can schedule jobs, create and send quotes and invoices, manage leads, track your vehicles and technicians, and optimise route planning, whether in the office or on-site. You can get real-time updates, see which jobs your technicians are working on, track time spent on tasks, and monitor your team's journeys, including mileage and idle time.
Our software is the ideal solution for field service teams who are always in the field or on-site and need access to job and customer information on the go. All your data is stored on a secure, cloud-based system, giving you and your field workers access to work-related documents and details wherever and whenever.
Discover the features that make our Job Management System a valuable tool for your field service business.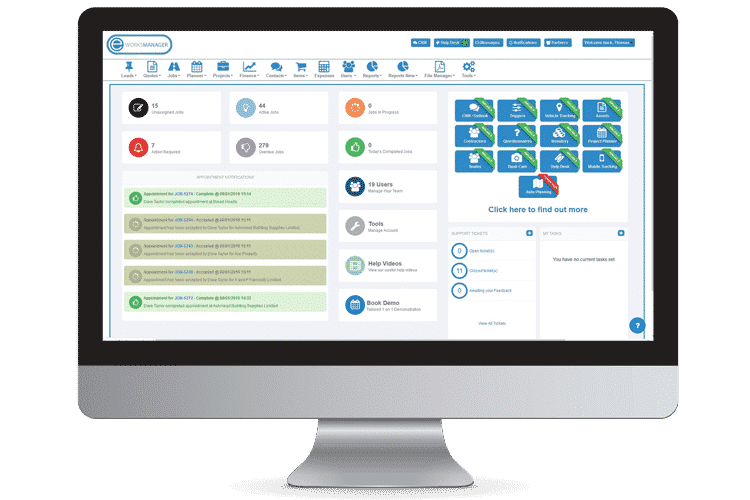 Plan Ahead with Job Scheduling
Job Scheduling allows you to plan your team's schedules, saving time and reducing your manual workload. You can create digital job cards and, with our Time Planner, drag and drop appointments to available timeslots on your technicians' calendars. The Time Planner gives you a clear view of everyone's schedules from one platform, helping you optimise job scheduling and find availability when a new appointment needs to be scheduled.
You can take it one step further and automate job scheduling to optimise your workforce for maximum productivity. Our software will automatically assign jobs to your team based on their availability, saving you the time and hassle of finding a technician for a job.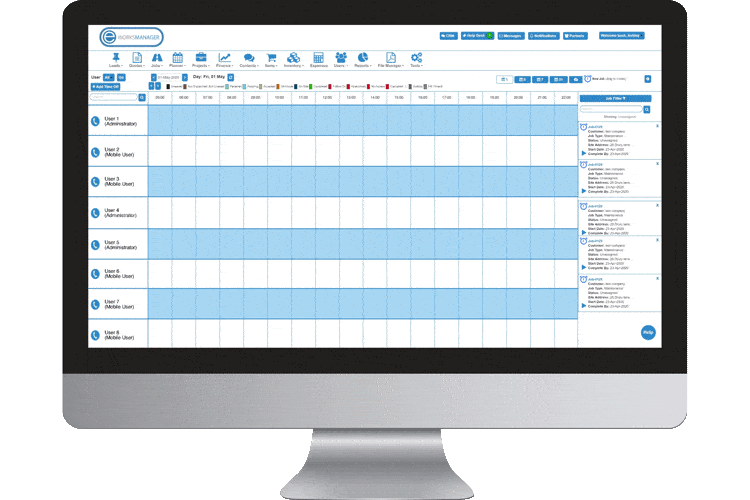 Support your Technicians with Mobile Tracking
Supporting a team of mobile workers can be challenging, but with Mobile Tracking, you can see where your technicians are at all times, review previous journeys and improve reactive planning.
Once Mobile Tracking has been activated, you can view the live location of each user. Tracking can be activated during work hours and turned off after hours to protect your team's privacy. Our playback feature lets you review your team's journeys and see where they travelled. Mobile Tracking makes reactive planning easier, as you can find your client's location and the nearest available technician in real time.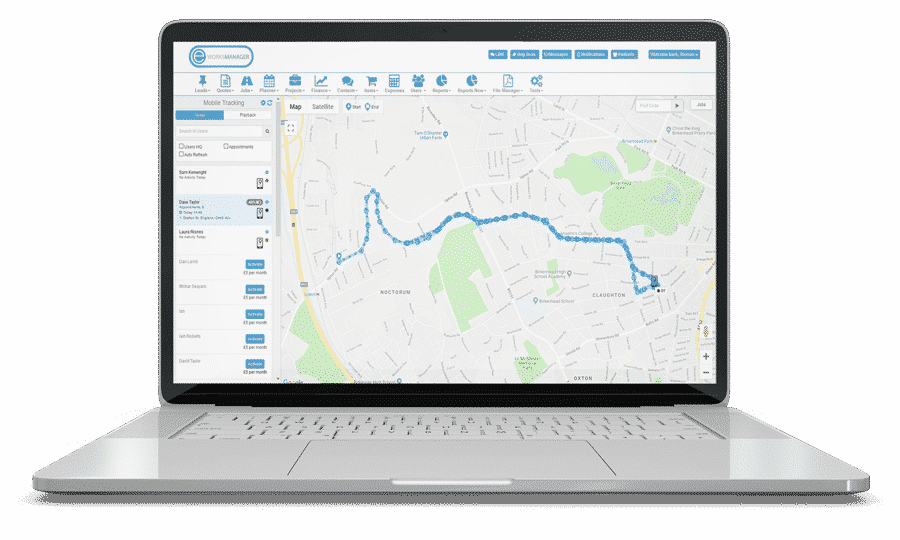 Collect Data On-Site with Questionnaires
Whether you need to confirm that your technicians have followed safety rules or you need to collect customer information, you can create questionnaires and capture data on-site via our Mobile App.
You can create mandatory health and safety questionnaires for field workers to ensure they've followed all rules and regulations on-site. For clients, you can create questionnaires to collect feedback to measure customer satisfaction and improve your service.
Each questionnaire can have up to 10 questions, and you can assign the questionnaire to multiple customers or employees. If the questionnaire must be completed, you can make it mandatory and set a due date. You can view all completed questionnaires from the admin system and see which customer or field worker completed them.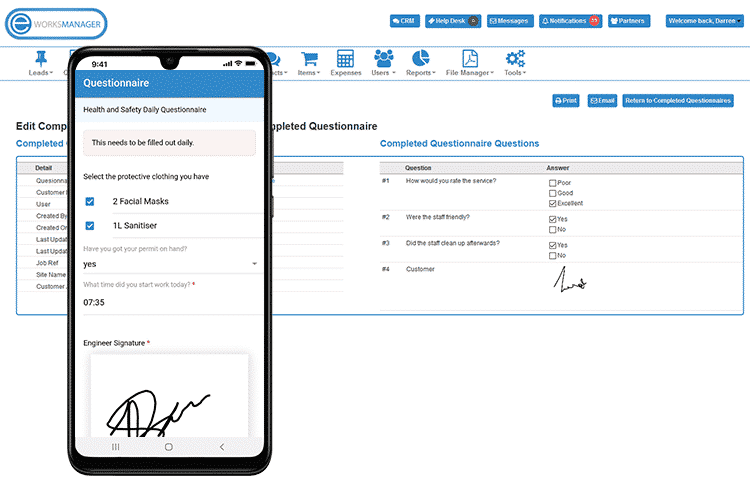 Keep Your Field Workers Safe, No Matter Where They Are
When a technician works in a dangerous or isolated area, they can activate our Lone Worker feature, available on our Mobile App. Once activated, a timer will start, and the technician will have to check in before the time lapses to let your team know they're safe and restart the timer. Once they've arrived at their destination, they can deactivate the Lone Worker feature.
If a field worker is in danger, they can hold the panic button to trigger a panic alert, which will be sent to the designated admin worker. Our Lone Worker feature offers a quick, reliable way to keep your technicians safe, even when they're working remotely.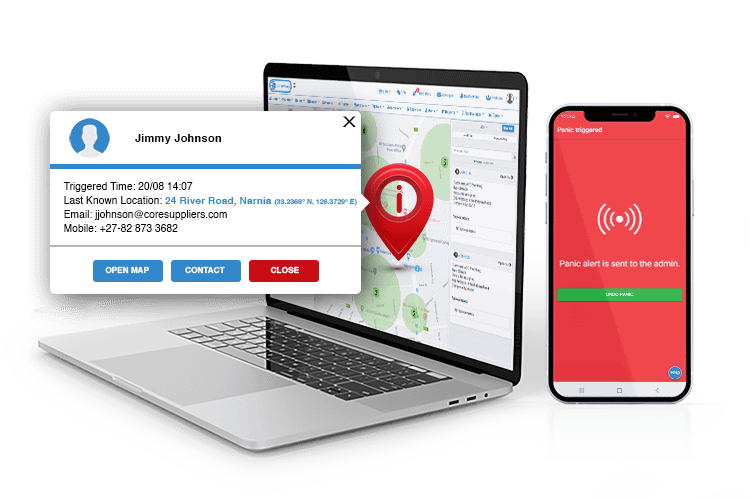 Create and Share Digital Documents
With Job Management Software, your technicians no longer need to take files of paperwork to job sites. Instead, you can create and share digital documents with them, and they can complete digital documents on-site via our Mobile App.
Your existing documents can be digitised and uploaded to our cloud-based system so that anyone in your team can access them in the field. If your technicians need to complete documents on-site, they can capture the information with their mobile devices, and the information will immediately be available on the system.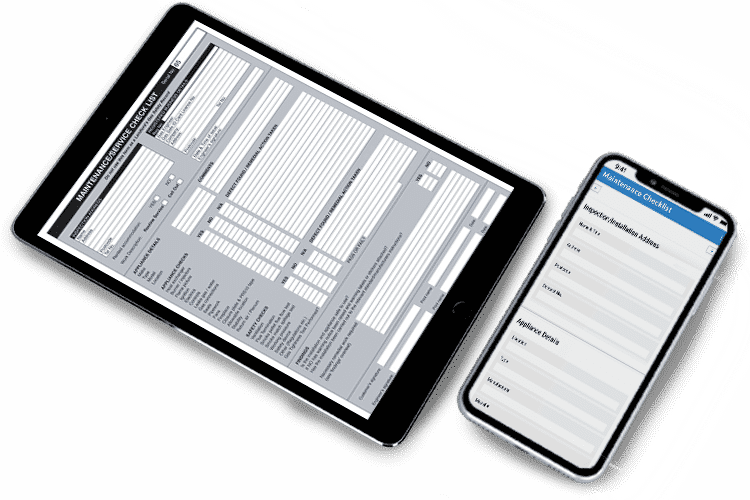 Review Productivity with Comprehensive Reports
Instead of using multiple platforms for field service management and reporting, use our software to generate reports and manage your business. Our comprehensive reports give you insight into various areas of your business, including quoting, invoicing, asset productivity, jobs, driver behaviour, travel time and time spent on-site. You can also use our reporting tool to determine the success of your processes and whether any need to be reevaluated to improve efficiency.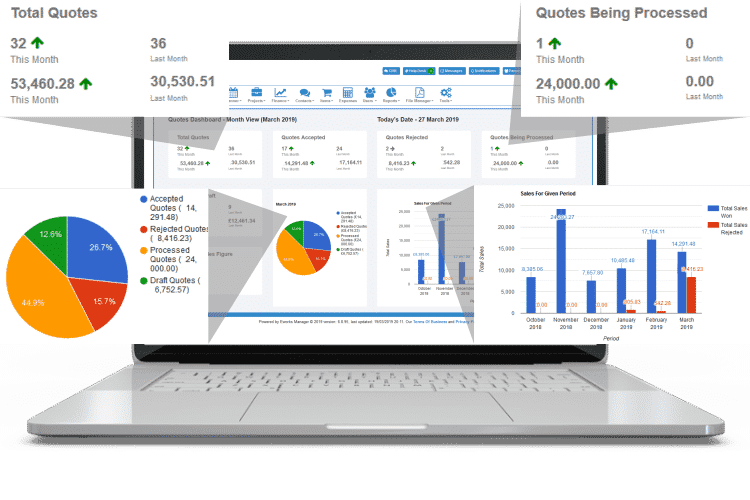 The Complete Business System
Some additional features that would benefit your business
Job Card Management FAQs
1What is Job Management Software?
Job Management Software is an all-in-one digital tool designed to automate and streamline your tasks and processes to reduce manual busywork, improve time management and increase efficiency. You can manage your jobs and technicians online and collect and share all project and customer information on a secure, cloud-based system.
2What is job management?
Job Management is the approach to managing jobs and field workers to fulfil customer requests efficiently and meet business goals. It includes job scheduling, vehicle and mobile tracking, quoting and invoicing, and asset and inventory management.
3What are the benefits of a Job Management System?
With the right tools for the job, your field workers can offer superior service to your customers, and the same can be said regarding field service management. With an effective Job Management System, you can optimise field service management to increase efficiency, boost productivity and ensure your business reaches its goals.
Automating manual tasks and streamlining processes like quoting, invoicing, route planning, job scheduling, lead, inventory management and asset management can improve time management and boost efficiency. Good time management allows you and your team to focus on meaningful work and efficient processes to ensure jobs are completed on time and that the quality is always excellent.
A Job Management System provides a platform where all project and client information can be stored securely and accessed by anyone in your team from any mobile or desktop device. Easy access to data ensures that your team is always prepared, keeping customers satisfied and your technicians on schedule.
4How can an Electronic Job Card System boost profitability?
With our Job Card Software, you can automate and streamline your busy work and processes to increase efficiency and productivity.
Increasing efficiency and productivity is one of the most effective ways to boost profitability. When your technicians work optimally, they can work faster, increase their output and take on more work from clients. Our system boosts profitability by increasing your team's capacity and ability to work efficiently.