An Efficient Inventory Management Tool for Your Field Service Business. For a 14-Day Free Trial, click here!
Manage Purchase Orders, Picking Lists and Track the Movement of Stock From One Location to Another with our Inventory Management System
Streamline inventory management with our cloud-based Inventory Management Software.
Efficient inventory management improves data accuracy and warehouse management, ensures your team has enough stock to fulfil customer orders and keeps your field service operations on track.
With our Inventory Management System, you can do all this and more. Our cloud-based software provides a central hub where you can monitor stock levels, manage purchase orders, create picking lists, and track the movement of products and materials from one location to another.
Our software provides the tools for effective inventory management and makes it easier to streamline your processes to improve inventory accuracy, data visibility and customer service and prevent stock issues.
Discover how you can optimise inventory management with our Inventory System.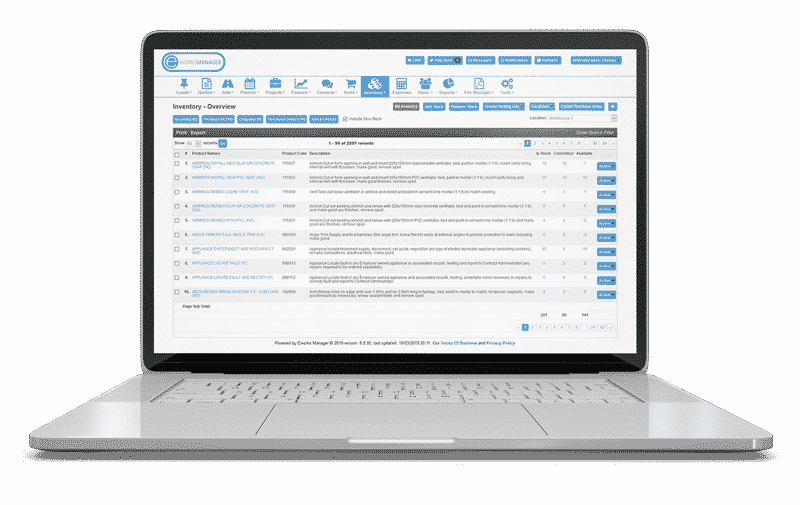 Streamline Your Purchase Order Process
Our Inventory Management System gives you complete control over your purchase order process.
You can create and share digital purchase orders with suppliers, track the monthly cost of orders, see the number of orders sent, approved and awaiting delivery, and update the system once you've received your stock. If you need to order stock weekly or monthly, you save time and create a recurring purchase order to ensure your supplier knows how often you need materials to be collected or delivered.
Because our software gives you a complete overview of your purchase order process, it's easier to keep track of spending and prevent overstocking or understocking.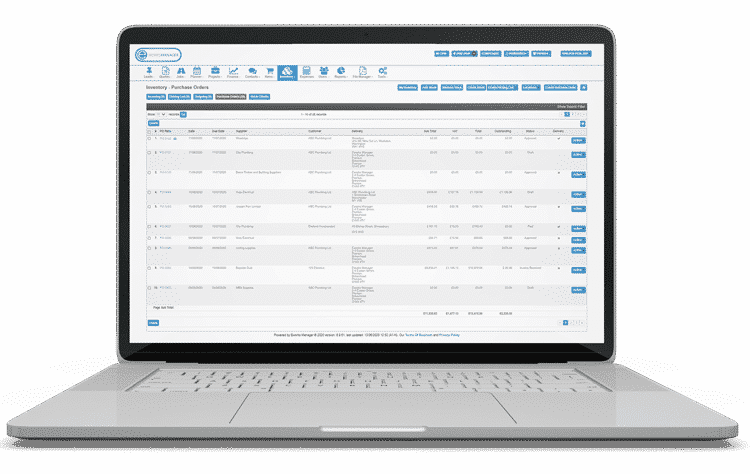 Manage Static and Mobile Stock
No matter where your products or materials are, you can track and manage your static warehouse stock and mobile stock with our Inventory System.
Our software tracks stock movement to give accurate stock level information for each warehouse and vehicle, including the number of items available or allocated to jobs. If you need to transfer static stock from a warehouse to a technician's van, you can create a picking list, and once the items have been picked, your technicians can move the items on the system to the vehicle. Your technicians can transfer their stock to another field worker from our Mobile App or return stock to the warehouse.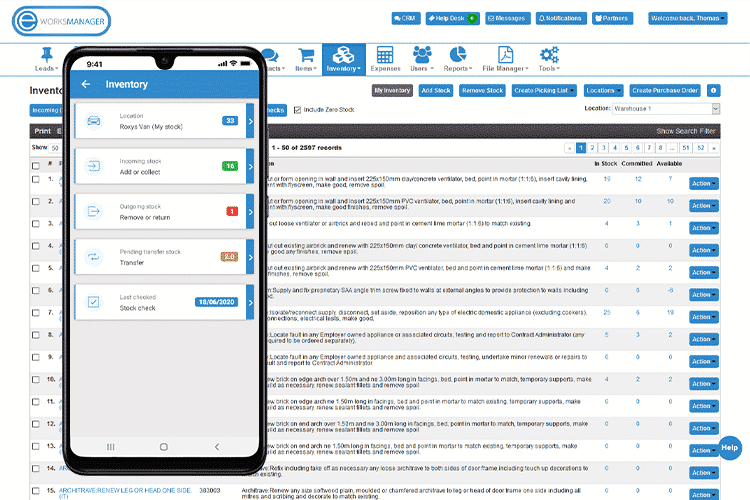 Create and Manage Picking Lists
Efficient order picking ensures your technicians have the materials they need on time to meet deadlines and stay productive. With our Stock Management System, you can streamline the process to make it more efficient.
You can create digital picking lists to transfer stock from a warehouse to a technician's vehicle. Once the items have been picked, your inventory levels will be updated on the system.
Your technicians also can create picking lists from our Mobile App, giving your team the power to find and collect the items they need for their jobs when they're in the field. They can also view their stock, collect items from a specific location, remove, return or transfer inventory or do a stock check.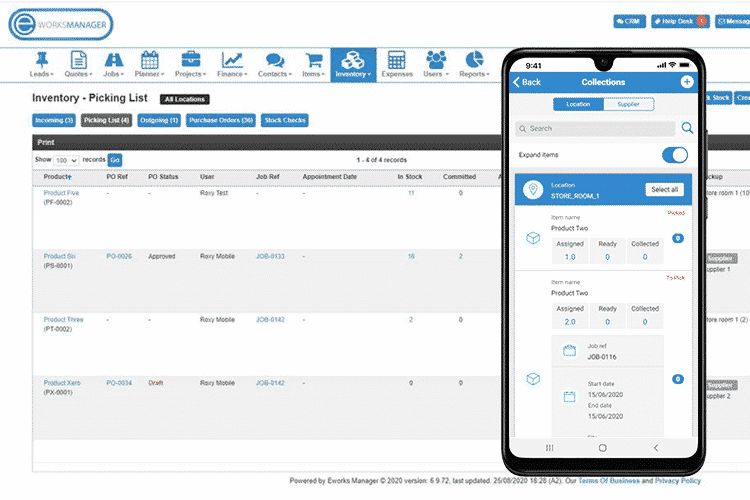 Track and Manage Stock Across Multiple Locations
Managing and monitoring stock can be challenging if you store materials in multiple warehouses and your technicians keep items in their vehicles. But with our Inventor Control System, you easily locate and manage stock across multiple locations.
Our software gives you an overview of stock levels for every location, including your technicians' vehicles. You can see how many items are in stock, the number committed to jobs, and the number of items available.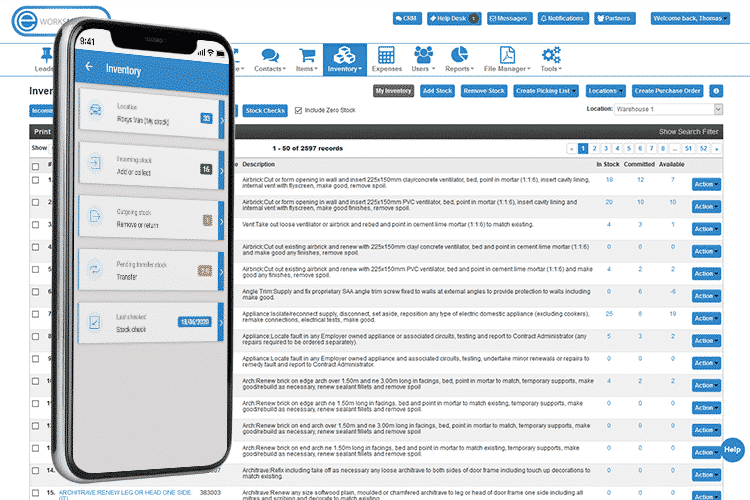 Keep a Record of All Inventory Management Activities
Our Stock Management System automatically keeps track of all activities related to inventory management, including adding and removing products or transferring items from one location to another. Instead of manually recording stock transfers, you can rely on our Inventory System to keep an accurate record of stock movement.
Your inventory history includes a breakdown of the user who added, removed or moved stock, the date and time the action took place, and the product added, removed or transferred. The data is stored on our secure, cloud-based system and can never be lost or misplaced.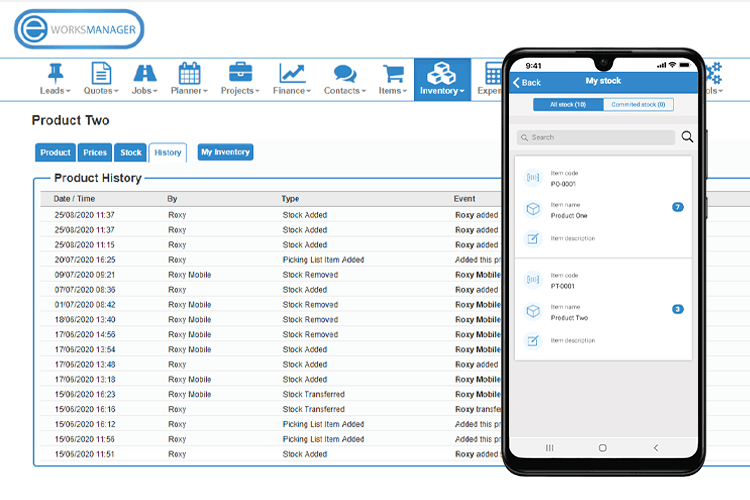 The Complete Business System
Some additional features that would benefit your business
Inventory Management System FAQs
1What is Inventory Management?
Inventory Management is the process of managing and tracking your stock levels to ensure your business has the materials it needs to maximise productivity and warehouse space and prevent overstocking, understocking and high storage costs. It includes monitoring stock levels, managing purchase orders, creating picking lists, and tracking stock.
2What is an Inventory Management System?
It's a digital tool your field service business can use to optimise inventory management. With an Inventory Management System, managers and field workers can locate stock, create and manage picking lists and purchase orders, and access a record of all inventory management activities.
3How does an Inventory Management System work?
An Inventory Management System tracks the movement of your stock, helps you transfer materials from one location to another, and helps you manage purchase orders and Picking Lists to improve inventory management.
An effective Inventory System will save you time by making it quicker to locate stock, create picking lists, and monitor purchase orders. It'll also help you keep optimal stock levels to maximise productivity while keeping storage costs low.