Employee Tracking App
With Eworks Manager's
Employee Tracking App
, locating operatives out in the field is easy. As soon as their status updates on the
Mobile App
, it sends their location back to the
admin system
. Your technician's location is then mapped and marked on our
Geo Planner software
.
Locating the current location of field operatives is especially handy when planning reactive jobs. You can track the progress of their current job, give customers a realistic time of when someone will be able to attend the site and also view how far away your technicians are from a job.
Tracking is a vital tool for any business with field staff. For example, you may need to keep track of the time spent on-site and any idle time where your engineers aren't working. Fortunately, Eworks Manager has a built-in software for
online time tracking
. Our software allows you to run reports and helps you manage your workers more efficiently.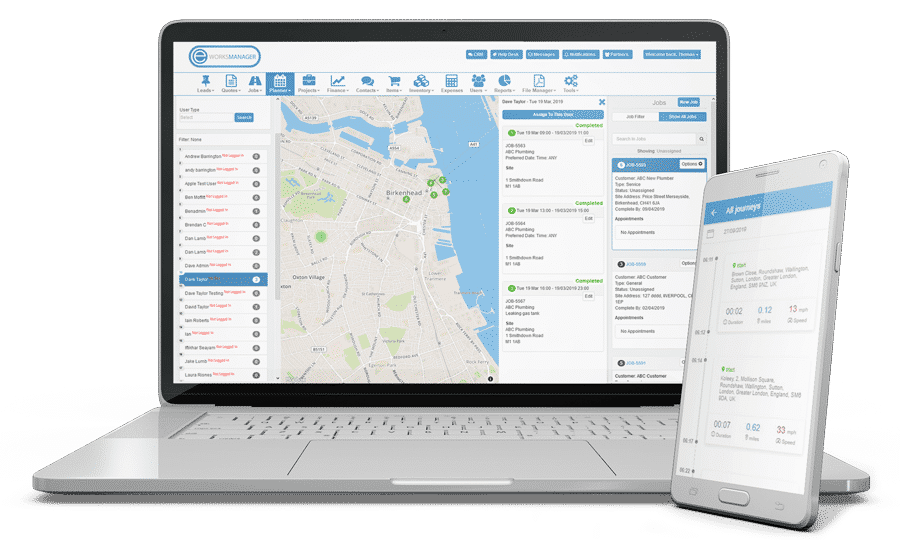 Keep track of your employees and jobs
When working on
projects
that may take weeks or even months, being able to account for every second is crucial. With Eworks Manager's
Employee Tracking App
, you can see your profits from day one. This allows you to spot any issues and make the necessary changes before a small issue becomes a financial crisis.
You can also place an hourly rate against a technician and calculate every cent that you are spending on wages and salaries. All these costs are calculated in the background. You hence won't need to use calculators at the end of every job.
Eworks Manager's
Employee Tracking App
is the perfect solution for your business. No more worrying about expenses and guessing if you have made a profit or loss - Eworks Manager can really save you time.
If you would like to
get in touch
, please feel free to call our office directly or pop us over an email. We would love to chat and offer you a free personalised online demonstration of the software!
Call us: +27 (0)41 004 0045
Email us: info@eworksmanager.co.za