Staff Scheduling App
Schedule your employee shifts faster and more effectively with our powerful, easy-to-use staff scheduling software. Automatically create error-free schedules, import staff schedules and copy shifts. Our
Staff Scheduling App
allows specific field workers to log jobs from the field.
Once a job is added, the job syncs automatically to the
admin system
. This allows for a more dynamic approach to scheduling jobs and is also the perfect solution during periods of shutdown etc.
Let your staff members set the availability and deal with business management. Managers are conserving up to 85% of times by sharing staff scheduling duties. Whether you're dragging a staff member onto a predefined shift or moving your desired shift to a new date - all these tasks are interactive and visual in our online software. This means you can spend less time on the work schedule and more time on your own business.
Eworks also has an easy-to-use
mobile App
. This lets field operatives create jobs for themselves or a colleague. They can also schedule one for the admin staff with a few quick steps.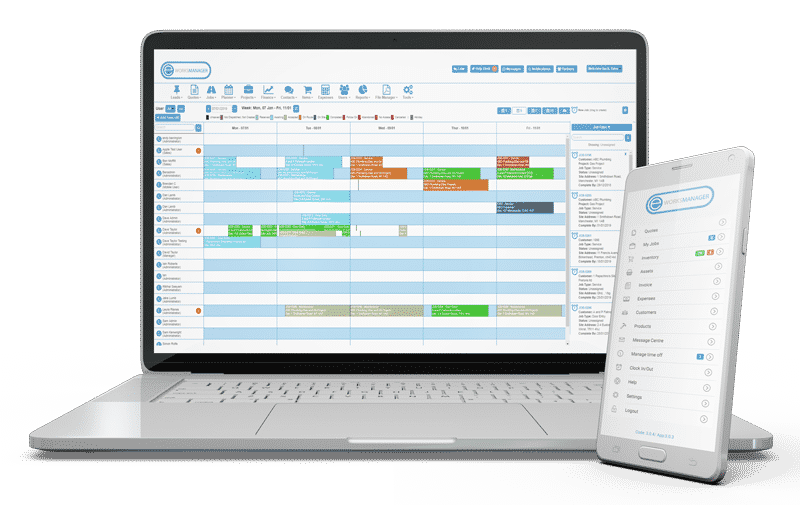 Workers tending to emergency jobs, who don't have the time to log a job beforehand, can also simply add a
time sheet
afterwards. This ensures that every job is captured and accounted for.
Unlike most
job card management software
's out there, we provide constant support to all our customers. Whether you have a quick question, require more training on the admin system or the app or require a bespoke to change, we are always here to help with our super friendly customer service team and 24/7 support email.
Call us: +27 (0)41 004 0045
Email us: info@eworksmanager.co.za