All mobile workers can use any smartphone/tablet to access their assigned jobs. Long gone are the days of needing to be in the office at 8 am to receive your jobs for the day. When using our
job scheduling app
, the office can directly send jobs and appointments to you - making job scheduling a whole lot easier!
This allows you to go straight to your job and complete it, with all the required information in hand.
The admin system
then manages and tracks the progress of all jobs in real time. Our Service Job Scheduling Software lets you make time-critical decisions a lot easier. The admin system tracks travel, appointment times and
expenses
so you get a true cost of the job in progress.
With the ability to
take photos
, view and add attachments, and fill out forms on the go, Eworks Manager eliminates the use of paperwork. The
job scheduling App
allows you to complete paperless job cards and capture a signature against a job card, helping you get the confirmation you require from a customer or operative.
In addition to the features above, the App will also allow you to capture the time spent on site and the expenses. You can also record any recommendations you have discovered. If the job requires additional parts, field workers can add variations to the job for the office to
invoice
correctly.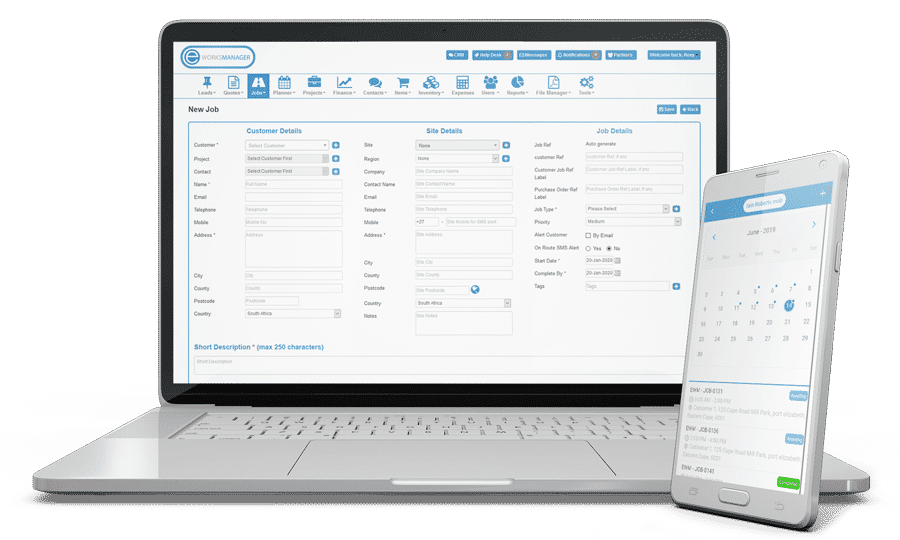 The perfect work schedule app for employers
The
Mobile App
also offers the option to authorise and send a job for invoicing, whilst on site. This is beneficial if you are a one or two-man show. If not, your workers out in the field can complete the job and leave the rest up to the office.
The access rights within Eworks lets you decide who has access to certain parts or features of the system. This includes the mobile App. For example, decide whether a specific field staff can add additional products to a job, or if a fieldworker can view everyone's jobs. It's all up to you.
We have several plug-ins available on our
job scheduling system
to make your Eworks system more advanced. Please
get in touch
and we will be more than happy to talk through your requirements. Also, feel free to book an online demo of the system. That, or start your
14-day free trial
so you can see the system for yourself.
Call us: +27 (0)41 004 0045
Email us: info@eworksmanager.co.za