Purchase Order Software
Whether you're a builder, engineer or plumber, you will always have to order materials, tools, and parts for a job. So, how do you manage these purchases? Well, that's where Eworks Manager's
Purchase Order Software
comes in!
Handling purchase orders can be chaotic, especially if you use paper documents! It is vital that ordered and delivered materials are managed effectively for reactive jobs.
When managed correctly, you can keep your
customers
and staff informed on deadlines and completion dates for your jobs. Our
Purchase Order Software
also saves your office staff time from chasing after documents and looking through file cabinets. Create, manage and process purchase orders with a few clicks of a button.
It's furthermore important that products are delivered and processed on time for planned work, so that a job can stick to an agreed schedule. With Eworks Manager, this is a guarantee.
Seamless Integration
Our software also has a built-in purchase ordering section that integrates into
the rest of our system
. Gone are the days of using a separate purchase order system and then copying all your information into multiple systems. Our integrated
online quoting system
and job management system sync seamlessly to our purchase orders section.
This makes your job easier. You can now create all your purchase orders with just a click of a button. Our easy to use
online purchase ordering software
has made controlling your business more user-friendly and efficient.
When you create a purchase order, you can also send it off for approval before sending it to the supplier. Once you receive the invoice, you can upload and record the details of the
invoice
into the system and set a due date. Once the order is received, you can also record the items against the original purchase order before notifying the booking team that the job is now ready to be assigned.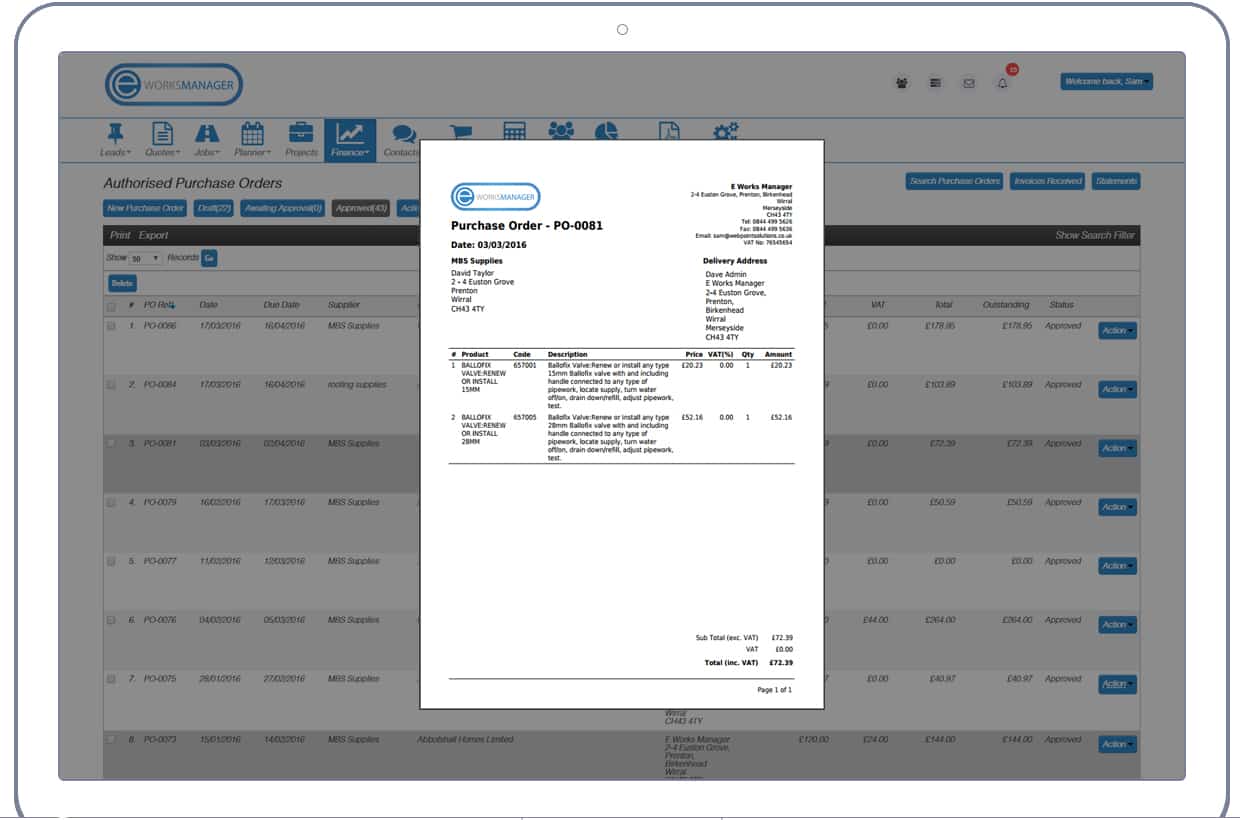 With Eworks Manager's Purchase Order Software You Can;
Manage your suppliers and their pricing
Take control of your profits
Eworks Manager is committed to providing you with user-friendly solutions and helping businesses around the world become more efficient and profitable.
Get in touch if you would like to book in a demo of the software!
Call us: +27 (0)41 004 0045
Email us: info@eworksmanager.co.za