Route Optimisation Software - Route Mapping Software that automatically plans your jobs economically to save you time and money
Save time and money without compromising your service delivery. Schedule the most suitable engineer for the job using our Route Mapping Software.
Eworks Manager provides the very best in Route Mapping Software to automate your job scheduling. Our Auto Planning feature takes into account elements such as staff availability, training, cost and other appointment requirements when scheduling your tasks and allocating workers. With a few clicks, you can have our system automatically plan all your jobs for the next month in just a few minutes. Tasks can be scheduled for the most economical route or the fastest arrival time.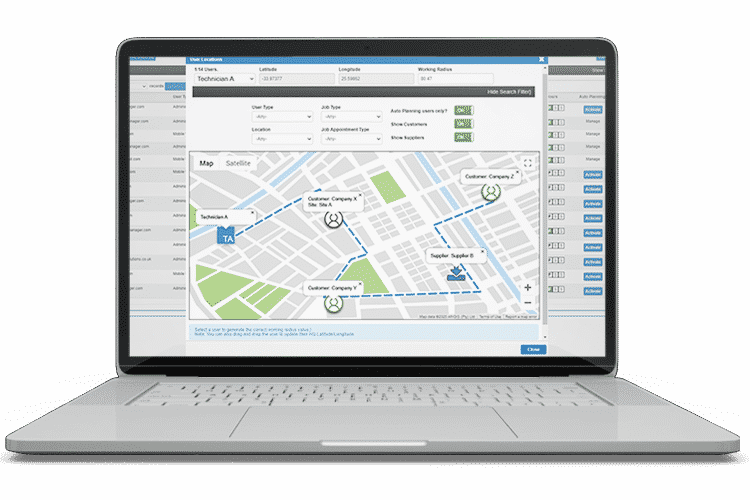 Reduce Costs with these Key Factors
Our GPS Routing Software allows you to set which job types need to be planned automatically and gives you the choice of having these appointments scheduled for the fastest routes, or the most economical. With this Planning feature, you can have our system automatically prepare specific job types for the most economical route, saving on travel and fuel costs. You can also have time-sensitive appointments set to be planned for the fastest possible way for those tasks which need to meet specific SLA conditions.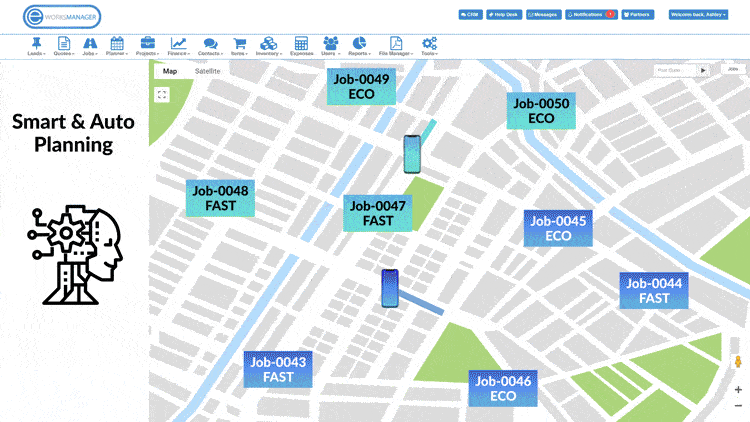 Route Optimisation based on Employees
Our Route Planning Software takes several critical elements into account when allocating a job to an employee. Things such as staff availability, including off days, the number of tasks scheduled to a field worker and the job type which is most suitable for that team member are all taken into account. This feature ensures that the best worker attends to every job and that workers are never overworked.
Improve Productivity & Drive Efficiency
With all the elements, factors and features our Route Optimisation takes into consideration; it is no wonder that this feature is such a big hit. It takes only a few minutes to go through the settings and adjust them to suit your requirements. Once set up, your appointments for the entire month will be planned and allocated to your mobile team. Due to the economic or fastest route settings, which come from our Route Planning feature, you can fit more appointments in a day, increasing productivity, grow profits and completely change the way you run your business.
The Complete Business System
Some additional features that would benefit your business
Route Optimisation Software FAQs
1What is a Route Optimisation?
Route Optimisation is the process of deciding on the most cost-effective route. It's more intricate than simply finding the shortest track between two points. It needs to include all relevant parts, such as the number and location of all the stops on-route.
2How does Route Mapping Software work?
Route Mapping Software allows managers to plan workers' routes, as well as readjusting their routes in real-time where required. Route Planning takes all factors into account when scheduling appointments, from job type, location and any SLA's which may apply.
3How do I optimise a route in the software?
Our
GPS Routing Software
is an advanced feature update on the manual process of our Route Planning Software which gives you the choice of how you would like your jobs scheduled. These can be scheduled with the most economical route or the quickest possible route and response time. Our
Route Optimisation Software
then steps in and schedules your jobs for you in the best, most efficient way, allowing you to fit more tasks into a day, saving on fuel costs, and improving overall customer satisfaction.