Document Management Software
It can be sometimes be scary going digital when implementing a new job card management software to your business. It can also be worrying to change all of your paperwork to suit a new system, but not with Eworks! Here at Eworks Manager, we take our client's generic work documents into consideration. We have hence created a digital document service to store any work documents you require on your account!
Using our Document Management Software allows you to have all your documents and files stored in one place. This takes away the problem of losing vital information when having a new job management system. We can also digitise any documents that you may have. All you need to do is send us a blank copy of the document, so it can be added to your account ready to use.
This will allow your field operatives to fill them out on their tablets and mobile devices when out on in the field so you can get the required information that you may need, such as customer and engineer signatures!
The Benefits Of Going Paperless
Going paperless means that you can get important documentation back in your hands instantly. It also means that you can assign them to the appropriate jobs. Customised forms, certificates, surveys, questionnaires, and much more are used on a daily basis in our system.
All documents are also stored in an easy-to-find, searchable file storage unit. As well as this, we keep all documents and files against jobs so you can gain a full history of what happened on every job. You can even assign digital documents to a job type using our document management software.
When this job type is created for a user appointment, the document will automatically be added to the job at hand. Furthermore, we do not have limits on what you can upload and store in our professional solution as we tailor to you!
Our document management software is a great investment to your business. Having all paper-based documents within one system allows you to keep your business organised. It also makes life a lot simpler for your office staff!
Eworks Manager enables you to manage your whole business. Built with specialist SMEs in mind, Eworks Manager has built-in systems, which provide the technology foundations to grow your business.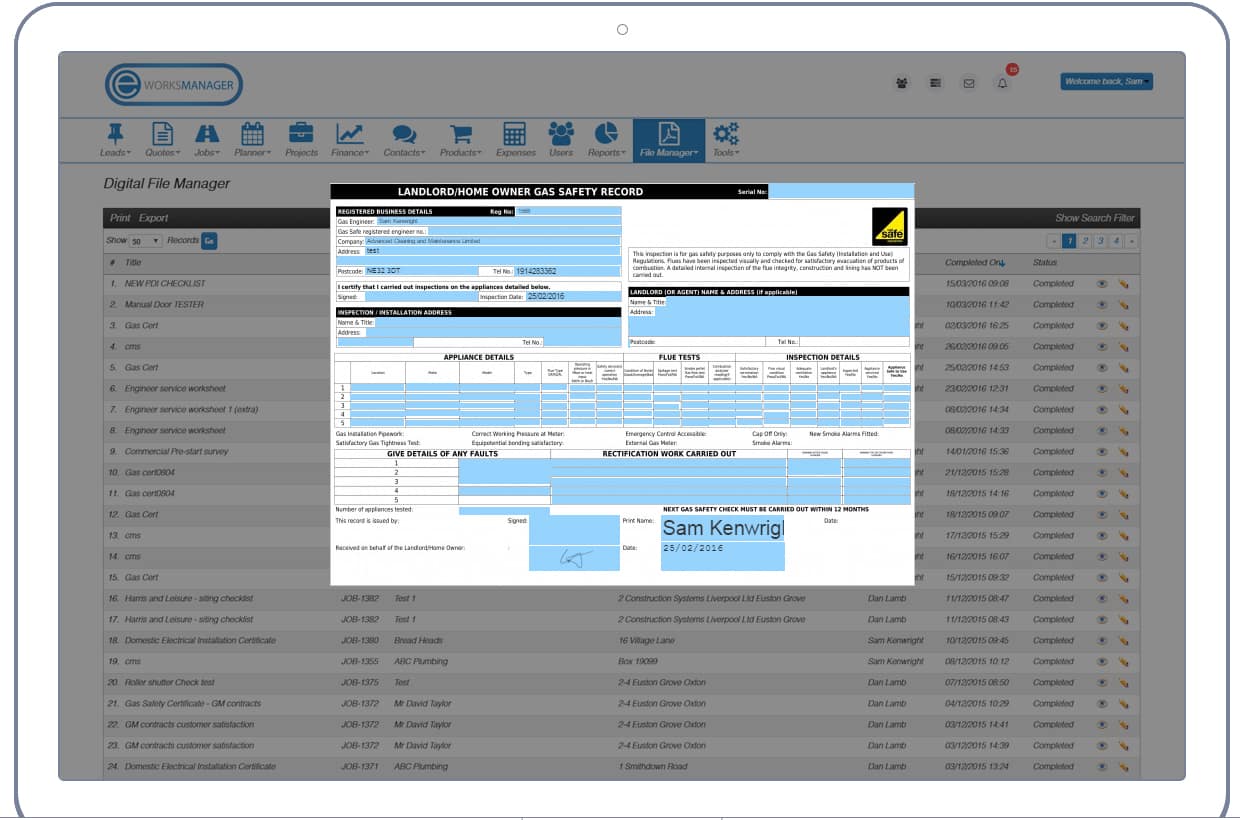 Unlike most job management software's out there, we provide constant support to all of our customers. Whether you have a quick question, require some more training on the admin system or the app or require a change, we are always here to help with our super friendly customer service team and 24/7 support email.
If you would like to get in touch and discuss more about our digital document services and what we can do for you, please feel free to call our office directly or pop us over an email. We would love to chat and offer you a free personalised online demonstration of the software!
Call us: +27 (0)41 004 0045
Email us: info@eworksmanager.co.za