The right Pest Control Software can help you achieve your performance goals, deliver a competitive service and boost customer satisfaction. But with many options to choose from, selecting the right one requires careful consideration.
In this buyer's guide, we'll explore the key factors to consider when choosing software to help you make an informed decision.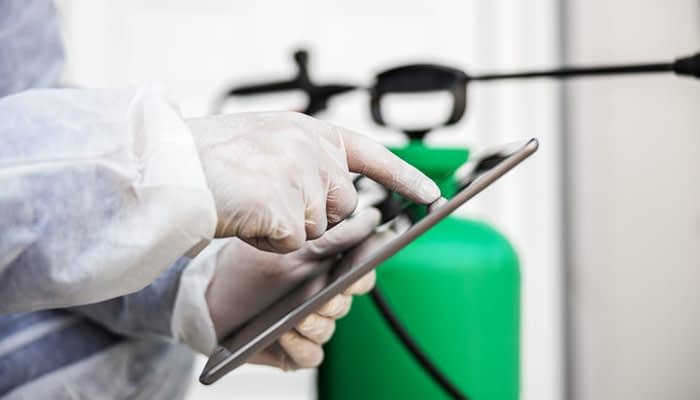 What is Pest Control Software?

Pest Control Software is a specialised software designed to help you manage and organise your operations. It provides a range of features to streamline various aspects of your business. These include job scheduling, quoting, invoicing, route planning, inventory management, and more.

The benefits of Pest Control Software

Cloud-based software offers pest control companies and professionals countless benefits, including the following:
Streamlined operations: Simplify your processes to improve efficiency, service delivery and customer satisfaction.
Efficient data management: Manage all customer information in one place. A centralised platform for storage streamlines data retrieval, reporting and decision-making.
Improved customer service: Access to customer details allows you to personalise your interactions. Automated reminders ensure you provide timely service, increasing customer satisfaction and retention.
Reporting and analytics: Generate reports and analyse key performance indicators (KPIs). Access to accurate information helps you track performance and make data-driven decisions.

How to choose the right Pest Control Software: 10 tips

There's no definitive guide to choosing the right software. But if you consider the following, you can increase your chances of finding a system that meets your needs:

Ease of use

When comparing software solutions, consider each system's ease of use. A user-friendly platform will be easier to adopt, helping you maximise productivity. You'll also spend less time training your team. Search for a solution with an easy-to-use interface, intuitive navigation and simple features.

Mobile access

Because your technicians spend most of their time on-site, they need remote access to the system. Choose software that offers a mobile app so they can access information, update job details and capture data in the field. Mobile access facilitates efficiency and real-time communication.

Job scheduling

Sign up for software that lets you schedule appointments ahead of time. Job scheduling can help you increase productivity, avoid overtime costs and prevent underutilisation. Search for a system with a drag-and-drop planner and automated scheduling. These features can help you optimise resource allocation and reduce scheduling conflicts.

Route planning

Route planning can help you reduce travel time, improve fuel economy and increase productivity. Find a solution that lets you find the quickest routes or the nearest available technician, depending on whether you want your workers to spend less time on the road or get them to job sites as soon as possible.

Inventory management

Inventory management is crucial for any pest control business. It helps you manage supplies to ensure you have enough materials for jobs. The software you choose should let you track stock levels, locate materials and create purchase orders. These features can help you prevent stockouts or overstocking and ensure you meet deadlines.

Customer Relationship Management (CRM)

Software with a CRM function can help you manage all customer communication in one place. Find a system that lets you log customer calls and emails, handle complaints, add notes to messages, and create tasks related to queries. These features offer an effective way to assist clients and maintain strong relationships with them.

Quoting and invoicing

Choose software that lets you create and send quotes and invoices from a mobile app. You'll save time generating documents and be able to complete this process on-site or in the office. Automated reminders are another feature to look out for. They can save you the hassle of following up on overdue quotes and invoices.

Integration options

Find out what software integrations are available with the software. You should be able to integrate the system with platforms like accounting software and payment gateways. Software integrations save time, reduce human error and improve efficiency.

Free trial and support

Look for software providers that offer a free trial or a demo period. Free access to the software allows you to try it and determine if it meets your requirements. Assess the support options, such as training, documentation, and customer support channels. Reliable support ensures smooth implementation and timely resolution of issues.

Pricing

The price of the software is important, but it shouldn't be the sole determining factor. Take factors like licensing options, scalability and costs for extra features into account to ensure you get the best bang for your buck.
Contact us to book an online demo with a member of our team.
If you'd like to try our software first, start your free trial, which includes support and full access to our software for 14 days.