Solar energy may be an effective solution for home and business owners seeking independence from the grid, but sourcing capital for solar panel installations can be challenging. Investing in solar is cost-effective in the long run, but the upfront cost of installing solar panels is high.
Finding ways to make installations more affordable and accessible can help you address this challenge. So, what can you do to make solar financially viable?
Let's explore how you can reduce the cost of installations and make this renewable energy source more affordable and accessible: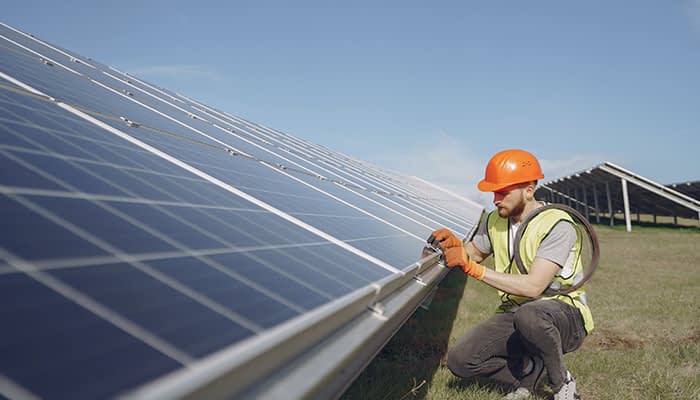 Improve the efficiency of your installation process

Efficiency is the key to reducing installation time and labour costs, and cutting costs means you can pass savings on to customers. Streamline your installation process to improve efficiency by automating job scheduling, optimising route planning and tracking inventory levels.

Invest in training programmes and workshops

Knowledgeable technicians are more likely to work efficiently and make fewer mistakes, helping you meet deadlines and maximise output. Sign your team up for training programmes and workshops to update their skills and give them access to the latest installation trends and technologies.

Educate customers

Customers who understand the long-term savings associated with solar energy may be more willing to invest in solar despite the initial investment. Use social media, email marketing and other advertising platforms to explain the return on investment and share the long-term benefits of solar with prospects.

Buy solar panels and materials in bulk

Suppliers often offer discounts to companies that buy in bulk. Purchase solar panels and other materials in bulk to take advantage of these special offers to reduce your expenses and pass savings on to customers to make installations more affordable.

Offer financing options

Financing options like solar loans, leases and power purchase agreements (PPAs) make solar energy more accessible, as customers don't need all the money for the installation upfront. With loans, your clients can finance their solar systems over time; with leases and PPAs, you can give them access to solar systems or power for a reasonable price.

Provide maintenance plans

The cost to maintain and service solar systems may be another concern for prospects, but they may be more willing to invest in solar if you offer affordable maintenance plans. Offering maintenance plans will give your clients peace of mind, as they know they can afford the upkeep required to prevent repairs and extend the solar system's lifespan.

Keep up with developments in solar technology

Following the latest developments in solar technology and adopting new, more efficient products and installation techniques can lead to cost savings. More efficient products and innovative installation methods can help you reduce overall costs and offer more competitive rates.

Bonus: Job Card Management Software for your solar business

We've highlighted the importance of simplifying your processes to make solar installations more affordable and attractive, and the best way to achieve this is with Job Card Management Software.
Let's take a quick look at the software and how you can use it to reduce installation time and labour costs and make your installations more affordable.

What is Job Card Management Software?

Our Job Card Management Software simplifies job management by automating and streamlining processes associated with planning, organising, executing and monitoring jobs. Simplifying and automating processes reduces manual errors, saves time, and ensures tasks are completed efficiently.

Simplifying your processes with software

Here's how you can use our software to reduce your installation time and labour costs and pass savings on to customers to make installations more affordable:

Automate job scheduling to maximise productivity.
Optimise route planning to minimise travel time.
Monitor job progress in real time to keep your technicians on track to meet deadlines.
Track inventory levels to prevent delays.
Monitor expenses to stay on budget and find ways to cut costs.
Complete quoting and invoicing from your mobile device to generate quotes and invoices faster and save time.
Try our software
Sign up for a free trial to see how Eworks Manager can help you streamline your installation process and manage the day-to-day operations of your business.