Is asset downtime costing your field service company valuable time and money? Don't let equipment breakdowns and maintenance issues slow down your business. Time is precious, and so are your assets. With the right tools and techniques, you can minimise downtime and maximise asset uptime.
Enter CMMS Software, the solution you need to keep your equipment and machinery up and running efficiently. Discover how you can maximise asset uptime with CMMS Software.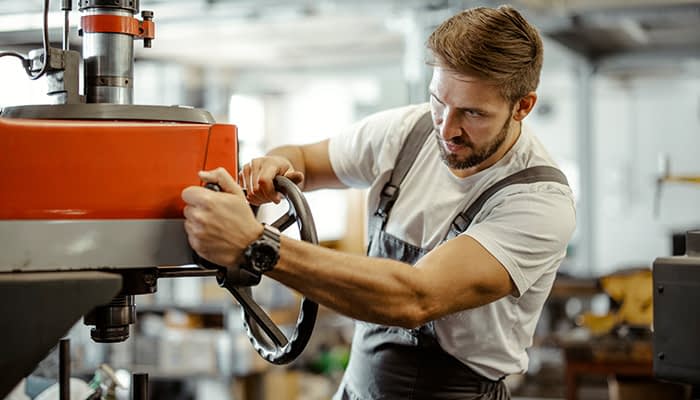 What is CMMS Software?

A Computerised Maintenance Management System (CMMS) is software designed to help field service businesses manage and maintain assets more efficiently. CMMS Software can help you keep track of assets and maintenance schedules.

What is asset uptime?

Asset uptime refers to the amount of time that a particular asset, such as a machine, equipment, or system, is operational and available for use. It indicates the asset's reliability and efficiency and is a valuable metric for your business if you rely on equipment or machinery to operate effectively.

What is asset downtime?

Asset downtime is when a particular asset is not operational or available. It can be caused by various factors, including maintenance or repair, breakdowns, scheduled or unscheduled downtime, or other issues that prevent the asset from functioning.

The benefits of increasing uptime

It's clear that the longer equipment and machinery are available to be used, the better it is for your operations. But what are some of the other benefits of increasing uptime?
Improved productivity: If downtime is reduced and your employees can use assets for longer, they can increase output.
Reduced maintenance costs: You can reduce your maintenance costs by keeping assets in good condition to increase uptime.
Better customer service: You can meet customer demands and provide services on time, leading to increased customer satisfaction.
Increased revenue: With increased productivity and better customer service, you can generate more revenue and improve your bottom line.
Competitive advantage: With a higher asset uptime, you can gain a competitive advantage over your competitors. You can meet customer demands quickly and efficiently and stand out in the marketplace.

The consequences of increased downtime

When your assets can't be used due to breakdowns and repairs, your technicians can't work. Increased unplanned downtime can lead to decreased productivity, project delays, and poor customer satisfaction. It's crucial to find effective ways to increase uptime to avoid downtime.

Maximise asset uptime: 5 steps

If you rely on equipment to keep your operations going, follow these steps to increase asset uptime with CMMS Software:

Schedule and track preventative maintenance

Preventative maintenance keeps your assets in good condition and minimises the risk of unexpected downtime. With CMMS Software, you can schedule recurring maintenance jobs to ensure preventative maintenance is always done. Automating job scheduling saves you the hassle of remembering to create an appointment every time a technician needs to service an asset. And because service intervals are different for every machine, you don't have to keep up with the schedule for each one. Once you've created a recurring job, the appointment will automatically be assigned to a technician when it's time for maintenance.

Track inventory levels

CMMS software can help you monitor inventory levels of critical spare parts and materials required for repair and maintenance tasks. By tracking inventory levels, you can ensure you place orders for low-stock items so your team can complete tasks quickly and efficiently, helping you reduce downtime and increase uptime.

Address issues quickly

With CMMS Software, you can prevent machine faults from becoming bigger problems by addressing them immediately. Once an issue has been identified, you can log into the system, check your team's schedule and see which technicians are available for a repair job. From here, you can create and assign an appointment to a worker and get them on the job. You can also track the technician's progress in real-time to ensure they get the repair done as quickly as possible.

Monitor asset performance

By using CMMS Software to track inspections and maintenance work, you can monitor asset performance, identify potential issues and take steps to prevent downtime. You can record all data and comments from repairs and routine checks and review the information to determine the productivity of equipment and machinery. If asset performance isn't up to scratch, you can find ways to improve it and increase uptime.

Keep accurate maintenance records

By keeping accurate maintenance records, you can schedule preventive maintenance on time, reduce the risk of unexpected equipment failure, and improve your asset uptime. Cloud-based CMMS Software offers an ideal platform for storing maintenance records, as you can access information anywhere and from multiple devices.
Sign up for CMMS Software to start maximising asset uptime
Take the next step and contact us to sign up for our CMMS Software. Or try our software with a 14-day free trial to see if our system is the right solution for your business.