Managing your business manually never seems to get easier, does it?
Thankfully, Eworks Manager's Job Scheduling App has put an end to all these worries.
Get Your Business to Adapt to Technological Changes for Survival
Management is not an easy task, especially if it is done manually using paper and a pen. In this digital world, if you want to give tough competition to your competitors, then you need to switch to the latest technologies rather than sticking to the same old methods. It is necessary for the growth and success of your business.
In this case, the concept of 'survival of the fittest' applies to those businesses who adapt to the changing environment survive while the others do not. If your business doesn't adapt to the changing world and you do not adjust yourself in the modern world of technology, then it will be quite difficult for you to have a secure place in the industry.
As George Bernard Shaw said:
"Progress is impossible without change, and those who cannot change their minds cannot change anything."
Work smarter not harder
A business is successful only when it provides quality services to its customers and to accomplish this goal, an effective management strategy is required. Switch to a mobile solution if you want to put an end to your management problems. With the help of a task scheduling app, you can easily manage your staff, create jobs, and then assign those jobs to your employees.
What is a Work Management Mobile App?
A mobile app provides you with the ability to assign your work automatically without wasting time by writing each and everything manually.
You can schedule your tasks, produce error-free results, boost productivity, administer labour costs, and provide quality services to your customers in less time and with less effort.
Management made Easier with our Job Scheduling App
Eworks Manager's Mobile App provides an effective way to manage your business. You can use a task scheduling app to plan and manage your work in a better way which will help you to increase the productivity of your business.
Employers can assign work, create jobs, see the status of the jobs as they are being carried out. The most beneficial feature of this app is that your employees can access it through their phones no matter where they are. Our app was designed for field service and trades businesses that rely on their staff working in the field.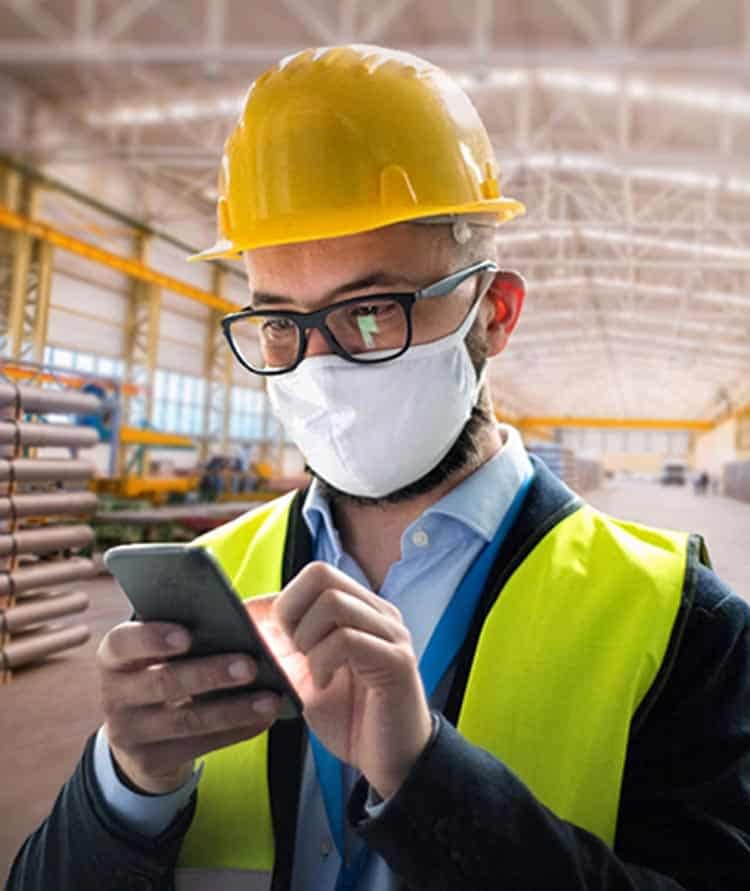 ---
What are the Benefits of a Mobile Work App?
Have Access to All Your Work From Your Phone
Work scheduling software can easily be used on a mobile phone, which can help you to communicate with your employees far more efficiently than before. Your employees can instantly get notifications about the jobs assigned to them and can start working on them without any delays.
Greater Efficiency
If your admin team are working manually, your business can be more prone to errors. An automated Job Management System will streamline your business's workflow and help you manage every aspect of your business. So, if you want to have efficiency in your business, then you should switch to using a job management software like ours, that is perfectly suited for trades and service businesses.
Provision of Quality Services
Customers want to get their work done in as much less time as possible, and they cannot compromise on the quality. So, if you want to make your customers happy, then you need to make sure that you provide quality services to your customers and within a short time period. Your team can get work done faster by having all the paperwork available on the app, and every field worker will know exactly what needs to get done because all of their jobs are logged on the app.
What makes it so unique?
Eworks Manager has a particular place in the industry due to the various beneficial features that our system and mobile app offers, including:
The offline mode feature of this work scheduling software lets you work when you are offline or working in places with no signal.
Eworks Manager's Job Card Management System can create automated job sheets for field workers. The system orchestrates all the business operations, and the app corresponds with the system by communicating orders and jobs directly to your team in the field.
You can get signatures from your customers against a job card on the app without wasting time on paperwork.
Employees can upload images of the work once it is done; this is necessary for the promotion and growth of your business and can be used as proof of work.
You can easily create jobs and then notify your employees about the jobs from the system. Your employees will get instant notifications regarding the job from the app, and start working on it as soon as they receive it. This efficient app will save you time and will help you to deliver services to your customers on time.
The inventory feature helps in managing and monitoring inventory movement, saving a history, ensuring correct collection, and tracking the levels of the stock. It also helps field workers make a picking list for jobs, and they can record the transferring, removal and return of stock too.
The app helps the admin system to track and manage jobs in real-time. The app and admin system work together to make sure all business operations are running smoothly. The app also lets you track appointment times and expenses.
---
Due to the various features mentioned above, Eworks Manager's Job Scheduling App holds an important place in the market. Eworks Manager offers a 14-day free trial, so after using the opportunity of the free trial, you can decide for yourself whether Eworks Manager Mobile App and Job Management System are suitable for your business or not.