Are you tired of managing your business manually?
Job Card Software can manage your jobs more professionally and quickly!
Printed job cards are usually given to the mobile technicians who have to fill it once they have completed the job and submit it.
The whole manual process takes time and is not ideal for the dispatching and allocation of work.

If you desire to grow your field service or trade business, job card software for job management is super quick and effective.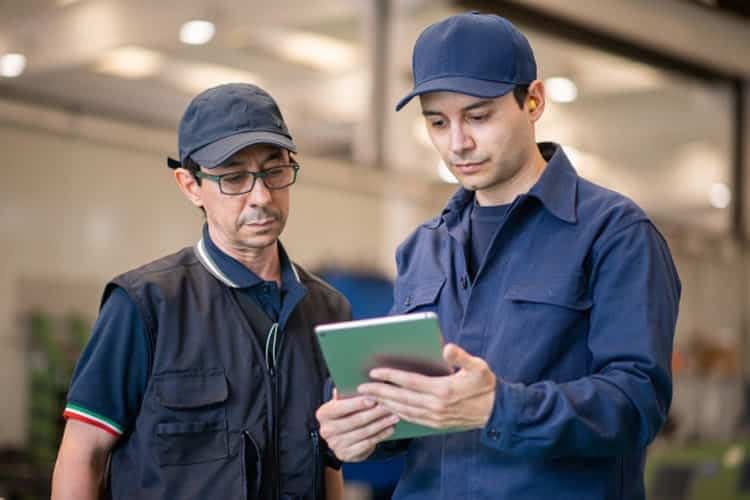 What is Job Card Software?
Job Card Software replaces the paperwork with a digital job card, which can be filled out by your technicians and admin staff from their mobile devices. Manual job cards can be more prone to errors, which is why it's better to prioritize digital strategies over manual ones.
Eworks Manager's all-in-one Job Card Management Solution lets your field workers manage invoices, quotes and jobs effectively and efficiently!
You can use our system to create, edit and track jobs in the field, and assign work to your staff. You can attach mobile documents to your appointments so that field technicians can access them via the app. You can use the app to capture job approval signatures.
The digital Job Cards on our system and app include the details of the job like the customer's address, contact details, and any other important information regarding the job. Once the technician has completed his job, he can fill out everything using the Eworks Manager Mobile App. With the help of the software, your mobile technicians will quickly fill out the job cards, no matter where they are. This means that you will no longer have duplicated, incomplete or illegible information.
---
Why is it necessary to adopt this software for the growth of my business?
Less Effort, More Work
Job card software provides an easy way of managing your jobs. You can assign jobs to your mobile technicians, and they can check out the jobs allocated to them using their mobile app. Once they have completed the job, they can enter the job's details, which can then be viewed by the admin staff. All of this can be done with job card software without much effort.
Generate Accurate Invoices on Time
Our system allows you to create customized and accurate invoices as soon as jobs are completed, including all the required information for the customer.
Get Rid of the Paperwork
Your business can go completely paperless by switching to Eworks Manager's Job Card Software. All job details are stored within the system, where you can easily generate digital job cards and invoices without any hassles.
Access it From Anywhere
Our software can be easily accessed at any time and from any place. Once a job is assigned to a technician, they can view the job details from their phone. When your field workers have control of their own jobs, and create their own quotes, invoices, and purchase orders, it can speed up the job progress.
Our Mobile App also allows your technicians to work offline, which is handy for when there is no signal on site. The app stores the job data locally on the device until you regain an internet connection, and the job can be updated and synced back to the admin system.
Eworks Manager's Job Card Software is the perfect solution to help you boost your business's productivity. Our system includes the following features:
Digital job cards, job allocation to staff, and job tracking.
Real-time job updates are sent to the system so that admin can keep an eye on job progress. Job updates can also be sent to customers via SMS or email.
Attach photos and mobile documents to jobs and view a job's full history.
Use the Mobile App to capture signatures and generate accurate invoices.
You can email the job sheet to your customers and view comprehensive job reports.
So, what are you waiting for? Try the 14-day free trial of the Job Card Software offered by Eworks Manager and see for yourself how it can help you increase your business's productivity.