We're excited to share that you can now connect our Job Card Management Software to over 4000 apps and automate your day-to-day business processes. If you're new to the world of workflow automation and you'd like to know more about the process, including the benefits and how to connect your apps to Eworks Manager, keep reading to discover everything you need to know.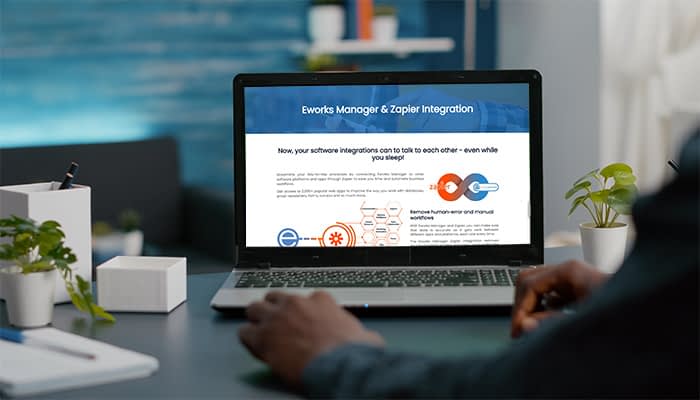 What is workflow automation?
Workflow automation simplifies your business processes by automating your tasks to save time. With workflow automation, you can connect our software to more than 4000 apps to manage your data and automatically move information between your apps.
How to get started

Once you've created a Zapier account and connected an app to Eworks Manager, you can build workflows between our system and your app to automate daily tasks. When you create a workflow, it tells your app to take one or more actions when a particular event takes place. For example, when you connect Eworks Manager to Gmail, you can create a workflow that sends a new email every time an appointment is cancelled in Eworks Manager.
Your workflows do all the work for you - you don't need to hire a developer or create code to automate your tasks. The information shared between your apps is secure, preventing your data from leaking or getting into the wrong hands.

---

The benefits of workflow automation

With workflow automation, you can save time and increase productivity. Because your daily tasks are automated, you'll have more time to focus on other jobs. Workflow automation also reduces the risk of errors. When you're manually doing a job, there's a chance that you or your team will make a mistake. With workflows, the job will be done perfectly every time. You can also use the process to reduce your paperwork, which saves money and reduces the chances of losing essential documents. As the workflow templates have already been created for you, anyone in your team can set them up.

Connect Eworks Manager to popular apps

With our Zapier integration, you can connect our software to over 4000 apps, including Slack, QuickBooks, Facebook Lead Ads, and Google Sheets.

Slack

Slack is a communication tool for businesses, and it provides a single platform for group chats and person-to-person messaging. When connected to Eworks Manager, you can create workflows to send information from our system to Slack or vice versa. For example, when a job status is changed to 'action required' in Eworks Manager, you can create a workflow that sends a direct message in Slack to the user responsible for the job.

QuickBooks

QuickBooks is an accounting software system and one of the many apps you can connect to Eworks Manager. There are several ways you can use this connection to share information between QuickBooks and our software. You can create workflows to create an invoice in QuickBooks when a job has been completed in Eworks Manager, create an estimate when a new lead is created in our system, and create a new customer in QuickBooks when a quote is accepted in Eworks Manager.

Facebook Lead Ads

If you create and manage Facebook leads ads for your business, you can use our integration to connect and share the information from your ads with our system. There are several actions you can choose when you create you create your workflows. You can set up a workflow to create a quote, lead, customer or job when your Facebook ad receives a lead.

Google Sheets

If your team uses Google Sheets, you send information from Eworks Manager to your online spreadsheets. For example, when a new job is created in Eworks Manager, you can create a workflow that creates a new row in a specific spreadsheet to record this new job. Other actions available for workflows include creating a blank worksheet with a title, deleting a spreadsheet row, copying an existing worksheet, and creating a spreadsheet column.
If you'd like to learn more about workflow automation and our Zapier Integration, or you're ready to connect your apps to Eworks Manager, get in touch with us or sign up for our free 14-day trial today.