Key performance indicators (KPIs) provide insight into performance and guide decision-making, helping to achieve the highest possible productivity and run your field service business as efficiently as possible.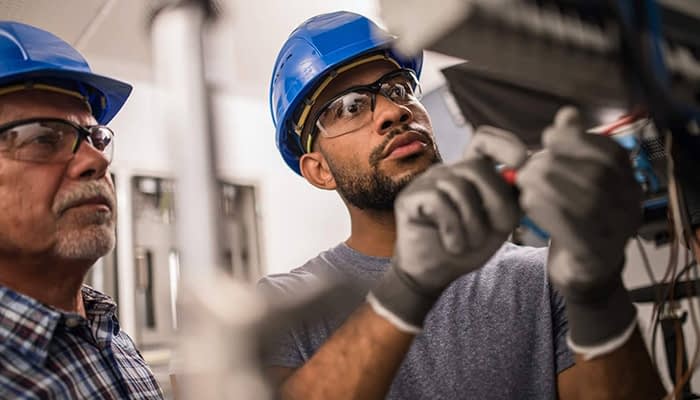 What are KPIs?

A KPI is a quantifiable metric that measures performance or progress based on a specific goal or objective. You can use KPIs to determine how effectively your company is achieving targets, identify problems your team needs to overcome and evaluate the overall success of your company.

Why KPIs are important

KPIs are crucial because they give you an overview of your business's performance. They help you determine if your business is achieving its goals and objectives and highlight areas that need to be improved so you can make decisions to improve processes, boost efficiency and reach your goals faster.
You can also use them to keep your team accountable and assess their contribution to the success of your business. You can accurately monitor employee performance, share feedback with your team and put together a plan of action to get everyone working towards business goals.

Choosing KPIs for your business

Before choosing KPIs, you must define your business goals. The purpose of performance indicators is to track progress towards goals, so you need to know what your business is trying to achieve before you can decide what you need to measure to determine whether you're reaching your goals. Your goals must be as specific as possible to find KPIs that will support them.
Once you've defined your goals, you can choose KPIs aligned with them. Good performance indicators must always be measurable so you can accurately determine how close you are to achieving your goals and what you need to do to get closer to reaching your targets. The key to selecting performance indicators is to choose a few relevant ones. Tracking and measuring multiple performance indicators can become time-consuming, slowing down the process of identifying inefficient processes and improving performance quickly.

Examples of field service KPIs

There are so many KPIs your business can choose to measure performance, but as mentioned, with limited time and resources, you need to select ones that will help you achieve your goals or identify problem areas so your business can achieve maximum productivity. We've listed the top field service KPIs you can use to measure performance.

First-time fix rate

The first-time fix rate tracks the number of jobs your technicians completed the first time they visited a job site. A high first-time fix rate indicates that problems are solved quickly. A low first-time fix rate could be a sign of poor project planning, a lack of skills, or poor inventory management.

Employee retention

Employee retention is your company's ability to retain employees. Aiming for a high employee retention rate is crucial, as recruiting new workers costs time and money. High employee turnover is typically a sign that your employees are unhappy, which means that the key to employee retention is to keep your technicians happy.

Customer satisfaction

Customer satisfaction is crucial for service businesses, as you rely on happy customers to return to your business, use your services again, and share their positive experiences with others. You can measure customer satisfaction by collecting customer data and feedback from surveys, reviews, and ratings.

Average travel time

Average travel is the amount of time your technicians spend on the road and how long it takes them on average to get to job sites. It influences fuel costs and the time available in a day for your team to complete tasks.

Equipment uptime

Equipment uptime is the availability of equipment and machinery for business operations. The availability of equipment and machinery is crucial for your business because your technicians can't complete jobs on time without reliable, efficient tools.

Mean time to completion

The average time it takes technicians to complete jobs. You can use this performance indicator to determine the efficiency and productivity of your field service team.

Tracking KPIs with Field Management Software

Once you've selected your field service KPIs, you must share them with your team and ensure everyone understands what they need to do to help the company meet them. When KPIs are communicated to employees, they will be more engaged at work, increasing productivity and helping your business reach its goals.
The next step is to accurately track KPIs to measure progress and make decisions to improve the overall success of your business. Because your time is limited, you need a reliable software solution to monitor them effectively. Field Management Software can measure asset productivity, travel time, distance travelled, time spent on-site, customer complaints, the number of jobs completed, and other performance metrics. You can gather all the information you need to measure performance, identify problem areas, and improve productivity and efficiency to operate a competitive, profitable, and successful field service business.
Ready to learn more about our Field Management Software? Contact us for more information, or sign up for a 14-day free trial to see what our software offers.