Unleash the power of intelligent job management with our Field Service Management Software
Simplify task and workforce management with our all-in-one field service management platform.
Eworks Manager is your ultimate Field Service Management platform. You can use it to simplify and automate your daily operations to save time, improve efficiency, and deliver timely service.
With tools to track leads, complete quoting and invoicing, schedule jobs, manage inventory, optimise route planning, and more, you can centralise job management and use one system to manage your business.
As experts in our field, we understand how important it is for you to access the software from anywhere. That's why our software is cloud-based. No matter where you are, you can access the system from your desktop or our mobile app. And when you don't have an internet connection, you can work offline and upload your data later.
Explore our features and see how you can use Eworks Manager to transform field service management.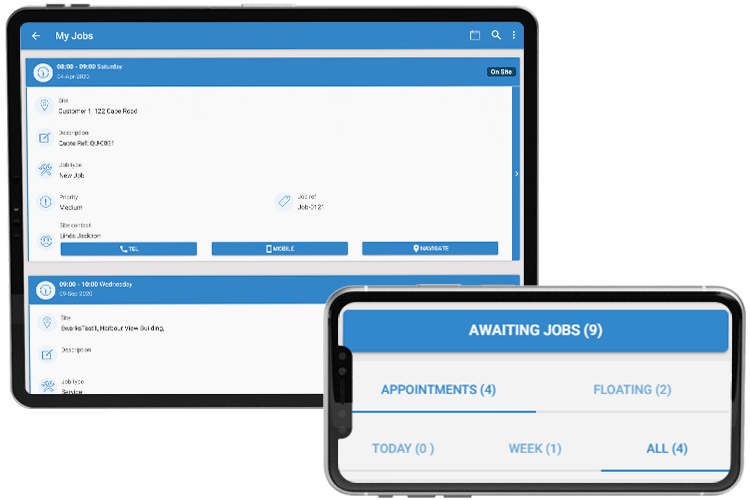 Reduce Downtime with Job Scheduling
Efficient job scheduling can reduce downtime and maximise productivity. Use our Time Planner to assign jobs based on availability to minimise idle time between jobs. Schedule maintenance jobs to extend the lifespan of tools and equipment. Maintenance can prevent unnecessary repairs and breakdowns and keep assets in working condition. Optimise job scheduling and maintenance to ensure available assets are utilised effectively.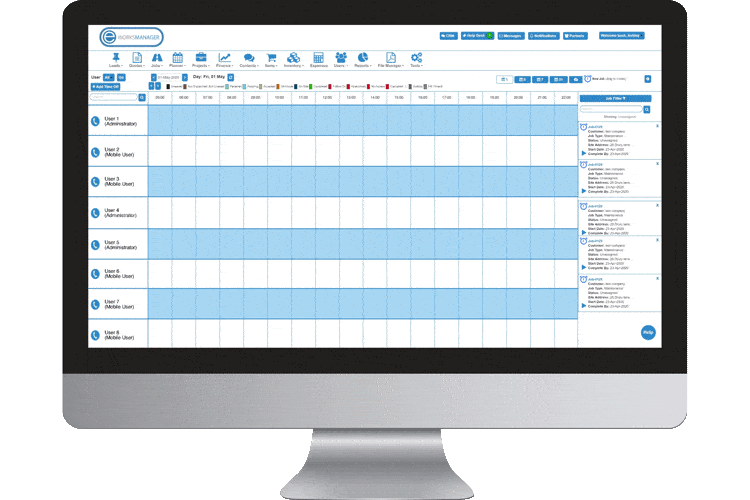 Improve Flexibility with Real-Time Updates
Use real-time job updates to improve flexibility. Track the live status of jobs and the location of technicians to respond quickly to cancellations, emergencies, or urgent service requests. With insight into where your technicians are and what they're working on, you can plan resources to handle unexpected events. Real-time visibility empowers you to navigate unforeseen circumstances and deliver quality services on time.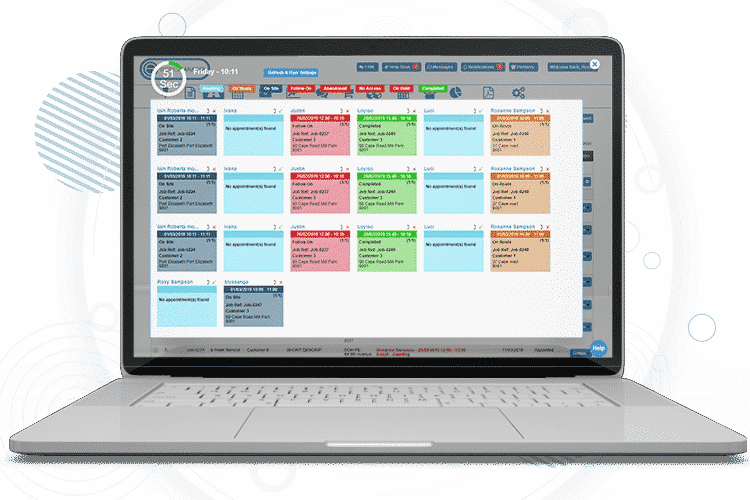 Get Approval & Feedback Faster
Send job approval requests from our Mobile App to speed up your approval process. Ask your clients to approve jobs via SMS or email, record their approval, or share their signature. Our digital approval methods make getting the go-ahead from clients easier and help you wrap up projects faster. Keep projects on track, avoid the high costs of project delays, and keep productivity levels high with our app approvals.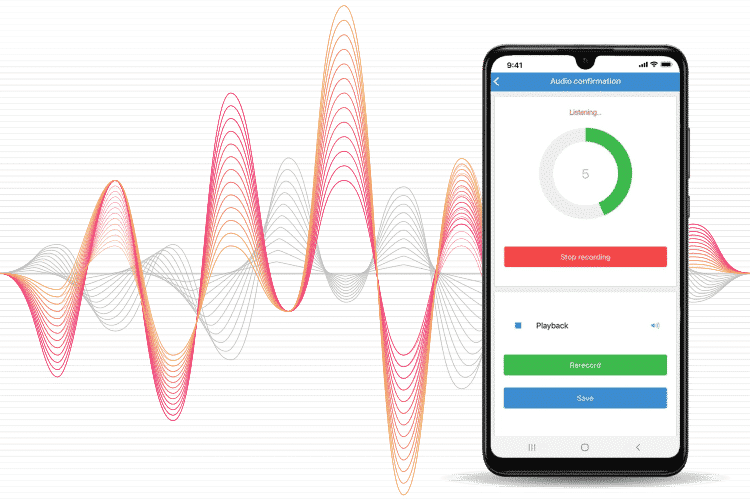 Monitor & Measure Performance With Reports
Generate reports to review performance and find ways to improve your business. Reporting empowers you to make informed decisions. Access to accurate data allows you to develop strategies to improve business performance and reach your goals. Get up-to-date data on payments, customer jobs, driver behaviour, timesheets, overtime, and more.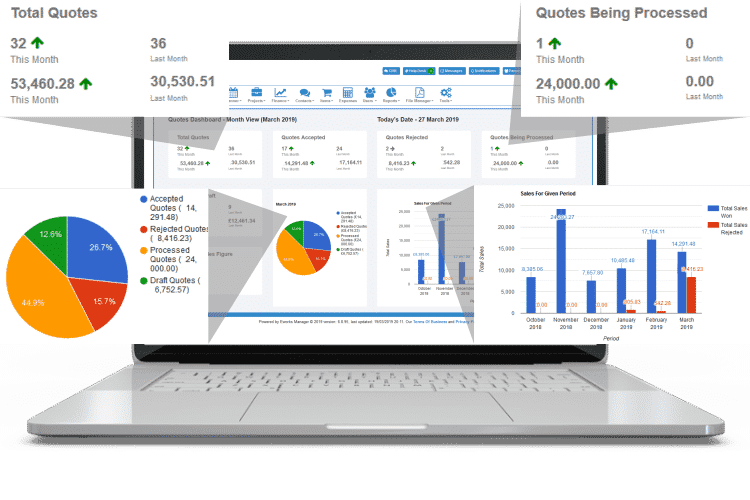 Track Your Technicians
Track the real-time location of your vehicles and field workers. Both Vehicle Tracking and Live Mobile Tracking give you detailed information you can use to make informed decisions guaranteed to improve efficiency.
Use Vehicle Tracking Software to improve fuel efficiency and reduce travel time. Analyse speed, acceleration, and harsh braking and find ways to reduce fuel consumption. Use live vehicle location to find the quickest routes and improve route planning.
Find your technicians when they're in the field with Live Mobile Tracking Software. Use their live location to respond to emergencies or last-minute service requests, monitor the progress of tasks in real-time, and keep your technicians safe.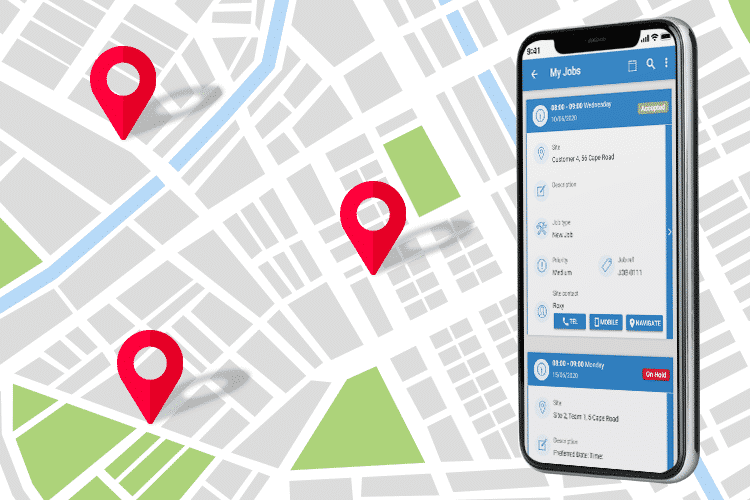 Digitise Documents & Certificates
Ditch the paperwork and digitise documents like compliance certificates, service reports, and maintenance checklists. Digital storage is a safer, more reliable way to store confidential information. Your technicians can access data remotely, as documents are stored on a cloud-based system. Empower your team to collaborate with their team members, regardless of location.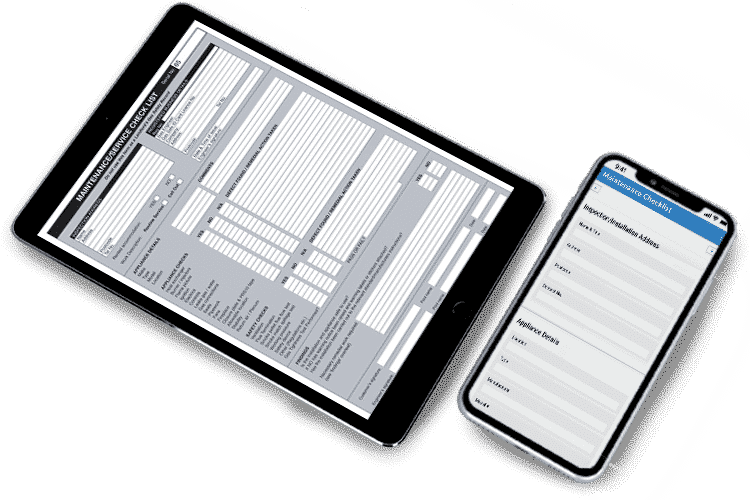 The Complete Business System
Some additional features that would benefit your business
Field Service Management Software FAQs
1What is Field Service Management Software?
A complete Field Service Management Software to help you create, manage and track your tasks efficiently, using a cloud-based system. You can promote transparency within your business and streamline the authorising of appointments and invoices.
The system syncs with our Mobile App, which means that every action recorded on the app automatically displays on the Admin System so that admin staff can quickly react to any issues that may occur.
2How can Electronic Job Cards benefit my business?
Many companies are still dealing with heaps of paperwork and haven't thought about moving towards a cloud-based system. This is because they are scared of using technology to do the work for them.
When you pick a powerful Field Service Management Software like Eworks Manager, you are choosing a structured system that improves and streamlines how your business operates. Eworks Manager has helped many companies reach a new level of productivity and profitability, and reduce paperwork.
3How can Field Management Software grow my company's profitability?
If you want to enhance your company's profitability, time management is the best place to start. With our
time tracker app
, you will see a vast improvement in staff productivity, which increases profitability. Our system also shows accountability for time management, which discourages your team from wasting time on non-work-related tasks.