As a Job Card Management Software provider for field service companies, we understand the responsibilities and challenges of managing a plumbing business. We know that you don't always have time to attend to all your admin tasks when overseeing your teams on-site. That's why we recommend Business Management Software for plumbing companies looking for an all-encompassing tool to simplify admin jobs and free up time for other tasks.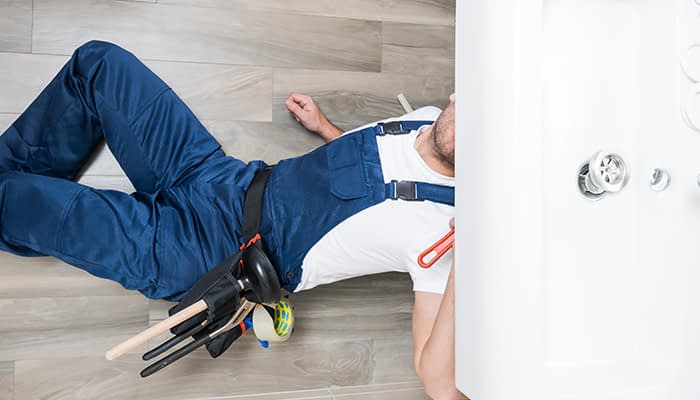 What is Business Management Software?

Business Management Software is a system designed to automate your everyday business processes. The software can simplify job scheduling, quoting, invoicing, reporting, lead management, and other business operations.

Top features for plumbing businesses

While Business Management Software offers many features and tools to improve your business's efficiency, these are specifically ideal for plumbing businesses.

Live Mobile Tracking

As your technicians visit multiple sites daily, you need to know where they are when you can't be at every job site throughout the day. With Live Mobile Tracking, you can oversee your team and make sure they arrive at every job on their calendar. You can also use Vehicle Tracking to keep an eye on your mobile workers. The benefits of this method include keeping company vehicles on the road, sending help if there's been a breakdown, and sending assistance if a worker has been involved in a road accident.

Job scheduling with a Geo Planner

With Business Management Software, you can use a Geo Planner to allocate jobs to the nearest technicians. Customers often need plumbers for emergency jobs, so using a Geo Planner makes it easier for you to get a technician to an appointment as soon as possible. This method is not only time-efficient but cost-effective too, as you can reduce fuel costs by choosing a technician already in the area.

Quoting and invoicing on the go

You may not always be in the office or near a desktop computer, but with Business Management Software, it's easy to manage your quotes and invoices no matter where you find yourself. You can create and send a quote directly to the customer, and once they've accepted it, you can convert the quote into a job. Once the work has been completed, you can use the information from the job card to create and send the invoice to the client. Besides sending digital quotes and invoices, you can also access copies of the documents on the system if you need to print them.
Now that you have a better understanding of the benefits of Business Management Software for the plumbing industry, we're sure you're ready to find the right software provider and get started. While you're here, consider Eworks Manager for your business. Our Business Management Software is ideal for any company in the field service industry, and we offer training and support for you and your team. Sign up for a free 14-day trial today, or contact our team for more information.