Schedule New Jobs on the Move & Enable Your Team to Quickly Create Digital Job Cards in Advance. For a 14-Day Free Trial, click here!
A Full Featured Job Sheet Management System Designed to Manage and Streamline Your Entire Business from Start to End.
Create, Assign & Schedule Jobs
Track Staff & Monitor Progress
Authorise & Invoice Immediately
Create, Customise & Email Quotes – Anytime, Anywhere!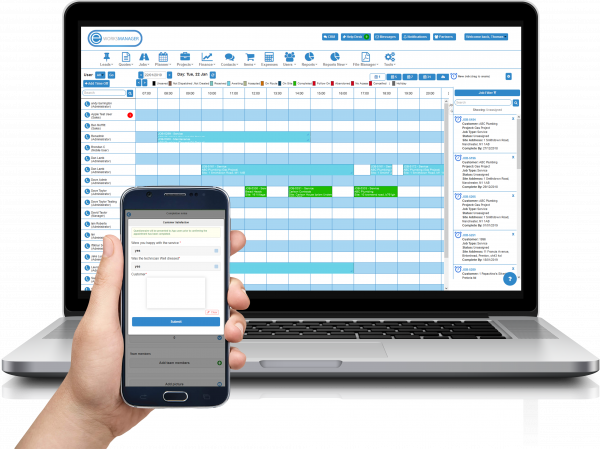 Eworks Manager multi-functional system will allow you to create quotes, create jobs, assign contractors and complete invoices relating to electrical works - all from one system. When using contractors out in the field, it is helpful knowing their progression on the job you assigned to them, as you will have the answers to your clients' questions relating to the job.
When carrying out the work yourself, Eworks will allow you to manage and track the jobs that need completing, set triggers to be notified if a job goes past its due date, when a job has been invoiced and so much more.
Eworks Manager's smooth flowing software will make sure the processes of a job, from beginning to end, is completed accurately by managing your field workers times using the mobile App's status changing option, which tracks your time getting to site, how long you were on site and even the time spent getting back to the office. From the mobile App you are also able to complete and invoice a job while you are on site, meaning you don't have to go back to the office to send one invoice.
Always be on top of your figures with the report summary feature, where Eworks offers you multiple reports against jobs - invoiced, completed and outstanding - and even your profits and losses. With the user time sheet report function you are able to track your field staff times spent on jobs, which means no more capturing times at the end of the week, as all the information is already there.
Let Eworks Manager assist you in surpassing your competitors.
If you would like to find out more information and have a free personalised demo of the software get in touch today!
Call us: +27 (0) 41 004 0045
Email us:
[email protected]