Use Electrical Management Software to improve job site productivity and free your electricians from the burden of paperwork in the field.
Electrical Management Software can help you in achieving this goal by streamlining your business from start to end. This software has taken the industry by storm and is sure to lead your business on the road to success. Managing electricians out in the field may seem like a lot of hard work, but with this software in place, the day-to-day running of your electrical business can be organised efficiently.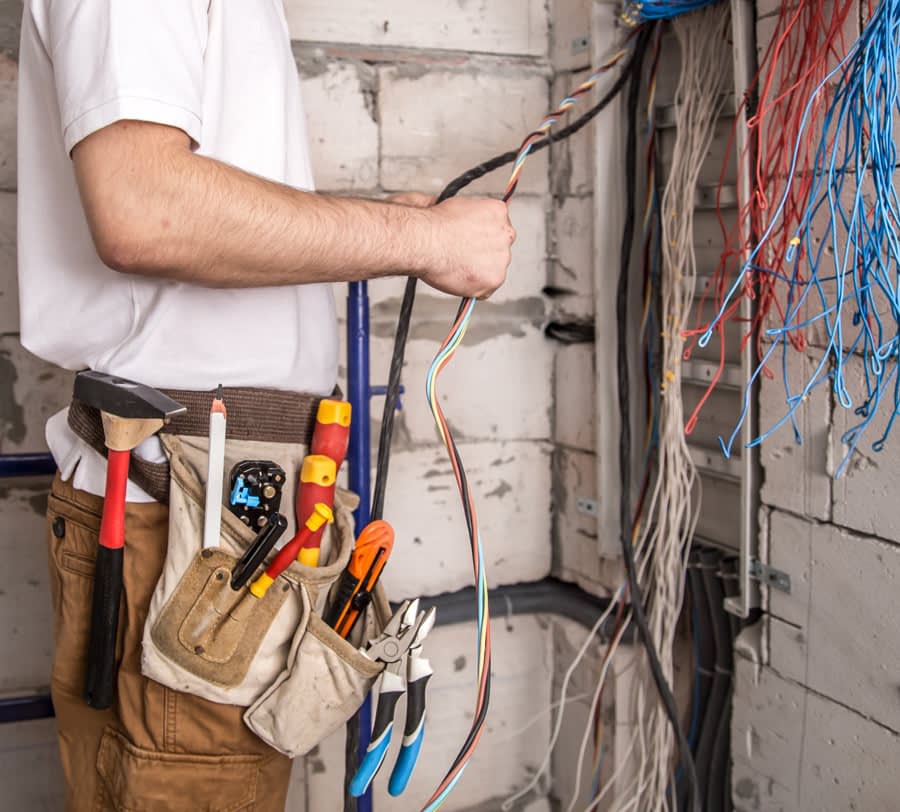 100% Paperless On-site:
Adopting a system like Eworks Manager can help your electrical business go completely paperless. Our system can help your business save money on printing too, as any of your relevant company documents, like electrical certificates, can be digitised by using this software. Isn't this great? You only need to carry a Mobile device with you, and everything can be synced to it via the Eworks Manager Mobile App.
Plan and rearrange jobs in seconds:
Electrical Management Software helps you organise and schedule electricians according to their location and availability. Electricians can receive job alerts regarding any new or recurring job on the go. Appointments can be planned and rearranged by the admin quickly and easily.
Our system also offers Smart Planning and Auto Planning features that can automate job planning for you. These features automatically assign jobs to employees based on their location or their skill sets. Eworks Manager is the perfect solution to all your Job Management needs.
Automatically Send Reminders to Customers:
Reminders can be sent automatically to customers about repeat inspections and services. This helps your customers get alerts when an electrical service is due. Service reminders could be set up to reoccur at any time interval.
Retaining customers and growing revenue is an essential part of business success, and this automated reminders feature sending reminders to customers is quite helpful in achieving this goal.
Multi-functional Engineering System:
Do you want to create quotes, generate jobs, assign contractors, or complete invoices related to the electrical work from one system? Eworks Manager's all-in-one system can assist you in handling every aspect of your electrical business. From managing customer communications to completing the job and sending off the final invoice, to putting together job reports, our system does it all.
Fill Digital Forms:
Our Electrical Management Software can assist your team in the field, especially when it comes to filling inspection forms and signing off compliance certificates. Upload and digitise paper documents and attach them to their relevant jobs. Electricians can then easily access and complete the documents from your mobile or tablet device via our Mobile App.
Now your team can fill out forms on site digitally, without worrying about losing paperwork. All documents are stored in the system and are easily accessible whenever needed. Digital signatures can also be captured from the electrician or the customer.
Add and Update Asset Information:
Customer assets are installed and inspected by electricians in commercial and residential settings. Eworks Manager's system lets you update an asset on-site and also allows you to add them to contracts and preventive maintenance plans.
Features and Benefits of Our System:
Create quotes, generate jobs, assign contractors, and complete invoices all from one system.
Get multiple reports against jobs invoiced, completed, and outstanding with our Reports feature. Track your team's time spent on jobs with the User Timesheet report function.
Use the Eworks Manager Job Scheduling App to complete Electrical certificates from anywhere.
Smart planning and Auto Planning features can help to plan jobs for you.
Our Sales CRM software will help you track leads and quote on-site.
Receive automatic updates on electrician's jobs, jobs progress, and their live locations in the field with our Vehicle Tracking and Live Mobile Tracking features.
Follow health and safety protocols by using the Questionnaire feature.
---
Eworks Manager is one of the best Electrical Contractor Software on the market, but don't just take our word for it.
Give it a try and see for yourself how this software can open the doors of success for your business. Start the 14-day Free Trial today and start working with a paperless and efficient business management system.