Expense Tracking Software
Mobile expense tracking software allows you to submit your expenses back to the office, whether they relate to a specific job or are just an occurred expense. This can be done as soon as the expense happens.

You can add the value of the expense and upload a copy of the receipt. When the job is complete, all the information is sent back to the admin system along with a copy of the receipt.

You can also upload general business expenses. This can be done via the main screen on the App, this may be petrol or hotel receipts etc. and can be uploaded in the same way.


A breakdown of expenses on Eworks;
Create billable or non-billable expenses and assign them to the relevant job
Track your staff / sub-contractor costs during work
One click assigns expenses to a project or invoice to make speedy changes to the system
Comprehensive management reports available such as reports to show how much a job has cost you to complete which includes all costs including expenses within a job, invoice or project
Have all receipts on the system as an attachment so they don't get lost
Know your company costs internally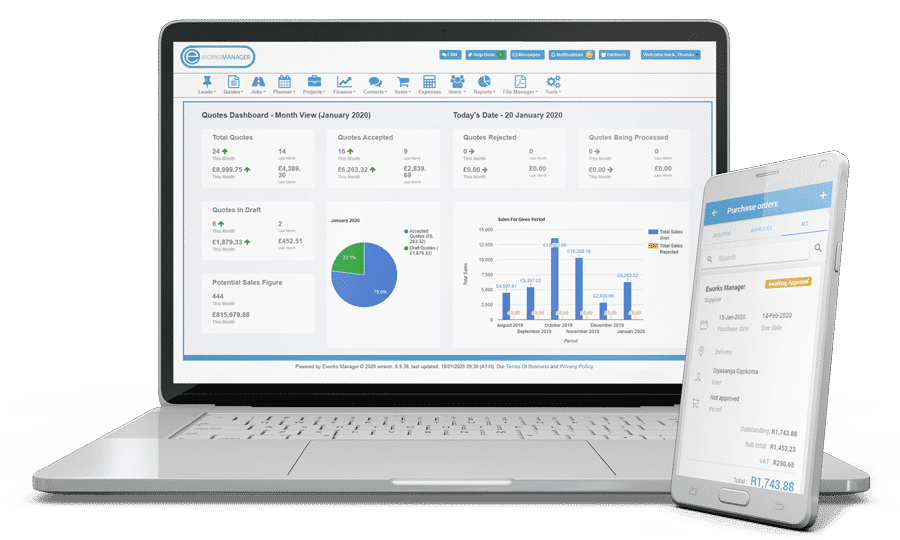 Our handy expenses feature is designed to help companies fully manage internal expenses in one integrated solution for a more effective way of working. Eworks Manager is always looking at the development of our software as a collective growth, and we always aim to work with our clients to make sure they have the tools required for an effective job management software, including a useful feature like expenses. We are always updating our software and listening out for any suggestions given, with new features added and existing ones improved. We work with some of the best developers from across Europe in our UK office, who are constantly working on the Eworks system, taking in client suggestions and in-house projects to make the system the best it can be so you can be confident that you're getting the best solution.
If you would like to find out more information about our useful expenses app feature on Eworks and see how it works with the software, then please get in touch today where we can give you a free, online personalised demonstration of the software which will be tailored to how your business works!
Please contact us via email, website or feel free to give our office a call, we would love to chat!
If you would like to find out more information and have a free personalised demo of the software get in touch today!
Call us: +27 (0)41 004 0045
Email us: info@eworksmanager.co.za
---