Field service technicians spend a good deal of their day on the road travelling from your headquarters to job sites and back again. As a result, your fleet vehicles clock up mileage, leaving you with rising fuel and maintenance costs.
Besides the maintenance and fuel costs, there's also the consideration of time. Time is money; the more time your technicians spend behind the wheel, the less time they have for customer jobs. When your team's productivity takes a knock, your profitability is guaranteed to decline too.
As a field service business owner or manager, we're sure you're constantly looking for ways to reduce mileage and time spent on the road to increase the efficiency of your workforce, lower fuel and maintenance costs, and optimise your operations to increase profits.
If you're looking for ways to improve the profitability of your field service business, start with route optimisation.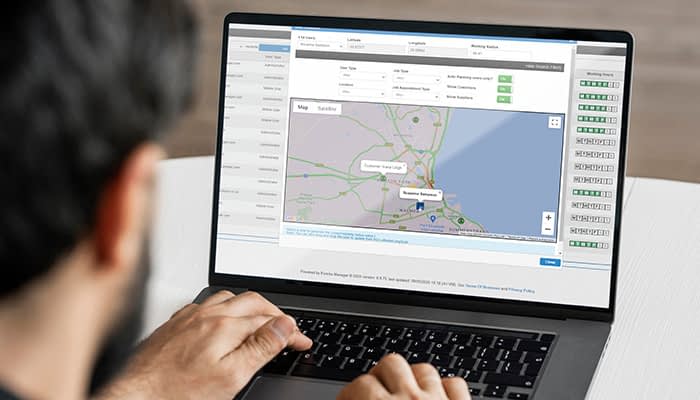 What is route optimisation?
Route optimisation is finding the most efficient and cost-effective routes for your field service technicians. It takes your field worker's schedule, location, skill set and job type into consideration to find the most economical or fastest route to reduce fuel costs or get the technician to the job site as quickly as possible to save time.
Increasing profitability with route optimisation

By finding the most efficient or cost-effective routes, you can increase the profitability of your field service business. Here's how.

Reduce fuel costs

With route optimisation, you can reduce your fuel costs by assigning all jobs in an area to one technician or finding the most economical routes for your team, reducing mileage and fuel consumption. As fuel is one of your biggest expenses, cutting this cost will help you increase your profits.

Increase productivity

You can use route optimisation to get your team to their job sites as quickly as possible, giving them more time to complete the task and move on to the other jobs on their list. With more time in the day, technicians can take on more projects, increasing their productivity and, ultimately, your profits.

Reduce maintenance costs

Less time on the road will lead to reduced vehicle wear and tear. As a result, you'll have to do maintenance and repairs less often, decreasing your costs. Route optimisation can also lower maintenance costs by reducing the number of vehicles you need in the field. With efficient route optimisation, you can identify the minimum number of vehicles required to operate at maximum capacity. You won't need to send as many vehicles into the field, and you'll have fewer vehicles to maintain and repair.

Improves customer satisfaction

Route optimisation ensures that your team gets to job sites quickly and on time. As a result, they have more time to complete jobs, improving your turnaround time and keeping customers happy. Getting to job sites on time also creates a good impression, showing customers you value their time. Satisfied customers are more likely to return to your business, helping you grow profits over time.

How to get started

Finding the best routes is impossible without the right tool. If you want to improve your field service operations with route optimisation to boost profitability, you must start by signing up for Route Optimisation Software.
Route Optimisation Software automates route planning, finding the most efficient or cost-effective routes, so you don't have to do it manually. Doing your own calculations to find the best routes is time-consuming, and as your business grows, it will become impossible. Not only will your team spend time trying to find the best routes, but you'll also need additional labour to do this, costing your business time and money.
Manual route optimisation is also not a flexible solution. As new jobs come in and need to be assigned to your team, you may need to change your routes. If a technician calls in sick and is unavailable, you may need to transfer their tasks to another worker and rework their routes for the day. With software, you can quickly respond to changes, using the system to find new routes. You also don't have to communicate these changes directly with each team member. With access to the software via their mobile devices, they'll be able to see the latest routes planned for them.
As your field service company grows, you may not have the time and resources to optimise route planning manually. But with Route Optimisation Software, scaling your business is possible. No matter how many routes you need to plan, the system automatically does the work for you, reducing the need to take on more workers or find extra time in the day.
Take the next step - try our Route Optimisation Software for free with a 14-day trial, or speak to our team if you're ready to sign up.