With more load shedding being rolled out by Eskom, locals can expect to spend more time in the dark at home and in the office.
More and more South Africans are looking for ways to ditch Eskom and escape load shedding, and your business is in the perfect position to capitalise on the rising demand for solar solutions.
Here's how you can prepare your solar company to take advantage of South Africa's energy crisis.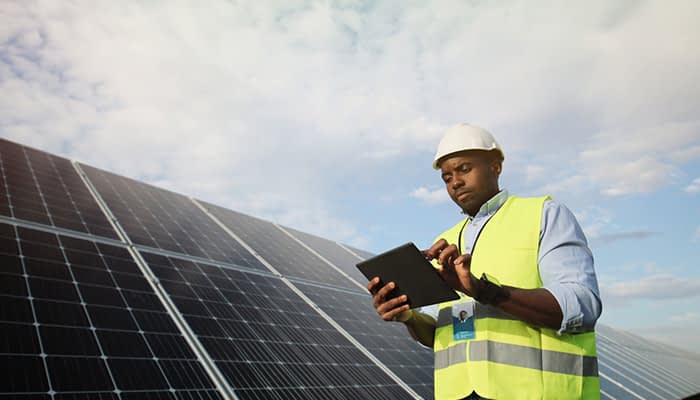 The latest on the country's energy crisis

Last week, Eskom announced that load shedding is here to stay and will remain in place until their diesel stocks have been replenished.
In the same week, the company's chief executive officer André de Ruyter said that renewable energy is the quickest and most cost-effective way to fix the country's energy crisis.
He also mentioned that the power utility has plans to rely heavily on renewable energy in the future.
But until then, South Africans are stuck with load shedding. As a result, interest in solar has skyrocketed. The country's major banks have confirmed that there's been an increase in demand from customers for financing to get them off the grid or at least give them some power when the lights are out.

Make hay while the sun shines

South Africa's energy crisis is an opportunity every solar company should take advantage of, including your business. Load shedding isn't going anywhere, and locals have realised that long-term solutions like solar are their only hope.
The rising demand for solar means that your business can capitalise on the country's unfortunate energy challenge.
As a solar company, your biggest challenge as interest in solar power grows, is keeping up with the demand for solar panel installations and maintenance. How will you and your team continue to offer an outstanding service in a growing and competitive market as you take on new jobs?
Our solution: Job Management Software, an all-in-one field service management tool.

What is Job Management Software?

Job Management Software is a cloud-based platform you and your team can use to manage all tasks related to your projects, including quoting, job cards, inventory, assets, and invoicing. Instead of relying on multiple systems and files to manage different aspects of job management, you can find all project information and tasks by accessing the system.
Using one platform for job management, you can stay organised, optimise your processes, improve efficiency and maximise productivity.
We've outlined some of the ways your solar business can use the software to do this.

Automate job scheduling

As the volume of work increases, so will the time it takes to complete job scheduling manually. Finding the right technician and the best time to complete an installation or maintenance job without a scheduling tool is time-consuming and labour-intensive. It's also not necessary when you can automate job scheduling with Job Management Software and create a conflict-free schedule. To improve efficiency, you can use our Auto Planning tool to distribute jobs to the nearest or next available technician.

Improve inventory management

Efficient inventory management is crucial to ensure you can meet deadlines and complete projects on time. Poor inventory management can lead to a backlog of work and unhappy customers. Fortunately, our software gives you better control over your stock to improve inventory management. With our Inventory Management Software, you can manage supplies and deliveries, track stock in your warehouses and vehicles, create picking lists and manage purchase orders.

Get job approved on-site

With our software, job approval is a hassle-free process. You can get customer approval on-site via SMS or email, record them verbally approving the job or ask them for a digital signature. By making it easier for your technicians to get customer approval, you can streamline your invoicing process and get invoices to customers quickly. The sooner you get invoices to customers, the sooner you can get paid.

Digitise paper documents

Digitising paper documents is an effective way to improve data quality, prevent information from being lost, and give your team easy access to information. When a technician is on-the-go and travelling from one job site to the next, electronic data capturing can save them time and make their job easier. It helps them capture details correctly, and unlike paper documents, the information can't be misplaced as it's stored on a cloud-based system. You can digitise all your paper documents with our software, including compliance certificates.

Streamline quoting and invoicing

With more work on your plate, you and your team will have more quotes and invoices to get to customers. Our software streamlines both processes, and your technicians can create and send quotes and invoices on-site via our mobile app. To save your team time, you can create custom templates on the system, and all your team needs to do is add the customer's details and estimated pricing or billing to the quote or invoice.
Our Job Management Software offers many more features you can use to meet demand and maximise productivity and profitability. Contact us today to learn more about our software and how it can add value to your business, or start your 14-day free trial to see what Eworks Manager has to offer.