Day zero is fast approaching for Nelson Mandela Bay. While the metro will be the first in the country to run dry, it won't be the last. Drought is a common natural hazard in South Africa, and the country is expected to become drier because of climate change. It's been predicted that by 2030, the country's demand for water will exceed the supply by 17%.
To stop taps from running dry, South Africans are looking for ways to supplement their water supply or go off the grid. There's been a significant increase in demand for water tank and pump installations as households and business owners try to minimise the effects of the water crisis. While the country's water woes are a concern for locals, it presents a unique opportunity for plumbers and electricians.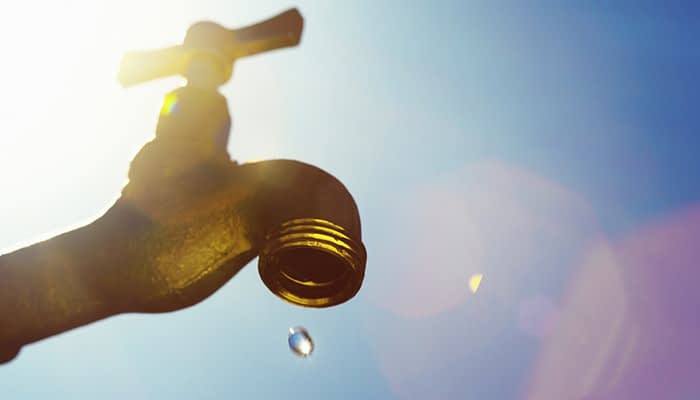 Facts about the national water crisis:
Nelson Mandela Bay will become the first metro in South Africa to run out of water.
The metro's dam levels are sitting at just under 12%.
South Africa is the 30th driest country in the world.
There's less water per person available than Botswana and Namibia.
The average daily water consumption is 234 litres per person, while the global average is 173 litres.
Seize the opportunity

If you're a plumber or electrician, seize the opportunity to meet the water tank and pump installation demand. With our Job Management Software, you can manage your time efficiently to take on as many jobs as possible during this period. We've highlighted the top ways to use our software to maximise productivity.

Streamline your quoting process

With the increase in demand for water tank and pump installations, you need to streamline your quoting process to get estimated pricing to potential customers fast. With our Quoting Software, you can create and email custom quotes to clients from our admin system or mobile app. You can then set up automated reminders for quotes waiting to be accepted. These reminders will automatically be sent via email, saving you time and the hassle of following up on each quote. Once accepted, you can convert the quote into an appointment, and when the job has been completed, you can convert it into an invoice to email to the customer.

Save time and reduce fuel costs

Fuel costs have become a concern for all businesses, particularly those in the field service industry. Your employees travel daily to job sites, and your mileage will only increase as the demand for your services rises. Fortunately, you can save time and reduce fuel costs with Route Planning Software and Auto Planning features. With Route Planning, you can manually assign jobs to workers who can get to the appointment the quickest or those closest to the job site. With Auto Planning, you can automate job scheduling, with the option to assign jobs to technicians with the earliest appointment or most economical appointment available.

Get jobs approved quickly

With many projects in the pipeline, you can't afford to wait too long for clients to approve jobs. With our approval methods, you can get jobs approved quickly on-site so you can complete the invoicing process and move on to the next task. You can either send an SMS or email to your customer or record 10 seconds of them verbally approving the job. All three methods can be completed in the field via our mobile app, making it easy for your team to get approval before returning to the office.

Send invoices on-site

The most efficient way to streamline invoicing is with our Invoice Software. Once your technicians have completed a job, they can create and email an invoice to the client via our mobile app before they leave the job site. Being able to send invoices in the field saves time and ensures that you get paid quickly, as the sooner you send invoices, the sooner your clients will pay you. Our invoice software integrates with Sage, Xero, and QuickBooks so you can export invoicing information to your accounting system.
Sign up for our Plumbing or Electrical Contractor Software
Don't wait for day zero to arrive. Prepare your plumbing or electrical business today and sign up for our Plumbing or Electrical Contractor Software. Get started with our 14-day free trial, or contact our team for more information.