If you want to outperform your competitors in the Field Service industry, your business must use software to streamline and automate day-to-day tasks. Service Management Software holds the key to improving performance, increasing productivity, preparing for the future, and improving the way you do business. Every company in the Field Service Industry can benefit from employing Service Management Software, and the advantages of signing up for our world-class software are second to none.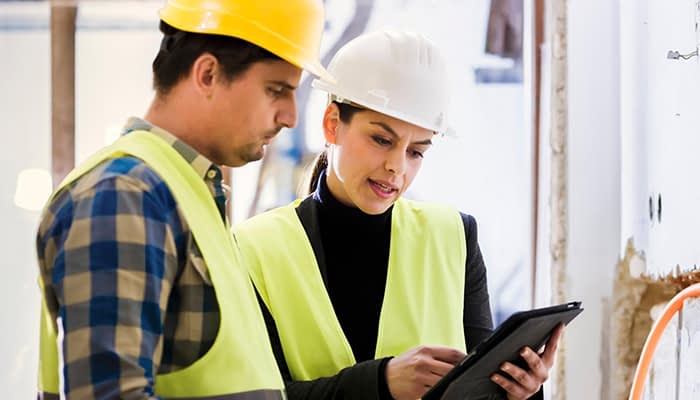 Schedule jobs ahead of time

Planning projects and jobs is a manageable task with our Service Management Software. We have the tools you need to schedule jobs ahead of time with our Time Planner and our user-friendly drag-and-drop feature. To schedule a job you've created, drag the job from your list and drop it in a time slot on the technician's schedule. They'll receive a notification via our Mobile App to let them know they've been assigned a new job. When they're on-site, they can access their Job Cards online, and you can oversee their tasks from our Admin System.

Get real-time updates from technicians

Your mobile workers can share job updates with you in real-time with Service Management Software. Our Live Panel displays all tasks in progress so you can respond quickly to updates from your team, for example, when a job has been completed, your admin team can use our Invoice Software to send an Invoice to the client immediately. If action is required, you or your supervisors can get in touch with the technician to determine the next step or resolve the concern. With real-time updates, you can complete tasks quickly, resolve issues swiftly and prevent unnecessary delays.

Generate reports to improve performance

With a complete overview of your business's performance, you can identify processes that need to be adapted to improve productivity. You can identify departments that aren't meeting their targets and propose new strategies to get them on track. With our reporting tool, you can generate comprehensive reports for Jobs, Quotes, Invoices, Purchase Orders, Vehicle Tracking, Customers and Users. The data can be exported to Xero, Sage or QuickBooks and shared with your accountants for their reports.

Create and store digital documents

Service Management Software is a paperless solution. You can digitise documents and certificates, store them on our cloud-based system, and access them whenever you're logged into Eworks Manager. The system can also replace paper forms, and instead, customers can complete documents and questionnaires online. As our Mobile App can be used in offline mode, your technicians can save digital documents on their devices. Once they regain internet access, the Mobile App will automatically sync to the admin system, uploading the documents. All digital documents are stored under our File Manager, and your team can access these documents at any time.

Support your technicians with tracking software

Supporting remote workers is challenging when you can't consult with every technician face-to-face. Fortunately, you can use our Service Management Software and tracking software to support your team when you're off-site. Our Vehicle Tracking Software gives you access to the location of your fleet vehicles, while Live Mobile Tracking gives you access to every technician's live location in the field. Both solutions can be used to keep your team safe on the road, ensure they arrive at their destinations safely and plan the quickest routes to job sites to save them time.
Set your Field Service business up for success and sign up for our Service Management Software. Start your 14-day free trial today or contact our team for more information.