Skyrocket the productivity of your business with our CMMS software. Our software has all the tools you need to simplify your work by cutting downtime, extending asset life, and more.
---
Start running your business with an effective and affordable CMMS Software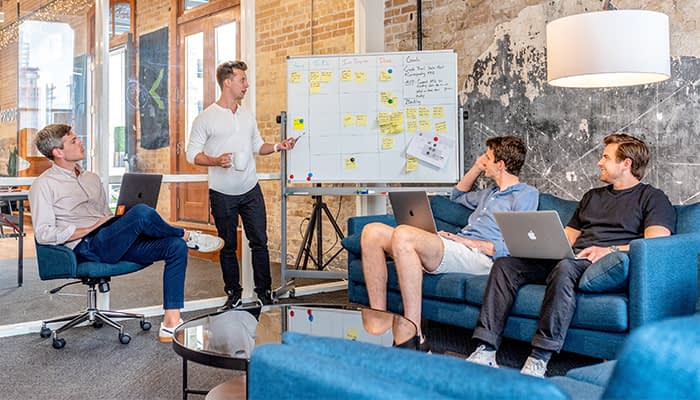 Convert sales into business
Our powerful CMMS software has all the features needed to keep an eye on your entire sales procedure. Our software allows you to convert more sales into business by getting a complete picture of the work done by your sales team.
Increase Sales by Efficient Lead Management
In our lead management section, you can easily assign leads to your sales team, turn leads into quotes and new customers, and manage lead information.
Chase Down Sales by Setting Alerts
Our system allows you to manage and create quotes within minutes and helps you to chase down those sales by setting alerts. Eworks Manager's CMMS Software will enable you to:
Email quotes to the relevant customers no matter wherever you are.
Get a hard copy of the quote with easy printing methods.
Convert quotes into jobs instantly.
Set reminders for your quotes.
Communicate in an Effective and Smart Manner
Our CRM Software allows you to communicate with your customers and suppliers from a single place. It is impossible to keep track of all the emails, calls, tasks, notes, and complaints without an effective management tool. Our Outlook integration allows you to transfer emails into our system. By using our CRM Software, you can:
Make notes of calls and responses.
Monitor tasks and receive alerts regarding your jobs.
Track and monitor complaints and view the history of resolving the complaints.
Make the bond with your customers strong and a lasting one with the help of our CRM Software. All of the data of your customers and suppliers can be easily managed by using our all-in-one CRM software solution. The CRM tab makes the work even easier to manage as it is visible on quotes, jobs, invoices, and many other sections of the system. Our software makes sure that none of your information is lost or misplaced, helping you maximise the productivity of your business.
Efficient Task Management
With Eworks Manager's Task Management Software, you can easily create, manage, and monitor your tasks and receive reminders. By using our Task Management Software, you can:
Create and schedule tasks.
Monitor your tasks. Task Management Software gives the option to your sales team to set up tasks for themselves in our leads section. A pop-up alert about meetings, demos, and callbacks notify you as to what is required of you in a specific situation. Our system makes sure that an important call or email never slips through your mind.
Complete and update your tasks from anywhere by using our mobile app.
Produce and manage quotes with attached tasks, as our software allows you to set up a task against a specific quote. The quote reference helps you and your team to know what the tasks relate to when they pop up at the time selected.
Plan, schedule, and track tasks within jobs.
Create accurate invoices quickly.
Asset Management Made Easier
Our Asset Management Software helps you to create, manage, and maintain recurring maintenance jobs, urgent jobs, invoices, and more. Some of its features help you in the following ways:
Maintain assets by automating your jobs.
A single management system for all of your assets. Asset-specific files can be attached to your jobs.
Asset health can be monitored with a full asset history provided by our Asset Management Software.
Asset Deployment can be easily planned and scheduled with our scheduling software.
At any stage of the process, assets can be allocated to jobs or invoices.
Eworks Manager's Asset Management Software can be integrated into our job management software, making it stand out from the rest of the market. Our job Scheduling app helps you attach files to your assets and allows your field workers to complete certificates while in the field.
---
Eworks Manager CMMS software is a complete business system that gives you total control of your business. To explore our wide variety of features, book your 14-day free trial today.