Your HVAC technicians are essential for the success of your operations, which is why it's crucial to support them when they're on-site. We know that it can be challenging to support your team when they're working remotely and there are several technicians in the field at a time, but you can assist them with HVAC Software, an all-in-one tool designed to make it easier to help your field workers. As you head into your busy winter season, now's the ideal time to use HVAC Software to support your team.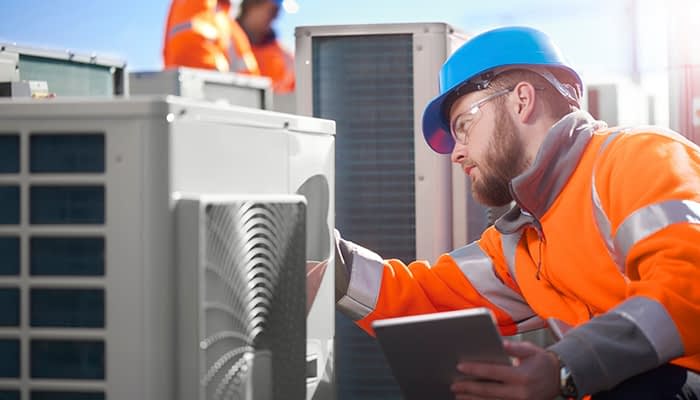 Reduce paperwork with digital job cards

Switching from a paper to a digital system reduces paperwork and saves you team time. With our HVAC Software, you can create and share digital job cards with your technicians, which they can access and edit online, eliminating the stress of misplacing important project information. They can also share job updates with your office team immediately, saving them a trip to the office to share feedback. Once an employee has finished a job, they can update the status of the job card and invoice the customer before they leave the job site, saving them time as they complete more tasks on the go.

Save your team time with Route Planning

With our Route Planning tool, you can assign jobs to the nearest technician or the worker who can get to the job site the quickest. Route Planning saves your team travel time, and it gives them the opportunity to complete more tasks in a day, increasing productivity and helping them reach their targets. If your admin team is scheduling jobs, they'll be able to view the quickest or most economical appointment available and assign jobs to team members who are already in the area or technicians who can get to the job site the fastest. You can automate job scheduling to save your admin team time with Auto Planning. Our system will automatically plan your team's schedule, assigning jobs to technicians based on their location and choosing the fastest or most economical appointment available.

Improve worker safety

While working on-site, your HVAC technicians may not always feel safe or secure, especially when working alone. You can use HVAC Software to support your team with our Lone Worker feature. Before a technician travels to a remote job site or an unsafe area, they can activate Lone Worker on their mobile device to start a timer. If it takes them longer to travel to their destination, they can check in on our mobile app to let your admin team know they're safe. Once they've arrived safely, they can deactivate the feature. If there's an emergency, they can enter the danger pin they've set up or hold the Lone Worker panic button to send a panic alert to your team.

Manage your team's workload effectively

When your workload isn't divided fairly, some workers may be overburdened while others are underproductive. With HVAC Software, you can use Job Scheduling to assign your jobs effectively to ensure that everyone in your team is working optimally. With our Time Planner, you can view everyone's schedule to see when they're available and what tasks they've been scheduled for the day, week, or month. You can view their unavailable periods to avoid scheduling appointments when they're not at work.
Support your HVAC team with Eworks Manager
Give your team the support they need with our HVAC Software. Whether you manage a small team or several technicians, you can use our cloud-based system to assist them when they're in the field. Explore the tools and features our software offers by signing up for our 14-day free trial. For more information about Eworks Manager, get in touch with our team today.