Management of field service operations, if done manually, is a tedious and time-consuming task. Eworks Manager helps you improve communication among your customers, employees, and management and ensures a consistent workflow that boosts the productivity of your business with its fully customised Field Service Management Software.
---
Improve Flexibility and Boost Customer Satisfaction with Eworks Manager's Field Service Management Software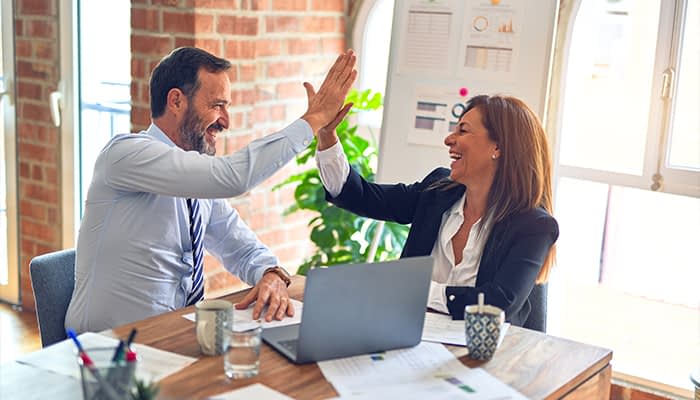 Assign Jobs to your Workers Easily
The time planner and drag and drop feature offered by Eworks Manager's Job Management Software helps you plan work schedules for your business. You can easily find out the jobs scheduled for the day, week, or month with the help of our time planner calendar view. Our drag and drop feature lets you assign jobs to your field workers quickly and easily. After a job is assigned to a worker, they can view all the appointed task details via mobile devices.
Upload Attachments Against Leads
Our Lead Management Software lets you attach documents or user manuals against leads. When a lead is converted into a quote, the attachment is automatically added to the quote. After the quote is converted into a job, the attachment gets added to the job without worrying about losing any information. Your sales team can also set up tasks for themselves like meetings, demos, and callbacks so that they never miss any important call or email.
Plan Economical Job Schedules
Eworks Manager helps to minimise fuel and travel costs by allowing you to plan economical routes for your field workers with the help of its Route Management Systems. Our software lets you plan the fastest possible routes for your field workers so that they can reach their job site quickly and complete jobs on time.
Keep Track of your Jobs
You can use our Task Management Software to create tasks against your jobs to remind yourself of specific actions required to complete the jobs. Our system generates alerts for you to easily keep an eye on your jobs and complete them on time.
Manage your Projects
Eworks Manager's Project Management Software allows you to track and manage your project expenses. You will have a detailed overview of all the costs associated with a particular project, including the cost of the products used, purchase orders, and labour costs. Once you add products and materials to a job, our system automatically adds up the costs. After a job within a project is completed, you can send it for invoicing right away. You can generate an individual invoice, or you can group multiple invoices into one invoice.
Receive Real-Time Updates
Our Field Service Management Software helps you to stay updated every step of the way via real-time updates. When a task is completed, put on hold, or sent back to the office, our system notifies your admin staff about it so that they can respond quickly.
Get Job Approval Anywhere, Anytime
Our mobile app allows you to get your jobs approved by your customers no matter where you are. Your customers can use our digital signature approval method to sign off tasks. Our audio approval method lets your clients record up to 10 seconds of audio. Your customers can also approve jobs by using our SMS and email method, in which they can click on a link provided in the email or SMS message.
Manage your Invoices Intelligently
Eworks Manager's Field Service Management Software lets you create tasks against your invoices. These tasks act as reminders to send error-free invoices to your customers without delays and help you manage overdue invoices.
Improve the Efficiency of your Business
You can streamline your business by assigning jobs to your field workers more intelligently. Our Route Scheduling Software considers several factors while offering scheduling advice on jobs. These factors include employee availability, the number of jobs assigned to a worker, and the job type which is most suitable for that worker. Our system makes sure that none of your employees are ever overburdened with work.
Boost Productivity with our Auto Planning Feature
Our Route Management Systems help you to complete more jobs per day, increase productivity, and generate more profit. By using our auto planning feature, you can adjust the settings according to your requirements. After you have adjusted the settings, our system will automatically schedule jobs for the entire month.
Track your Workers with Live Mobile Tracking or Vehicle Tracking
You can track and monitor your workforce by using the features offered by our Field Service Management Software. Our live mobile tracking feature tracks your field workers' devices while they are in the field and lets you know their live locations. You can get information about your driver's journey like driving behaviour, distance covered, and time spent on travelling via our vehicle tracking feature.
Digitise Documents and Complete Certificates via our Mobile App
Your mobile workers do not need to be in the office to complete certificates, as this can be easily done on-site by using our mobile app. You can digitise and store your documents in our system so that you can easily access them, no matter where you are.
Monitor your Business with Comprehensive Reports
Our Field Service Management Software provides you with a variety of reports to analyse your business. These reports include job summary reports, invoice reports, user job card reports, and many others. Eworks Manager integrates with some of the most popular accounting packages such as Xero, Sage, and Quickbooks so that you can manage your business more efficiently.
---
Eworks Manager's Field Service Management Software can help you reduce admin time, get rid of paperwork, track your field workers, improve productivity, and deliver exceptional services to your customers. To explore our wide variety of features, book your 14-day free trial today.