Getting job updates from your technicians is essential, so using a reliable platform to get time-sensitive information from your team is crucial. Earlier this month, when WhatsApp went down globally, many businesses couldn't connect with their teams as they usually do.
The platform was only down for a few hours, but if you were one of the businesses affected by the outage, you probably had to find another way to get feedback from your team.
An event like this reminds you that your business needs a reliable way to share and receive project updates. A cloud-based system like Field Management Software is ideal for any field service team. It makes it easy for your team to keep you informed and gives you an all-in-one platform for field service management.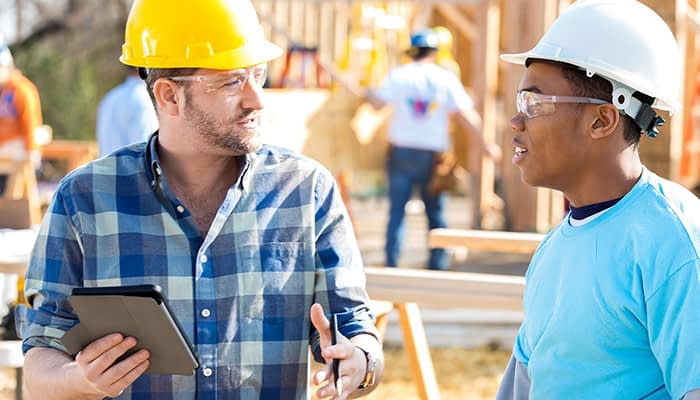 What is Field Management Software?

It's a cloud-based field service management tool designed to streamline and automate processes to reduce manual work, save time and increase efficiency.

Who can use Field Management Software?

Our software is ideal for anyone with a business that sends technicians to job sites, including plumbers, electricians, HVAC, construction and pest control companies.

The benefits of using software

Discover the top benefits of using an all-in-one field management tool to streamline job management and improve collaboration in your organisation.

Improve coordination with your team

Managing and communicating with a team of technicians can be challenging, and getting updates and supporting technicians in the field can be difficult when everyone is on-site. Field Management Software allows you to assign jobs to your team and monitor their progress in real-time. The software eliminates the need for paper job cards; your team can access their digital job cards via a Mobile App. Digital job cards are a safe and reliable way for your team to share updates in the field, as the information is immediately saved and stored on a secure cloud-based system.

Save time in the office and on-site

With a paperless system, you can get more admin work done in less time, giving your team a chance to focus on meaningful work and allowing you to focus on supporting your team. You can create and send quotes and invoices from our mobile app, set up reminders for quotes waiting to be accepted or overdue invoices, reduce paperwork by creating and sharing digital documents, and capture customer details on-site with digital questionnaires.

Avoid scheduling conflicts

Scheduling conflicts can leave your technicians feeling frustrated, and they can affect productivity, time management, and customer satisfaction. With Field Management Software, you can avoid scheduling conflicts by automating job scheduling. Our software considers your team's availability and assigns jobs to your workers to create a schedule for you. Automation saves you the time and hassle of allocating jobs manually, and it prevents your technicians from being overbooked while ensuring that all jobs are assigned to an employee.

Improve resource management

Effective resource management is crucial for your field service management. With sufficient time, well-maintained assets, and all the necessary materials, you can increase productivity, meet deadlines and keep your clients happy. Fortunately, you can improve time, asset and inventory management with our cloud-based system. You can optimise route planning to reduce travel time, automate maintenance jobs with Asset Management Software to prevent breakdowns, and maintain optimal inventory levels with Inventory Management Software.

Bonus: 3 signs it's time to sign up to Eworks Manager

Need help determining if our Field Management Software is the right tool for your business? If you can relate to at least one of these challenges, it's time to sign up for our software.

Paperwork is piling up

With a paper-based system, it's impossible to get away from files and stacks of paperwork. Using paper in the field is cumbersome, and documents can easily be lost before they reach the office. If capturing data and manually filing paper documents is slowing you down, it's time to move from paper to software.

Productivity has decreased

If productivity is low and your technicians are struggling to meet deadlines, it's time to sign up for our software. With Field Management Software, you can monitor your team's performance and identify inefficiencies that need to be addressed to boost productivity.

Clients never pay on time

Late payments make it challenging to pay the expenses that keep your business operations going. You can get most of your clients to pay you in good time by streamlining invoicing. With an efficient invoicing process, you can get invoices to customers quickly and increase your chances of getting paid on time.
Take the next step and try our software for free with a 14-day trial. If you have any questions, get in touch with us.