Your technicians can only meet deadlines and produce good work with the right tools. And the same can be said when it comes to job management. Efficiency can only be achieved by streamlining and automating workflows with a digital tool. And Security Installer Software is one of the best tools you can use to do this.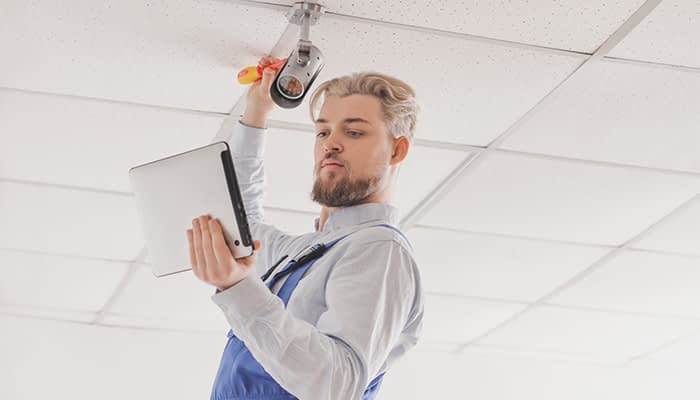 What is Security Installer Software?

Security Installer Software is a solution designed to help you simplify your day-to-day operations. You can use the software to streamline and automate manual tasks and workflows. Simplifying the steps in your processes and reducing your workload can help you improve efficiency.

What are the benefits of the software?

Improved productivity: Streamline and automate your workflows so you can focus on more critical tasks.
Better collaboration: Make it easier for your teams to collaborate and work together.
Increased efficiency: Optimise workflows, prevent errors and reduce manual tasks.
Better customer service: Manage enquiries and complaints to create a positive customer experience.
Improved data management: Store and organise your project, customer and employee data. Make it easy to access and analyse information.

Features to look for in Security Installer Software

Choosing software can be a challenging task. Before committing to software, ask yourself the following:

Does the software have the features we need to achieve our goals?
Is it easy to use, and will it simplify our processes?
Does the software provider offer support to help us get the most out of the software?

If you've answered these questions but still need help identifying what you need, let us help you. We've highlighted the top features every security installer needs to look for in software:

Job scheduling

Job scheduling can save you time and reduce your manual tasks. You can assign appointments to your technicians beforehand and schedule jobs in one go. Scheduling gives you time to focus on more meaningful work.

Lead management

Lead management helps you track and manage potential clients. With all your lead information in one place, you can plan and prioritise leads to increase your conversion rate. You can assign leads to employees, record all interactions, and set reminders to follow up with prospects.

Quoting and invoicing

Manual quoting and invoicing can be tedious, but you can speed up the process with software. You can create custom templates, email quotes and invoices to customers, and set up automated reminders for late invoices. Efficient processes get information to customers faster and increase your chances of getting paid on time.

Asset management

Manage all your customers' assets in one place. Schedule maintenance and repair jobs, add and remove assets, and record all maintenance work done. A well-organised system helps you locate assets and prevent devices from being misplaced. You can track breakdowns to improve your maintenance plan and increase the lifespan of your systems.

Inventory management

Inventory management helps you maintain optimal stock levels. With enough security systems and other materials readily available, you can meet demand, finish jobs on time, and prevent a backlog of work. You can use software to track stock levels, manage purchase orders and keep your warehouse well stocked.

Digital documents

Digital documents are easier to share and store, and because they're stored in the cloud, you can access them anywhere. A paperless system also simplifies data capturing. Once a technician has added details to the system, the data is available, and you don't have to capture the information again.

System integrations

Connecting systems you already use to the software saves you the effort of sharing data between your platforms. With system integrations, you can easily send information from one system to another. For example, an integration with your accounting package allows you to send invoices to your accounting software, saving you the hassle of downloading and uploading invoices.

Cloud-based storage

Storing data in the cloud provides many advantages. It's more secure, makes information more accessible, and reduces the need for physical storage. With cloud-based software, you can keep confidential data safe and give employees easy access to information.

Mobile compatibility

With a mobile-compatible system, your technicians can share updates and access information anywhere. Mobile compatibility is important, as your employees are working in the field and are rarely in the office. They can access data and documents from mobile devices and move from one project to the next without delay.

Customer support

Software implementation can be stressful, but good customer support can simplify the process. Before signing up, ask the software provider about their support. Find out what their support hours are, how you can contact them, and if they offer training.

Why choose Eworks Manager

With so much to offer, our Security Software is the perfect solution for your business.
Besides the features mentioned, we also offer the following:
Here are some more reasons to choose Eworks Manager:

We offer free customer support. We offer free support to all our customers. You can share your questions with our support team via email, telephone or live chat. If you need training, you can contact us to book a session at an additional cost.
You can try our software for free. We understand that signing up for software is a big commitment. To help you make your decision, we offer a 14-day free trial, which includes full access to the system. We encourage you to use your free trial to explore the software and get feedback from your team before you sign up.
Want to learn more about our software? Contact us to book an online demo.
Better yet, come and chat with us at Securex, Africa's ultimate security expo, later this year! We'll be at the exhibition in Johannesburg from 6-8 June 2023. We'd love to meet you and chat about your business needs. For more information about Securex or to register, please visit www.securex.co.za.