Eskom is in deep financial trouble - a sign that South Africa's energy crisis will only worsen.
If you own or manage a business in the solar industry, here's everything you need to know about the power utility's latest financial crisis, including how you can capitalise on the situation.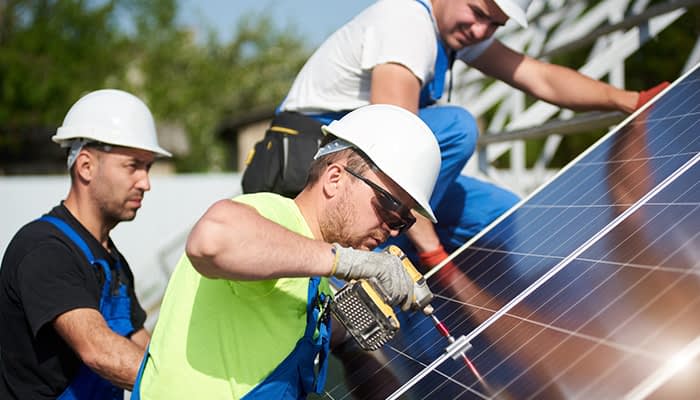 Eskom's diesel budget has run dry

The latest news from Eskom is that it has run out of money to buy diesel, exceeding its budget of R12 billion to operate its emergency generation fleet.
While the Department of Public Enterprises (DPE) is working with National Treasury and Eskom to find funding, the power utility has no plans to purchase diesel until April 2023. As a result, Eskom will roll out more load shedding over the coming months.
Eskom has also shared that locals can expect rolling blackouts to continue for the next six to 12 months as it prepares to do maintenance and repairs, removing more than 2 300 MW of generating capacity from the system.

What this means for your solar business

More South Africans are urgently seeking alternative solutions as the country's energy crisis escalates, and solar energy is an attractive option for those who can afford it.
As a professional solar installer, you're in the perfect position to maximise profit and market share and grow your business. Whether you offer solutions for residential or commercial clients, now's the time to take advantage of Eskom's financial crisis.

Growing demand for solar in business

Investing in solar energy is a costly undertaking for businesses. Still, many have had to install solar panels due to the frequency of power outages and the cost of running generators during load shedding.
Solar power isn't a viable option for all companies, but for those who can afford it, it's an effective way to reduce the impact of load shedding and the rising cost of electricity. It's a reliable and sustainable power source and a readily available resource. In the long run, going off the grid will save your clients money and ensure they have access to power at a time when Eskom's future is uncertain.

More homeowners are looking for ways to escape load shedding

It's not only large-scale commercial solar projects that have become more popular.
There's been a surge in small-scale solar installations as more locals look for ways to go off the grid or at least power some of their appliances during load shedding.
More homeowners are also considering the rising cost of electricity when deciding to invest in solar power. Instead of paying Eskom for electricity, they can take out a loan or sign up for rent-to-own solutions to go partially or fully off the grid and pay a set monthly rate for the period of the loan or agreement. In the long run, this could be a more cost-effective option as the power utility increases its tariffs.

How to capitalise on the country's energy woes

Eskom has faced challenges for years, but its most recent financial crisis and the threat of indefinite rolling blackouts have left businesses and homeowners with no choice but to invest in solutions like solar.
Prepare your business for South Africa's solar revolution with Electrical Contractor Software.

What is Electrical Contractor Software?

Electrical Contractor Software is a tool your solar company can use to optimise, streamline and automate manual tasks to increase efficiency, productivity and profitability.
It's a solution every solar company should use as the industry grows to keep up with and take advantage of the need for a reliable source of electricity and the demand for solar power.
Here's how you can use the software to prepare for the high demand your business can expect as load shedding continues to plague South Africans.

Automate job scheduling

Job scheduling is time-consuming, but with Auto Planning, our software automatically allocates jobs waiting to be assigned to your workers, saving time and creating a conflict-free schedule. You can use Auto Planning to assign jobs to employees based on their location or their availability.

Improve lead management

Our software makes it easier for you and your team to turn more leads into sales. You can import all your leads into the system and assign them to your employees. From here, they can log all customer interactions online and set reminders to follow up with prospects. When a customer is ready to sign up for an installation, the technician responsible can convert the lead with all the customer's details into a quote and email it directly to them.

Streamline your approval process

Getting client approval for installations can slow your technicians down and cause delays. Our software streamlines the process to help your team get the go-ahead from customers quickly and efficiently. With Electrical Contractor Software, your team can ask clients for digital signatures, record them approving the job, or request approval via SMS or email.

Go paperless with digital documents

Every time your team installs a solar system, they must issue a Certificate of Compliance (CoC). With the software, your team can complete and create a digital copy of the certificate. Digital CoCs reduce paperwork and ensure that documents are securely shared with your clients. The certificate is stored on a cloud-based system and can never be lost or misplaced.

Send quotes and invoices on-site

There's no need to complete quoting and invoicing after hours or wait to get back to the office to do it. You can create and send quotes and invoices on-site via our Mobile App , saving you time and getting documents to clients quicker.

Improve inventory management

Your solar business can only succeed if your team has the materials they need to complete installations. With Electrical Contractor Software, you can optimise inventory management to prevent overstocking or understocking, maximise your warehouse space, manage picking lists and purchase orders, and keep an accurate record of all your materials.

Support your technicians in the field

No matter where your technicians are, you can keep an eye on them with Vehicle Tracking and Live Mobile Tracking . The software gives you access to your team's live location, so you can confirm that they arrive at their destinations on time and ensure their safety during working hours.

Other ways to prepare your business

Besides signing up for our Electrical Contractor Software, here are other ways to prepare your business for the anticipated increase in demand for solar power.

Look at your competition

Understanding your competitors' strengths and weaknesses allows you to identify your competitive advantage and figure out how to stand out in the industry. Look at what they do to reach their target market. Study their website, social media platforms and reviews to see why customers choose their services. Use this information to identify your strengths and determine how to utilise them.

Know your target market

Following the latest Eskom news, more people than ever are interested in investing in solar power. You don't want to miss out on the opportunity to reach your target market because you don't know who they are, their needs and wants, and where they can be found. Research your target market to ensure you have a clear idea of who they are so you can reach them effectively.

Make sure your business is compliant

Staying compliant will boost your reputation as a reliable solar installer, as many customers want to work with an accredited company for insurance purposes. To stay compliant, ensure that all your technicians are certified, that your team follows safety rules and guidelines, and that a qualified, registered electrician issues a Certificate of Compliance for all your installations.
Take advantage of the growing demand for solar energy with Electrical Contractor Software. Sign up for a 14-day free trial, or contact us to sign up for our software.