From managing work orders, parts, and assets to contracts, invoicing, and billing, Eworks Manager, brings you a complete, all-in-one Field Management Software that lets you deliver exceptional services to your customers every time.
Reduce Admin Work and Keep your Business on Track with Eworks Manager's Field Management Software
Assign Jobs to your Workers Easily
Eworks Manager's Job Management Software lets you plan job schedules efficiently and smartly. You can easily drag and drop a job into your field worker's calendar using our drag and drop feature. The time planner feature offered by our software helps you find out the worker who is available for a new job to assign a new job to the worker who is not busy with another job. Your workers can view the jobs assigned to them no matter wherever they are via our mobile app. They can also update you regarding the status of the jobs through our mobile app.
Track and Monitor your Workers
Our Field Management Software lets you track your workers in real-time. The live mobile tracking feature helps you locate your workers by tracking their mobile devices while in the field. You can also find out how much time your worker is giving to each job, at what time he arrives at the job site, and when he leaves the job site.
Our Route Planning Software provides you with a location map that you can use to view the live locations of your workers. Whenever a new job arrives, you can use the map to find out the worker nearest to the job site and then assign him the new job.
With the help of our Vehicle Tracking Software you can get to know about every single detail of the journey of your drivers like driving behaviour, distance travelled, and much more.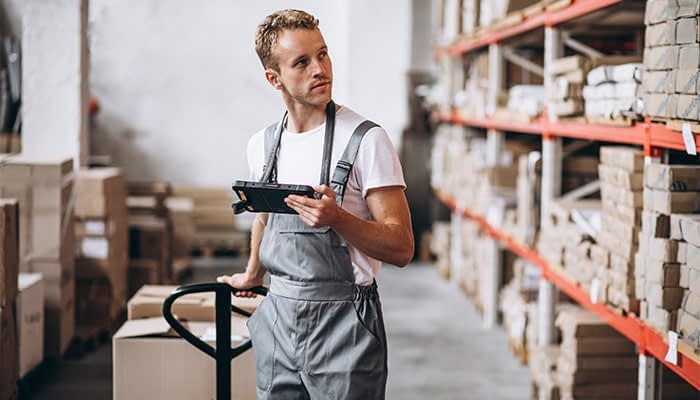 Get your Tasks Approved via our Mobile App
There are a number of useful features offered by our field management software that your workers can use to get their tasks approved on-site through our mobile app. Your customers can use our signature approval method to sign off tasks. You can also get approval from customers verbally by allowing them to record audio of up to 10 seconds.
Your customers can also use our Email and SMS approval methods to approve a task by clicking on a link generated by our system. You do not need to be in the office to get approval for the tasks from your customers, as this can be easily done anywhere by using our mobile app.
Manage your Stock Efficiently
Eworks Manager's Inventory Management System helps you to avoid overstocking and under-stocking by allowing you to find out the total stock and stock value for each location. Our stock management system helps you efficiently track your stock so that you can know exactly how much stock each warehouse or mobile location has.
Track the Progress of your Team
Our field management software lets your admin staff make quick and smart decisions by displaying the live progress of your team's jobs via our live panel. Whenever your workers complete their tasks, put them on hold, or send them back to the office for authorisation, your admin staff can respond to them quickly.
Track your Drivers with Dashcams
Eworks Manager lets you monitor your drivers easily with the help of dash cams that are fully integrated with our vehicle tracking software. Our dashcams help you to keep track of your drivers by displaying live footage of where they are. There is a built-in GPS receiver and self-checking notifications in our dash cams that make the task of delivering high-quality footage easier for you.
Keep a Detailed History of your Stock
Our stock management system helps you track your stock easily by providing you with a detailed history of your stock. By viewing the detailed history, you can know exactly when stock is ordered from your suppliers and when stock is added or removed for specific locations.
View your Documents Anywhere, Anytime
Eworks Manager lets you digitise your documents so that you can view them no matter wherever you are via our mobile document management app. Our field management software helps you get rid of paperwork by storing all of your important documents securely in our system.
Adjust Stock Values for Each Location
With the help of our stock management system, you can adjust stock values for each location depending on the requirement of stock at that particular location. Your admin staff will be quickly notified once stock is required at a particular location so that your admin team can create picking lists to transfer stock to that particular location.
Monitor the Performance of your Drivers
Our vehicle tracking software lets you monitor the performance of your drivers with vehicle tracking reports. The vehicle tracking reports include a wide range of journey reports, daily score reports, daily speeding reports, detailed reports, and many others. These reports help you to track the driving behaviours, time spent on jobs, and fuel costs.
Analyse the Performance of your Business
Eworks Manager's Field Management Software lets your admin system create a wide range of reports like summary reports, invoice reports, user job card reports, and many others. These reports help you find out your most productive workers to appreciate and reward them for their efforts.
Switch to Eworks Manager's Field Management Software to boost up the productivity of your business. Start your 14-day free trial today.