As more competitors enter the solar industry, now's the time to differentiate your solar or electrical business from others to remain relevant and competitive.
One of the best ways to do this is by streamlining communication with CRM Software to improve customer service and service delivery.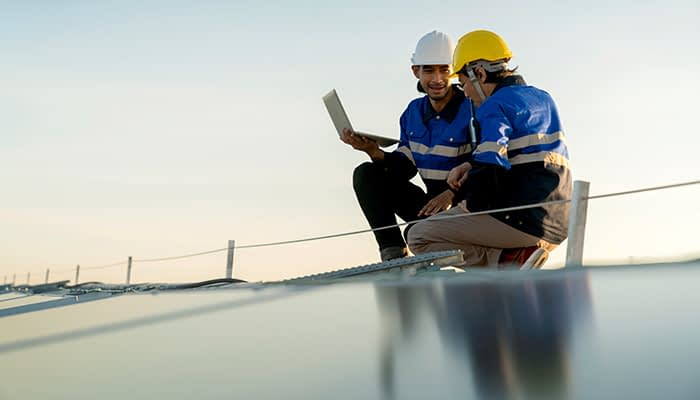 What is CRM Software?

Customer Relationship Management (CRM) Software is a digital tool your business can use to manage and track customer interactions and store data collected from clients via email or telephone on a cloud-based system.
A CRM System streamlines customer communication, helping you keep your operations on track to deliver outstanding service and improve customer satisfaction.

Why should I invest in CRM Software?

You may have a few competitors, but that will soon change. Our energy supply situation isn't going to get better soon; if it does, load shedding will likely still be implemented for at least the next two years.
Long-term load shedding presents an opportunity for electrical engineers and contractors interested in upskilling and offering solar panel installation and maintenance services. The solar industry will only grow as the demand for off-grid solutions increases.
As the industry becomes more competitive, you'll need to find innovative ways to stay relevant and competitive, and CRM Software can help you achieve this goal.
The software streamlines communication with your customers. Instead of collecting client information across multiple platforms, you can manage all communication with one platform and store customer data in one place.
Besides improving service delivery, a CRM System can help you optimise your processes to increase efficiency and capacity. Increasing capacity allows you to take on more customer jobs and grow your business and profits.
Let's look at the benefits of using CRM Software and how our system simplifies customer communication.

The benefits of using CRM Software

CRM Software can provide several benefits, but let's explore the ones that can help you create a competitive advantage to stand out in the solar industry.

Effective customer communication

CRM Software helps you manage and track customer interactions to streamline and improve communication. Good customer communication enables you to solve issues quickly and increase productivity. Existing customers are also more likely to continue to use your services or recommend your company to others when interactions with your business have been swift and efficient.

Greater transparency

With a CRM System, you can see who's responsible for jobs and who's responded to emails or called customers, improving transparency in your business and helping to prevent misunderstandings. Misunderstandings can lead to mistakes that cause delays, affecting productivity and customer satisfaction. If there's an issue with a project, you can see what was discussed with the client to resolve disagreements as quickly as possible.

Improved efficiency and productivity

Our software reduces the time and effort required to communicate with clients and manage customer relationships. Streamlining communication gives your technicians more time to focus on installation and maintenance jobs and improve their overall efficiency while ensuring they get all the information they need from clients.

How our CRM Software works

See how our CRM System works and how you can use our software to improve communication and customer service.

Import emails to the system

Our Outlook integration allows you to export and attach emails to Customers, Jobs, Invoices and Quotes. You can respond to emails from the system, helping you track and manage emails related to specific clients and projects.

Record and track customer interactions

Your telephone calls and emails with customers can be logged under the CRM section, helping you keep an accurate record of all customer interactions. When logging a call, you can record the customer's name, contact information, whether it was an incoming or outgoing call and the outcome. Emails sent and received from customers are stored on our system, giving you easy access to client data for jobs, quotes and invoices.

Create tasks and set reminders

Following up on calls, emails and customer enquiries is crucial to securing more jobs and showing prospects you're committed to helping them. With our CRM System, you can create tasks and set reminders to ensure you follow up with customers. If your technicians work on multiple projects at a time, the feature can help them manage their jobs efficiently and consistently deliver excellent customer service.

Integrated with our Job Card Management Software

Our CRM System is integrated with our cloud-based Job Card Management Software, which means you can use our software to streamline customer communication and manage all tasks related to job management, including lead management, job scheduling, vehicle tracking and live mobile tracking, route planning, quoting, invoicing and inventory management.

Lead Management

In a competitive industry, nurturing leads can help you convert more prospects into customers. Our Lead Management System makes it easy to manage leads. You can import and assign leads to technicians, track communication with potential customers, and convert leads into Quotes or new customers.

Job Scheduling

Creating a conflict-free schedule that maximises productivity is simple with our Job Scheduling Software. You can manually find the best time slot for every appointment with our Time Planner or automate job scheduling to save time. Your technicians can view their jobs for the day by signing in to our Mobile App, giving them access to their schedule on the go.

Vehicle and Live Mobile Tracking

No matter where your technicians are, you can support them remotely with Vehicle Tracking or Live Mobile Tracking. Our software allows you to see where your employees are in real-time by tracking their vehicles or mobile devices, and tracking can be set to specific hours to protect your team's privacy after hours.

Route Planning

Because your technicians travel to job sites to complete solar installations, it can be challenging to manage fuel costs. With Route Planning Software, you can send the nearest available technicians to job sites to reduce fuel consumption. Our software can also help you get technicians to job sites quicker during load shedding. Reducing travel distance means technicians can get to appointments faster, even when traffic is backed up due to power outages.

Inventory Management

Your team's productivity depends on efficient inventory management. With the right materials for solar installation jobs, your technicians can complete jobs on time. Our Inventory Management System helps you monitor inventory to maintain optimal stock levels and track stock so you know where all your materials are at all times.

Quoting and Invoicing

With our Quoting and Invoicing Software, your team can send custom quotes and invoices to customers from our system or our Mobile App, making it easy for your technicians to complete admin work on-site or in the office. Because all your customer and job details are stored on the system, your team has all the information they need for billing, making quoting and invoicing quick and efficient.
Our software is a platform you can use to manage every step of your sales process and streamline field service management to improve efficiency, customer service and service delivery.
Get started with CRM Software and Eworks Manager
Don't wait for the solar industry to get crowded before you find new ways to differentiate your business from competitors. Contact us to sign up for our CRM Software to improve customer communication and streamline your business processes.
Not sure if our software is the right tool for your business? Sign up for a 14-day free trial to see how our system works and how it can help you gain a competitive edge in the industry.