You can easily automate your business operations from simple processes to complex workflows with Eworks Manager's Job Scheduling Software. Eworks Manager helps you with the seamless execution of jobs and allows you to run jobs in a sequence, specified time, or based on a trigger.
---
Save Resources and Increase Productivity with Eworks Manager's Job Scheduling Software
Assign Jobs to your Workers Without any Conflicts
You can plan conflict-free job schedules for your workers by using our Job Management Software. Our time planner helps you to assign jobs to your field workers without any errors or conflicts. If a job is assigned to a worker who already has a job for that time, you will be notified about it via a conflict notification. This helps you to make sure that none of your workers is double-booked for jobs.
Keep a Full Detailed History of your Assets
Our Asset Management Software lets you track and monitor your assets. You are provided with a detailed history of your assets, helping you overview all your assets easily. Our system allows you to figure out the assets that require maintenance to schedule maintenance plans for them.
Create Professional-Looking Quotes
Our cloud-based Online Quoting Software lets you create quotes easily. You can create quotes either by using the templates available in our system or customising them with your company logo. You can also create quotes via our mobile app. Once quotes have been created, you can print them out or send them to your clients via email.
Identify Future Demands
Eworks Manager's Inventory Management System uses information like past sales and job data to help you identify future demands. Our notification feature allows you to create customised alerts. These alerts notify you whenever an item in your inventory is overstocked or understocked.
Plan Economical Job Schedules
Our Job Scheduling Software lets you assign jobs to your workers smartly. You can easily locate your field workers via our mobile app. Our Geo planner helps you assign a new job to the worker nearest to the job site, helping you save fuel and travel costs.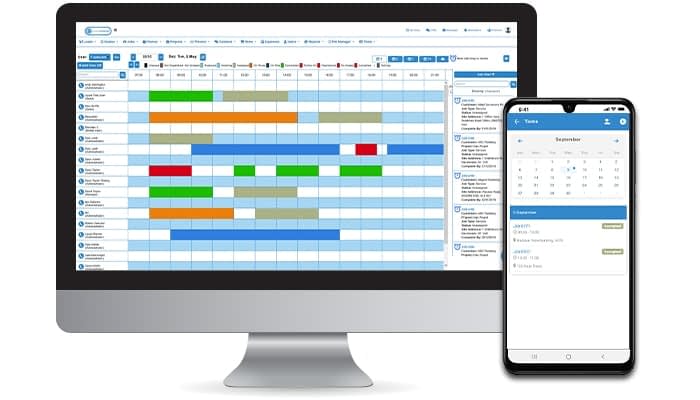 Never Lose any Information.
Eworks Manager's Asset Management Software lets you allocate assets to jobs or invoices and ensure that no information is lost during the process. Our system ensures the efficient running of your business by making sure that your clients are being invoiced for the relevant assets.
Keep Track of your Purchase Order Records
You can easily view your purchase order records in a single view with the help of our inventory management system. This helps you to identify the items that are in demand by your customers. Our system also allows you to track deliveries from suppliers and generate supplier invoices against them.
Improve the Efficiency of your Business
Our Job Scheduling System helps you to streamline your business by allowing your mobile workers to create and manage appointments for themselves. Our system also allows your mobile workers to join jobs that other workers are executing.
Digitise Documents and Complete Certificates Via our Mobile App
You can easily attach documents to your assets by using our mobile app. Our mobile app also allows your field workers to complete certificates while in the field so that they do not waste their time by coming to the office.
View Job Schedules Anywhere, Anytime
Our job scheduling software allows your mobile workers to view the jobs assigned to them, no matter wherever they are. Your field workers can view the jobs assigned to them for the whole month via the calendar view on the mobile app. They can also view details of the assigned jobs on the mobile app, like the job number, customer address, and the current status of the job.
Increase the Productivity of your Business
You can easily analyse your team's performance with the help of the comprehensive management reports provided by our online quoting software. You can find out those employees who are the most productive and are helping the company grow to reward them for their efforts.
---
Reduce admin time and automate your business processes by switching to Eworks Manager's Job Scheduling Software.