With Eworks Manager's sophisticated Job Scheduling Software, you can quickly manage your team and your jobs. Automating your business operations can help you get rid of paperwork and save a lot of time.
Eworks Manager's Job Scheduling Software makes it simple to manage complex business processes.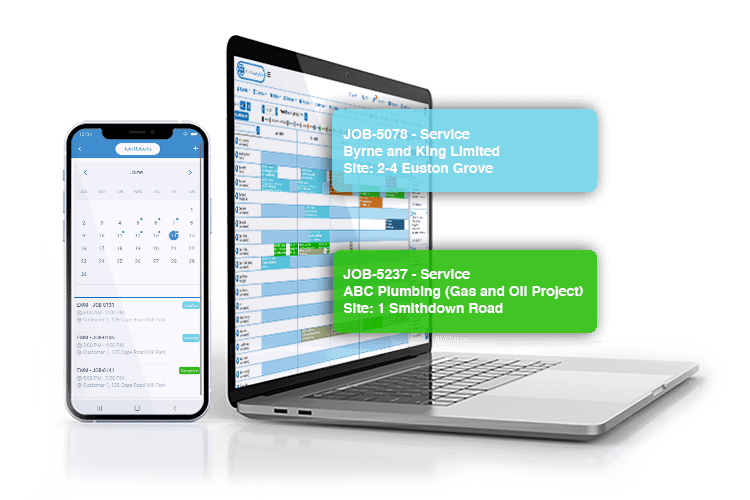 Create and Manage Tasks within Leads
The Task Management Software in Eworks Manager allows you to set tasks within leads so that you can manage your leads more effectively. Your sales team can create tasks for themselves in our system, which serve as reminders for specific steps needed to accomplish a job. Our system will remind you of these tasks via pop-up alerts, ensuring that you never miss an important call or email.
Assign Jobs Easily
Our Staff Planning Software's drag-and-drop capability allows you to assign jobs to your field staff intelligently. You can allocate jobs to many field workers using the drag & drop tool with a few simple clicks. This saves you time and improves the efficiency of your company.
Manage and Track your Jobs
The Job Scheduling Software in Eworks Manager allows you to keep track of and monitor all upcoming jobs, including all scheduled and unassigned recurring jobs. With the help of our time planner, you can simply view all of your jobs. This type of effective tracking eliminates confusion among your field workers and allows them to finish their tasks on time.
Schedule Recurring Jobs Easily
You can easily generate and manage recurring jobs using our Job Management Software. Our system will automatically generate routine jobs for you depending on the recurrence rule you choose once you've set a repetitive task with a specific recurrence rule.
Efficient Fleet Management
Our Vehicle Tracking Software's playback capability allows you to keep a close eye on your fleet. The playback feature allows you to simply track your driver's movements and observe how much time they spend on each job site. This feature can also be used to offer evidence if an incident occurs while your driver is on the road.
Track your Workforce Easily
Our Job Scheduling Software makes it simple to find your field staff. By allowing you to allocate a new job to the employee closest to the job site, our system helps you save money on fuel and travel.
With the help of our Vehicle Tracking Software, you can effortlessly track your fleet. You can see when your drivers are on their way, on-site, and finished a job. You can use this information to keep your customers up to date on the status of their jobs.
Our Staff Planning Software allows you to keep track of your jobs by presenting the status of each one in real-time. You can quickly see the status of each of your jobs and take the steps necessary to ensure that they are completed within deadline.
Ensure Smooth Running of your Assets
Eworks Manager's Job Scheduling Software allows you to keep track of your assets and arrange maintenance schedules for them. Maintaining your assets regularly ensures that none of your assets that require attention goes overlooked.
Create Tasks Against Invoices
Our Task Management Software enables you to keep track of your invoices by assigning tasks to them. These tasks serve as reminders and aid in the timely delivery of an invoice to the appropriate customer. Our system also allows you to trace a late invoice, allowing you to manage your invoices better.
---
To automate and streamline your business processes, use Eworks Manager's Job Scheduling Software. Start a 14-day free trial and see how it can benefit your company.