An Industrial Software Solution to track and manage your assets and field workers. For a 14-Day Free Trial, click here!
Industrial Software Solutions - Job Card Management Software for the Industrial Industry
How Eworks Manager's Industrial Software Solutions help your business?
Our Industrial Software Solutions help you manage and track the in's and out's of your business. The system also tracks each job, ensuring that the correct person is assigned to it. Our system also tracks the approval of each job and whether the correct payment was captured against the job. Eworks Manager also keeps a full history of all complete jobs. Gone are the days of spending hours digging through paperwork to find a job card from years ago. Our all-in-one system captures all job information and is furthermore accessible to you at any point.
Schedule and track jobs with a range of planners
Our Staff Planner is the easiest way for you to assign jobs to available workers. See who is free and, with our drag and release function, you can add the job into your worker's diaries. Once saved, our system will automatically sync the information to your staff's schedules on the Mobile App.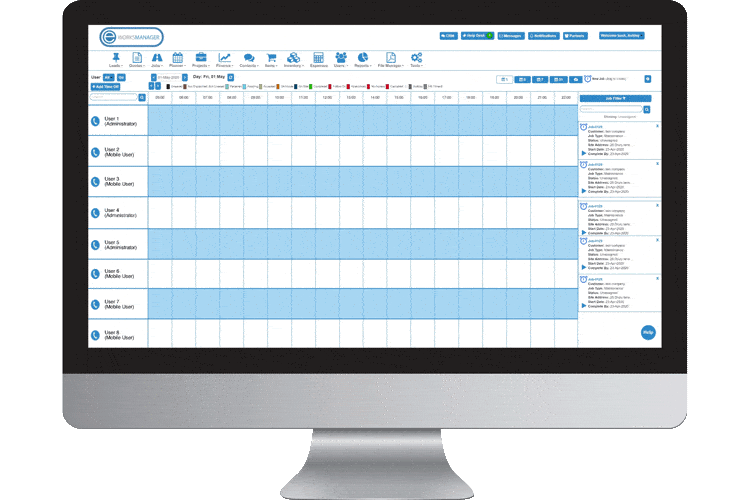 Asset Management Software
Add your assets to the system and keep track of preventative maintenance, faults and service requirements.
Create, manage and maintain emergency and recurring jobs, invoices against supplied assets, recurring invoices and maintenance.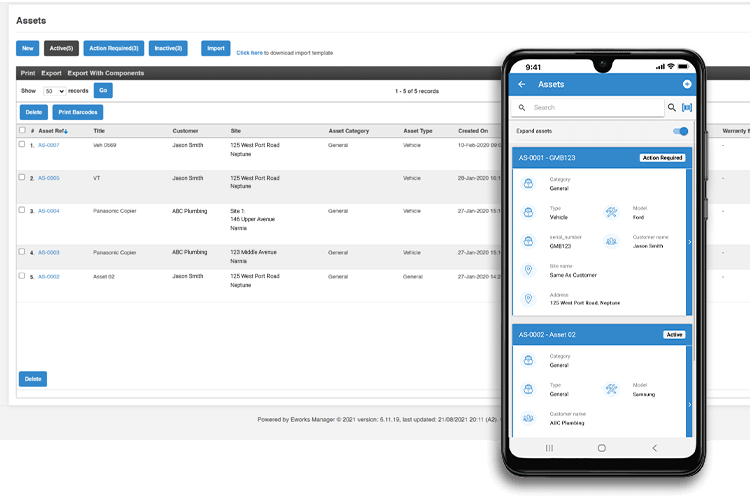 Quote for installations on-site and convert accepted quotes to jobs
Quotes can be created, printed or emailed directly to your customers. Our Mobile App enables you to create quotes while still on-site, speeding up the conversion process.
Accepted quotes can be modified into a job instantly, without losing track of any information captured within the quote.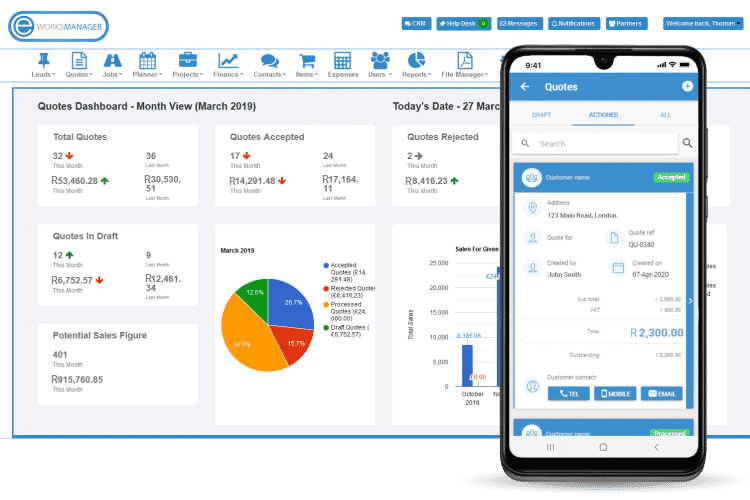 Keep track of leads
Import or capture and manage information for prospective customers or opportunities.
Managing leads becomes a simple process when all your data is captured in a single system. You can import, manage, transform leads into quotes and convert leads into new clients with our customised Job Card Management Software. We provide the most productive and efficient way to handle prospective clients and opportunities!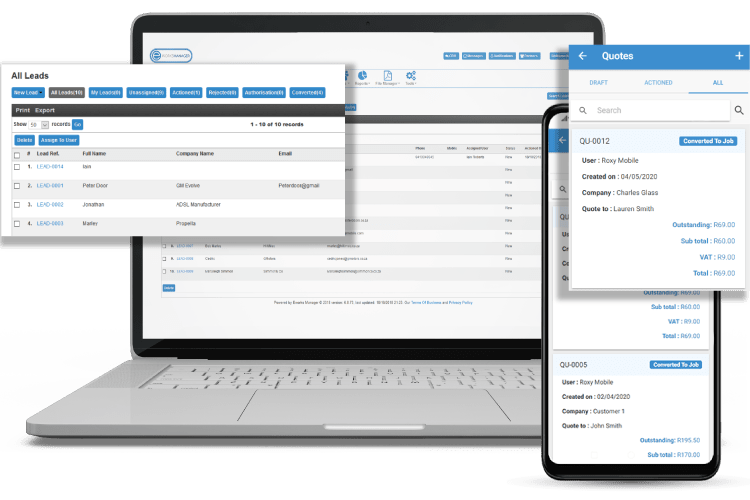 New Job Approval Methods!
Help your engineers follow the social distancing practices using our latest features when job approval by clients is required.
Industrial Software Solution FAQs
1How will Job Card Management Software benefit my business?
Our
Industrial Software Solutions
will streamline your entire business. The software is comprised of everything from sending out quotes to scheduling jobs, tracking your mobile engineers, and invoicing. Our software is designed for the service industry and is available on any mobile device, via our Mobile App.
2Does Job Card Management Software improve efficiency?
Eworks Manager's was designed to enhance the efficiency of your entire business. One of the most used plugins in our software aims at helping your company go paperless. The software is accessible through the Admin System on a conventional browser, which is generally used by your office staff, and the Mobile App, which was created for your team of field engineers. The app enables engineers to log jobs, send quotes, and more. With all your data recorded within one app, your workers can spend more time focusing on their current job at hand.
3How will Job Card Management Software benefit my workers?
Your engineers can spend more time doing their jobs instead of paperwork. Our Mobile App removes the paperwork from the field and automates time tracking while keeping your office updated on the status of tasks in real-time.