Choosing the right Field Service Software for your business can take time and effort. But while you don't want to spend all your time trialling every product on the market, you also want to take your time with the process to ensure you find a solution that meets your requirements and helps you overcome your challenges.
One of the best ways to determine whether a product is right for your business is to find out what others have said about the software. Customer reviews give insight into what other companies like about the product and how it's helped them improve field service management.
In this article, we've shared a series of reviews from our clients to show why they signed up for our software and persuade you to choose our Field Service Software.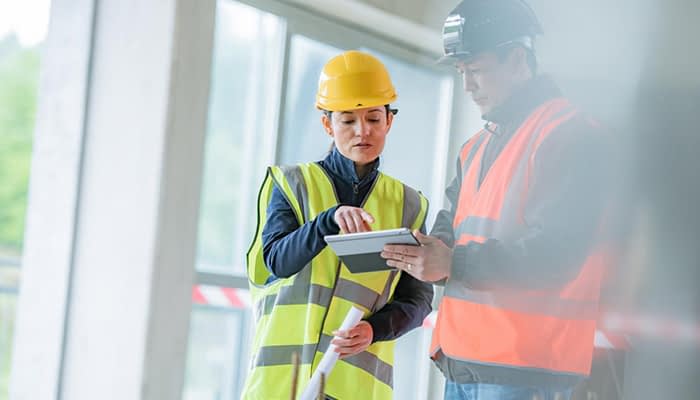 What is Field Service Software?

Field Service Software is a cloud-based product your business can use to streamline and automate time-consuming and unproductive everyday tasks.
The software is designed to simplify jobs like lead management, quoting, invoicing, scheduling, inventory management, asset management and route planning.

A quick look at Eworks Manager

Our software is an all-in-one tool your business can use to streamline field service management to boost productivity, increase efficiency and stay competitive.
It's the ideal solution for any field service company, as we offer several features designed to meet the challenges of field service management.
We already help numerous companies across several industries, including plumbing, electrical, HVAC, construction, facilities management, pest control, property management and property maintenance.

5 reasons to choose our software according to our customers

See what customers say about our software and their top reasons for choosing Eworks Manager.

Reduces your paperwork

"Before Eworks we did all our job sheets on paper and it was a constant struggle to keep a track of jobs and employees. It's quite frankly a breeze now and it's enabled us to expand twofold and we don't see a problem managing twice as much again or even more with Eworks." Dan C. - General Manager.
With Field Service Software, you can trade paper job cards and other documents for digital ones. Without the stress of keeping track of paperwork, your team can focus on their jobs. They can also collect digital signatures from customers and get jobs approved online, streamlining your approval process.

Improves service delivery

"Eworks Manager has enabled us to rapidly grow our network while maintaining complete control. It has also allowed us to improve our service delivery to our customers." Wayne K. - Head of Consumer Division.
Excellent service delivery is what every field service business strives for, and with Field Service Software, there are several ways you can improve service delivery. You can accelerate invoicing and quoting, improve job scheduling to maximise the number of jobs your team can take on, speed up your job approval process with digital approval methods, and streamline customer support. These are just some of the ways our software can improve service delivery.

Saves your business time

"Saved my business a lot of time and my staff love it!" Linda M. - Managing Director.
When you automate and streamline jobs that slow you and your team down, everyone in your organisation has more time to focus on meaningful work. The software simplifies day-to-day tasks like quoting, invoicing, job scheduling and route planning and helps you manage your assets and inventory effectively to prevent delays and downtime to ensure time is used efficiently.

Supports your technicians

"Eworks gives us the ability to keep customers informed every step of the way as well as keep detailed track of field technicians." Henk J. - CEO.
With our software, you can use Vehicle Tracking to keep an eye on your team's real-time location during the day should they need assistance or should you need to track them down for another job. You can also use it to optimise your team's travel routes. If you need to assign a new job, you can find the nearest available technician and allocate the job to them, giving them more time to assist the customer.

First-class support

"Learning a new system can be difficult, but Eworks and the team make this transition so easy with all of their support - would highly recommend using this software to streamline your entire business all within one system." Fabio P. - Booking Coordinator.
As well as providing superior software, we also offer training and support to ensure you get the most out of the system. Better yet, it's included in your subscription. When you sign up for our Field Service Software, you don't have to pay for training or assistance from our team. Our team is available via web chat, telephone and email, and you can log a ticket on the system whenever you need help.

Other reasons to choose our Field Service Software

Our Field Service Software is a comprehensive tool, so we had to share some of the other reasons to sign up for software.

Easy workflow automation

With our Zapier integration, you can connect Eworks Manager to thousands of popular apps, including QuickBooks, Facebook Lead Ads, Google Sheets, and Slack, to automate your work. Our integration automatically shares information between the system and your connected app to reduce your workload. The best part about our integration is that it requires no code, and you can connect our software to the apps you use in a few simple steps.

Improves data accessibility

Eworks Manager gives your field service workers access to all the project and customer information they need on-site. They can access the software via their mobile devices, anywhere at any time, eliminating the need to carry paperwork in the field. They can also use the software to capture information digitally, saving them the time and effort of writing everything down.

Simplifies reporting

Instead of using another platform to collect data and generate reports, you can use Field Service Software for field service management and reporting. You can access data related to your customers, quotes, jobs, invoices, users, products, assets, purchase orders, auto planning and vehicle tracking. With our Report Builder, you can create reports for Leads, Quotes, Jobs, Invoices, Purchase Orders, Expenses, and Projects. A simple reporting tool makes it easier for you to evaluate your processes and identify inefficiencies to improve your operations.

Improves customer support

With Eworks Manager, your team can assist customers quickly and efficiently to keep customer satisfaction high and attract new clients. Your technicians can collect detailed customer information with questionnaires instead of sending multiple emails and making numerous calls to investigate issues. You can also increase your response time by storing resolutions for common queries. With a database of answers, all your employees need to do is select the most suitable solution and add it to the customer's ticket.
Ready to sign up for our Field Service Software?
We're here to help you get started. Contact us to sign up, or try our software with a 14-day free trial.